'Springtime'
Front Page Photo by Carl Thompson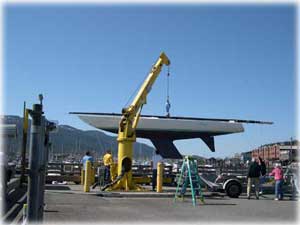 New to the racing fleet, Ariel
Photo by Mary Lynne Dahl

Ketchikan: Ketchikan Yacht Club Racing Season Begins by Mary Lynne Dahl - Wednesday night sailboat racing in Ketchikan's downtown harbor officially begins on May 4. In preparation, on Sunday April 24, 2005, three race boats were lifted by the city-owned crane at Madison Hardware and gently set down into the water. - More...
Wednesday - April 27, 2005

Ketchikan: Listen to this KRBD story... Around 900,000 cruise ship passengers are projected to visit Southeast Alaska this summer. Of those, about 877,000 are expected to stop in Ketchikan. Deanna Garrison has this report.
KRBD - Ketchikan Public Radio - Linked Wednesday - April 27, 2005
Alaska: "Blue Ribbon" Panel to Review CDQ Program; After 13 years, Governor says it's time for a thorough review - Alaska Governor Frank H. Murkowski announced today the appointment of a "Blue Ribbon" Community Development Quota Program Review Panel. - More...
Wednesday - April 27, 2005
National: Bipartisan reform of Social Security unlikely, senators say By LAWRENCE M. O'ROURKE - Social Security's long-term financial problems are serious and getting worse, senators said Tuesday as the Senate Finance Committee opened hearings. But they also said sharp divisions over President Bush's proposed creation of private retirement accounts might rule out a solution in the near future.- More...
Wednesday - April 27, 2005
National: Bush hanging tough on Social Security overhaul By MARY DEIBEL - By extending his 60-day, 60-stop tour stumping for private Social Security accounts, President Bush hopes to rekindle support for a plan that's steadily lost steam during his barnstorming: - More...
Wednesday - April 27, 2005
National: Why not to count on your pension By PAMELA GAYNOR - American workers with traditional pension plans are lucky to have them - only one of every five of the nation's employees currently does, about half the percentage of two decades ago.
But even the lucky few with pensions have reason to wonder about their safety. - More...
Wednesday - April 27, 2005
National: Congress to take up Abortion Notification Act By MARGARET TALEV - With 23 states requiring pregnant teens who want abortions to first tell their parents and in some cases get their permission, some of these girls have chosen the obvious alternative: driving to the nearest state where no such law applies. - More...
Wednesday - April 27, 2005
National: Washington state high-tech workers top nation in average salary By LES BLUMENTHAL - Washington state's high-tech workers are the best paid in the nation with salaries averaging $94,600 a year, according to an annual cyber survey.
That's $10,000 more than high-tech workers in California, $13,000 more than those in Massachusetts and $16,000 more than those in New Jersey, according to the survey of all 50 states by the American Electronics Association. - More...
Wednesday - April 27, 2005