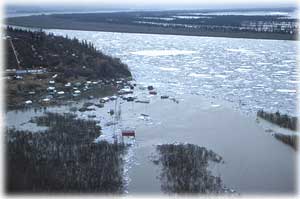 An ice jam in the lower Yukon backed the river into the village of Russian Mission in 1989. Floodwaters remained in the village for one week, when the only way in or out was by helicopter. Photo by Larry Rundquist, Alaska-Pacific River Forecast Center.
Alaska: Spring breakup milder in recent years by Ned Rozell - Spring breakup just ain't what it used to be, according to a long-time hydrologist at the Alaska-Pacific River Forecast Center in Anchorage.
Larry Rundquist has helped forecast the transition of Alaska's rivers from solid ice to liquid water for the past 18 years. The change can be damaging for villages as large pulses of snowmelt hit river channels or huge chunks of ice form dams that back rivers up, but the past few breakups have been mild ones.
"For the first decade that I worked here, we had watches or warnings for flooding going on at several locations every day for two or three weeks as the Yukon and Kuskokwim rivers were going out," Rundquist said. "It was a given we'd have flooding somewhere. The only question was how much damage would be done to villages."
"In the last decade, there's almost been a complete reversal," he said. "The number of threats due to ice jamming and snowmelt have reduced to the point where during one year we put out no flood (warnings or watches) and several years we've put out just a handful." - More...
Monday - April 11, 2005