'Ketchikan Community Concert Band'
Front Page Photo by Dale Miller

Ketchikan: Ketchikan Community Concert Band performs Sunday - Director Roy McPherson will lead the 44 member Ketchikan Community Concert Band as they play compositions ranging from movie themes, classics, American folk songs and a piece dedicated to the heroes of United Flight 93, who lost their lives in Pennsylvania on September 11, 2001. The program also includes compositions by local members of the percussion section. - More...
Tuesday - April 26, 2005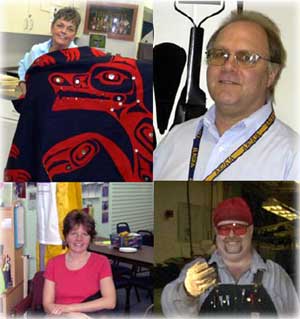 2005 Red Apple Award Recipients
Barbara Pearce, Kevin Sullivan,
Gretchen Klein and Steve Brandow
Photos courtesy Sarajustine Black
Ketchikan: Reception Planned to Honor Recipients Of Red Apple Awards by M.C. Kauffman - For their significant contributions to the education of Ketchikan's youth, the Delta Kappy Gamma International Epsilon Chapter will honor four Ketchikan citizens Thursday evening.
Each year, the prestigious Red Apple Award is presented to community members who deserve recognition for their contributions to the education of youth in Ketchikan. This year, Steve Brandow a UAS Welding Teacher, Gretchen Klein of Big Brothers Big Sisters, Barbara Pearce a Native Education Teacher for the Ketchikan School District, and Kevin Sullivan a Ketchikan School District Art Teacher will be presented the Red Apple Award 2005 at a reception hosted by Delta Kappa Gamma International Epsilon Chapter. - More...
Tuesday - April 26, 2005
National: National ID cards may be on the way By LANCE GAY - The federal government is moving ahead with a blizzard of new identification card proposals affecting military personnel, government workers and even ordinary Americans renewing their driver's licenses.- More...
Tuesday - April 26, 2005
National: Panel: Create standard guidelines for stem-cell research By LEE BOWMAN - With research on embryonic stem cells moving forward around the country despite limited federal support, an advisory panel urged Tuesday that a standard set of ethical guidelines be used for the studies. - More...
Tuesday - April 26, 2005
Columns - Commentary

Dale McFeatters: The Crawford gas price summit - As a photo op, President Bush holding hands with the elderly Saudi Crown Prince Abdullah may have served his political needs to be seen "doing something" about gasoline prices.
But the meeting only underscored how little the head of the world's largest economy and the head of the world's largest oil supplier can do about short-term oil prices and how much the long-term picture is subject to factors - like the booming economies of China and India - out of their control. - More...
Tuesday - April 26, 2005

Dick Morris: How Hill Gained - David Rosen, the national finance Director for Hillary Clinton's 2000 Senate campaign, goes on trial May 3 on charges of breaking federal campaign law. The senator's spokespeople insist that she didn't gain from the alleged crime - that the campaign realized no financial benefit from Rosen's understating the costs of a gala Clinton Hollywood fund-raiser.
Not true. Hillary's campaign realized not just a huge benefit, but one critical to her election chances. - More...
Tuesday - April 26, 2005