Cartoonists Bash the New Pope
by Daryl Cagle
April 26, 2005
Tuesday

The selection of German Cardinal Joseph Ratzinger as the new pope has been treated politely by the American press, but cartoonists around the world have been bashing the pontiff in ways that most readers would find shocking.
Mixing the words "rat" and "Nazi," the British tabloid "The Sun" dubbed the new pope "Papa Ratzi" in a banner headline. American newspapers are more polite to the conservative pontiff, criticizing him in editorials but avoiding Nazi metaphors. Growing up in Germany in the 1930's, Ratzinger was compelled to join the Hitler Youth and the German Wehrmacht. As a defender of conservative church doctrine, he was labeled as Pope John Paul II's "rottweiler." Cartoonists have seized on these images, portraying the pope as a snarling dog, and putting him in the role of the Fuhrer, reviewing troops of goose-stepping sheep or Cardinals.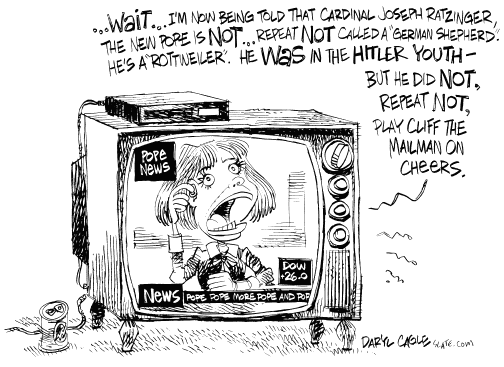 Pope TV
©Daryl Cagle, Slate.com

Readers usually see only one editorial cartoon in their daily newspaper and have to wander onto the internet to see what the political cartoonists are doing. Editors typically subscribe to many syndicated editorial cartoonists so that they have a large selection from which to pick a favorite cartoon of the day. In recent years, the trend among editors is to choose more cartoons that are cute little jokes and do not express a strong point of view. Editors want to avoid controversy; strong cartoons draw a strong reaction from readers. Cartoonists call the trend to opinionless cartoons "Newsweekization," as Newsweek Magazine is notorious for showcasing funny, pointless, inoffensive cartoons. Cartoonists still draw the strong cartoons, but readers see only the bland jokes that editors select. Cartoons that bash a pope will rarely be seen in the US, simply because too many readers would take offense.
The recent cartoons criticizing the new pontiff come from cartoonists who don't like his conservative views. Australian cartoonist Paul Zanetti depicts the pope saying, "Forward to the future" as he leads his sheep down a hole labeled "the past." Canadian cartoonist
Michael DeAdder portrays the pope's vestments decorated with symbols that say "no condoms", "no reform" and "no women." Cartoonist David Horsey of the Seattle Post Intelligencer draws the pontiff invading a woman's bathroom, scowling as she holds a birth control pill. Cartoonist Nate Beeler of the Washington Examiner draws the new pope with an accordion singing, "Are you ready to party like it's 1299?"
I drew a breathless television reporter, with her finger on her ear-piece, delivering the breaking news from Rome: "...WAIT ... I'm now being told that Cardinal Joseph Ratzinger, the new pope, is NOT ... repeat NOT called a 'German Shepherd,' he's a 'Rottweiler'. He WAS in the Hitler Youth, but he did NOT, repeat NOT, play Cliff the mailman on 'Cheers.'"
Foreign cartoons are always more harsh than those from America. Brazilian cartoonist Lailson de Hollanda shows an evil-looking pope at the window, with a crowd chanting "Heil Pope! Heil Pope!" Slovakian cartoonist Martin Sutovek shows the pontiff wearing blinders, like a race horse. Brazilian cartoonist Simanca draws the pope as a shark, about to chew up little fish labeled "homosexuals."
Cartoonists are bomb-throwers. If this column runs with no cartoons, I'm sure there is nothing to worry about. If this column runs with sample cartoons, I know that somewhere, an editor is hiding under his desk.


Daryl Cagle is the political cartoonist for Slate.com, the opinion site of The Washington Post. He is a past president of the National Cartoonists Society and his cartoons are syndicated to over eight hundred newspapers, including this publication you are reading.


Publish A Letter on SitNews Read Letters/Opinions
Submit A Letter to the Editor

Sitnews
Stories In The News
Ketchikan, Alaska