'Honoring Those Who Served'
Graphic from a Veterans Day Poster 1995 - Courtesy Veterans Admin.
National: President Commemorates Veterans Day, Discusses War on Terror - President Bush said, "Today, our nation pays tribute to those veterans, 25 million veterans who have worn the uniform of the United States of America. ... At this hour, a new generation of Americans is defending our flag and our freedom in the first war of the 21st century. The war came to our shores on September the 11th, 2001. That morning, we saw the destruction that terrorists intend for our nation. We know that they want to strike again. And our nation has made a clear choice: We will confront this mortal danger to all humanity; we will not tire or rest until the war on terror is won," President Bush told an audience of veterans and military personnel in Tobyhanna, Pennsylvania.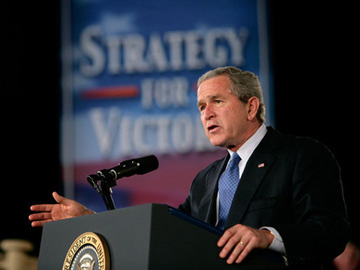 President George W. Bush gestures as he delivers remarks on the war on terror, Friday, Nov. 11, 2005 at the Tobyhanna Army Depot in Tobyhanna, Pa.
White House photo by Eric Draper
"On Veterans Day, we also remember the troops who left America's shores but did not live to be thanked as veterans. On this Veterans Day, we honor the courage of those who were lost in the current struggle. We think of the families who lost a loved one; we pray for their comfort. And we remember the men and women in uniform whose fate is still undetermined -- our prisoners of war and those missing in action. America must never forget their courage. And we will not stop searching until we have accounted for every soldier and sailor and airman and Marines missing in the line of duty," said President Bush.
Bush said, "All of America's veterans have placed the nation's security before their own lives. Their sacrifice creates a debt that America can never fully repay. Yet, there are certain things that government can do; my administration remains firmly committed to serving America's veterans."
In his speech, President Bush also laid out his administration's strategy for winning the War on Terror, the president asserted that "the defense of freedom is worth our sacrifice, we do know the love of freedom is the mightiest force of history, and we do know the cause of freedom will once again prevail." - More...
Friday - November 11, 2005
Alaska: Governor Proposes Community Dividend Plan - The state needs a long-term, sustainable approach to assist local communities, said Governor Frank H. Murkowski in a speech to the Alaska Municipal League in Anchorage on Thursday. The governor outlined a proposal that could use earnings from the Amerada Hess account to establish a new Community Dividend Program.
"I have witnessed the financial problems faced by our local municipal governments, especially in rural Alaska," said Murkowski. "The state can help, but that help should be permanent and not subject to the yearly ups and downs of general fund revenue. It must be long-term; it must be sustainable. This approach meets those challenges." - More...
Friday - November 11, 2005
Alaska: Ready to Read, Ready to Learn Task Force sets goals at initial meeting - Alaska Governor Frank H. Murkowski will ask the Alaska Legislature to provide $750,000 in fiscal year 2007 to improve childhood literacy and learning, First Lady Nancy Murkowski announced Friday at the Ready to Read, Ready to Learn Task Force in Anchorage.
The Department of Health & Social Services) and the Department of Education & Early Development will use the funds to carry out recommendations being developed by the task force, which met today at the UAA/APU Consortium Library in Anchorage. - More...
Friday - November 11, 2005
National: Government urges public patience for flu shots By LEE BOWMAN - Somewhere out there in America are 71 million doses of flu vaccine.
So says the director of the federal Centers for Disease Control and Prevention, Dr. Julie Gerberding, who called a news conference Thursday to reassure frustrated flu-phobics around the country that local vaccine shortages will eventually work themselves out. - More...
Friday - November 11, 2005
International: Top aide to Saddam reported dead in Iraq By LISA HOFFMAN - Izzat Ibrahim al Douri, the longtime Saddam Hussein crony whose death was reported Friday in a statement circulated in the name of Iraq's former ruling Baath Party, was believed to have helped organize the bloody insurgency bedeviling American troops in Iraq.
There was some dispute within the Bush administration about the extent of al Douri's role in the guerrilla operation - some officials believed he was one of the masterminds; others thought he was too ill with leukemia - but the apparatchik was considered important enough that the State Department slapped a $10 million bounty on his head in 2003. He was the highest-ranking official of the regime still at large. - More...
Friday - November 11, 2005
National: Palmeiro won't be charged with perjury By DAVID NIELSEN - Rafael Palmeiro dodged a perjury rap Thursday when the House Government Reform Committee declined to prosecute the baseball star for telling the committee he had never taken steroids just seven weeks before failing a drug test.
"It is not a finding of innocence, but it's a finding that we could not substantiate perjury," said Chairman Tom Davis, R-Va.
One of only four players in major league history to hit 500 home runs and 3,000 hits, Palmeiro was suspended for 10 days in August for using steroids. - More...
Friday - November 11, 2005
National: Animal lovers push for new pet protections By ISAAC WOLF - Norma J. Worley's tale of puppy-love might make Internet pet purchasers bark in anger.
Worley, director of Maine's Animal Welfare Program, said she sees many pet seekers browse through pictures of pups or kittens on the Internet until they fall in love with a picture of their ideal pet. - More...
Friday - November 11, 2005