Governor Proposes Community Dividend Plan

November 11, 2005
Friday

The state needs a long-term, sustainable approach to assist local communities, said Governor Frank H. Murkowski in a speech to the Alaska Municipal League in Anchorage on Thursday. The governor outlined a proposal that could use earnings from the Amerada Hess account to establish a new Community Dividend Program.
"I have witnessed the financial problems faced by our local municipal governments, especially in rural Alaska," said Murkowski. "The state can help, but that help should be permanent and not subject to the yearly ups and downs of general fund revenue. It must be long-term; it must be sustainable. This approach meets those challenges."
The governor's plan would set up a new Community Dividend Program funded from the earnings of the Amerada Hess account that resides within the Permanent Fund for investment management purposes. By law, earnings from the Amerada Hess account cannot be used in calculating dividends. Estimated revenue from the account in FY07 is $27 million. The Community Dividend Program would provide $10 million in base payments to municipalities and boroughs based upon their population. All boroughs would receive $50,000 and cities would receive between $25,000 and $40,000.
The new program would also provide an increase in the three years of grants to areas that incorporate into boroughs to assist them in the transition to an organized form of government -- two years of $1 million grants, and a $500,000 grant the final year. The remaining proceeds of the Amerada Hess earnings would be distributed to boroughs on a per capita basis. Those funds could be used for basic responsibilities such as public safety, road maintenance, fuel and education.
Additionally, the governor will propose that the state, on behalf of local governments, pay the increased retirement system contribution. This will total $38 million in FY 2007, bringing the state's level of assistance to local governments to $65 million.
"We have put on the table a responsible, common sense approach to aiding our communities," said the governor. "It is critical that our cities have a long-term, stable source of funding, not subject to the vagaries of the state's annual revenues."
He also challenged AML to consider the Percent of Market Value approach that passed the House of Representatives two years ago. This approach would have provided some $70 million for a community dividend program from a long-term funding source.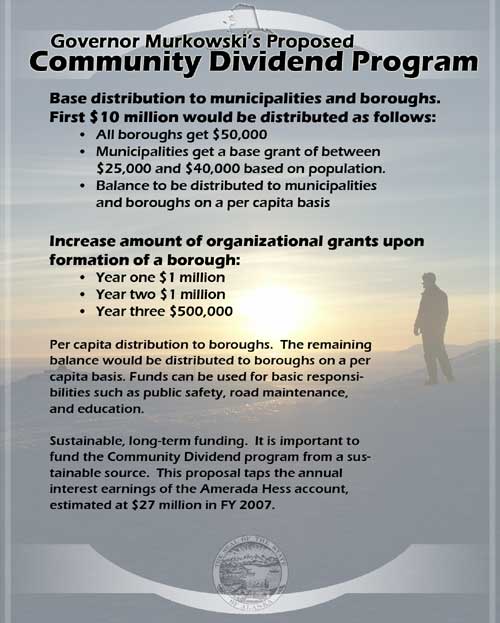 Source of News:
Office of the Governor
http://www.gov.state.ak.us
E-mail your news & photos to editor@sitnews.us


Publish A Letter on SitNews Read Letters/Opinions
Submit A Letter to the Editor
SitNews
Stories In The News
Ketchikan, Alaska