Friday
November 28, 2003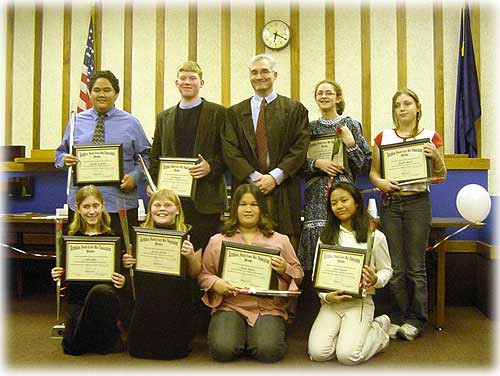 KYC Holds 8th Graduation Ceremony
Pictured: Superior Court Judge Trevor Stephens and KYC Graduates: Sami Mills; Jonathan G. Makua; Lan Sivertsen; Elizabeth Graham; Courtney Enright; Aimee Millendez; Kanoe Thomas; and Katherine Hargett - Photo courtesy Gretchen Klein
Ketchikan: KYC Holds 8th Graduation Ceremony - The Ketchikan Youth Court held it's 8th graduation ceremony on Friday, November 21, 2003 at the State Office Building. Eight students who successfully completed the Youth Court Fall Class 2003 and who successfully passed the youth bar exam met the requirements to be sworn in as Youth Court members. - Read more...
Friday - November 28, 2003 - 12:45 am
Ketchikan: Six Locals Honored by Ketchikan Youth Court - Gretchen Klein. Ketchikan Youth Court Program Coordinator announced that the Ketchikan Youth Court recently held the Ketchikan Youth Courts' 2nd annual awards banquet. Klein said, "There were six awards given out to youth court members, business donators, and adult volunteers." Klein said awards were presented for serving more than 200 hours of service or donating over $5,000.00 to the program over the years. - Read more...
Friday - November 28, 2003 - 12:45 am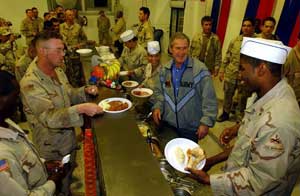 President George W. Bush meets with troops and serves Thanksgiving Dinner at the Bob Hope Dining Facility, Baghdad International Airport, Iraq,, Thursday, November 27, 2003.
White House photo by Tina Hager...

National: President Bush Makes Surprise Visit to Baghdad; Praises troops, assures Iraqis U.S. "will stay until the job is done" - President Bush made a surprise Thanksgiving Day visit to U.S. troops in Baghdad November 27, flying secretly on Air Force One to Baghdad International Airport, where he spent two and a half hours with a group of about 600 troops before heading back home to Texas.

The lights on the president's plane were off as it landed in darkness at about 5:30 p.m. local time Baghdad, to minimize chances of it being targeted. - Read more...
Friday - November 28, 2003 - 12:45 am

Alaska: Alaskans Invited to Attend Governor's Open House - Alaska Governor Frank Murkowski and First Lady Nancy Murkowski announced Wednesday that the 90 year-old tradition of the annual holiday open house at the Governor's Mansion in Juneau will be held on December 3, 2003. More than three hundred guests attended the first open house in 1913, and more than 3,000 have attended in recent years. - Read more...
Friday - November 28, 2003 - 12:45 am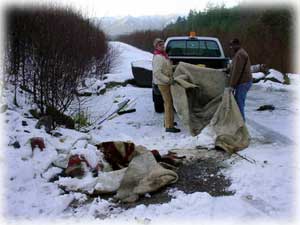 Borough employees Tom Konen and Herman Baham clean up the mess off Revilla Road Wednesday morning... photo courtesy Jerry Cegelske
Ketchikan: "Dumpers" Busy Dropping Off Early Christmas Presents for Borough Residents - Jerry Cegelske, Code Enforcement Officer for the Ketchikan Gateway Borough said, "Dumpers have been busy giving early Christmas presents to Borough residents in the weeks before Thanksgiving. They are trying to please everybody by dropping gifts off from one end of the road system to the other." But, according to Cegelske, unfortunately the citizens of Ketchikan will be the ones who pay for these gifts of trash left by these irresponsible "dumpers". - Read more...
Friday - November 28, 2003 - 12:45 am
Mike Reagan Columnist: It Really Is The Economy, Stupid - Note to the 10 Demodwarfs now running for president: Get off your knees, boys, God isn't going to answer your prayers for a rip-roaring recession. The good times are rolling.
And the way it looks now, they are going to keep rolling - that is unless one of you by some miracle gets elected and keeps his promise to repeal the Bush tax cuts, thereby sending the economy into a tailspin. - Read more...
Friday - November 28, 2003 - 12:45 am
Alaska: State Seeks to Intervene in Bristol Bay Price Fixing Case at Request of Governor - At the request of the Governor, Attorney General Gregg Renkes filed a motion Wednesday to intervene in the case of Louie Alakayak v. All Alaskan Seafoods, Inc., known as the Bristol Bay price fixing case. The motion asks the court to let the State of Alaska participate in all proceedings to determine the amount of attorney's fees to be paid from a $40 million settlement fund created when plaintiffs settled with several defendants before trial. - Read more...
Friday - November 28, 2003 - 12:45 am
Alaska: Nautilus Foods Fined for Violating Alaska's Seafood Processing Laws - A Valdez seafood processing company was sentenced November 18th to pay $8,000 in fines after being convicted of violating the state's seafood processing laws, the Alaska Department of Environmental Conservation (DEC) announced Wednesday. Tom Waterer admitted that his company, Waterkist Corporation (doing business as Nautilus Foods) had processed seafood without the Department's approval. The company was placed on probation for one year from the day of sentence. - Read more...
Friday - November 28, 2003 - 12:45 am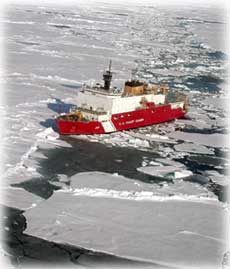 USCGC Healy, a Coast Guard icebreaker designed to support scientific research, in the Arctic Ocean.
Credit: Henry Dick Woods Hole Oceanographic Institution / NSF
Science: Geologists Discover New Class of Spreading Ridge on Sea Bottom - Scientists have discovered a new "ultra-slow" class of ocean ridge involved in seafloor spreading. Investigations in the remote regions of the planet-in the far south Atlantic and Indian Oceans and the sea floor beneath the Arctic icecap-found that for large regions there, the sea floor splits apart by pulling up solid rock from deep within the earth. These rocks, known as peridotites (after the gemstone peridot) come from the deep layer of the earth known as the mantle.
Known ocean ridges, like the Mid-Atlantic Ridge and the East Pacific Rise, include regularly spaced volcanoes that continuously create a layer of crust on the seafloor. Mantle rocks are only rarely found along these volcanic ridges. Along the new class of ocean ridges, however, volcanoes occur only at widely spaced intervals and contain more sodium and potassium, among other chemical elements, than do typical mid-ocean ridge lavas. - Read more...
Friday - November 28, 2003 - 12:45 am
Go to Sitnews (Front pages - archives)
Sitnews
Stories In The News
Ketchikan, Alaska