'Tongass Narrows'
Front page photo by Carl Thompson
Ketchikan: Front Page Photo - Tongass Narrows - This photograph was taken from Saxman looking across the Tongass Narrows on Tuesday morning.
Wednesday - November 19, 2003 - 12:50 am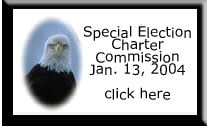 Candidates: Final Filings
Last Updated: 11/14/03 - 6:45 pm
Ketchikan
Alaska: House passes huge energy bill - The bill would grant $18 billion in loan guarantees to build an Alaska-to-Chicago natural gas pipeline. - Read more...
Fort Worth Star Telegram - Wednesday -November 19, 2003 - 12:50 am
Alaska: Energy Bill Defines Framework for Gasline - Governor Frank Murkowski said Tuesday that he was very pleased that the compromise federal energy bill provides the basic federal policy framework for a $20 billion natural gas pipeline to the Lower 48.
"I would like to first acknowledge the strong team we have on this issue with our Congressional delegation ­ Senator Ted Stevens, Senator Lisa Murkowski, and Congressman Don Young - and with Arctic Power and the labor unions that have devoted so much time and energy to this bill," Murkowski said. "They did a tremendous job." - Read more...
Wednesday -November 19, 2003 - 12:50 am
Ketchikan: Two pounds of marijuana found in car on state ferry - A Metlakatla man was arrested and his vehicle seized in Ketchikan after U.S. Customs officers reportedly found two pounds of marijuana in his car aboard the state ferry Taku. - Read more...
Fairbanks Daily News Miner - link posted Wednesday - November 19, 2003
Ketchikan: New Scholarship Benefiting Ketchikan Youth Features First Fund-raising Concert Monday - A new scholarship benefiting Ketchikan youth features its first fund-raising concert Monday, Nov. 24th at 7 p.m. at the Ketchikan High School Auditorium.
Donations will be accepted at the door and all proceeds will go to the Sam Pitcher Memorial Scholarship Fund to help Ketchikan youth attend summer music programs.
Sam Pitcher was a Kayhi student and was a member of all the groups that will perform Monday in an evening of jazz and blues. The concert will feature the Windjammers Jazz Club, the Soundwaves Jazz Club, the Discovery Jazz Club, and the Kayhi Jazz Ensemble. - Read more...
Wednesday -November 19, 2003 - 12:50 am