Veterans Day - November 11th
Joe Sadlier (Ketchikan), Elroy Edenshaw (Ketchikan), Willard Jackson Sr.(Ketchikan),
Jim Van Horn (Ketchikan) & Isabella Brady (Sitka)...
a few of the many veterans of Southeast Alaska.
photos by Gigi Pilcher - graphic by M.C. Kauffman
This is Veterans Day and all across the country, flags are flying and events will honor the men and women who have served our nation so that we may live in peace and security. The day has a special meaning, with many members of the uniformed services on the ground in Afghanistan and Iraq. Originally, the holiday was known as Armistice Day and marked the end of World War I. By the time of the Korean War, the name was changed to Veterans Day to include all those who had served in the armed forces. Today, there are more than 26-million veterans in the U.S., about one of every eight adults. The largest number, 8-million, served during the Vietnam War, and about 6-million fought in World War II.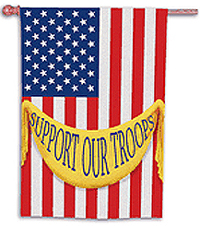 'Our Troops'
click here...
Veterans Day
8:00 am - 10:00 am - Ketchikan's American Legion Post will host a breakfast.
11:00 am - A march from the American Legion Post to Centennial Parking lot for a ceremony... Jim Van Horn will be the speaker.
Open house at the American Legion Post until 1:00 pm following the ceremony.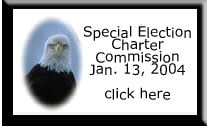 Last day to file Nov. 14, 2003
Ketchikan
Veterans Day Message
President George W. Bush: The willingness of America's veterans to sacrifice for our country has earned them our lasting gratitude. On this, our Nation's 50th annual Veterans Day observance, we celebrate and honor the patriots who have fought to protect the democratic ideals that are the foundation of our country.
When the armistice ending World War I was signed on November 11, 1918, more than 4.7 million Americans put down their arms and turned to the work of strengthening our Nation. The end of that first global conflict was initially commemorated as Armistice Day. In 1954, the Congress renamed the day as Veterans Day to recognize all those who have served in our Armed Forces.
Throughout our history, loyal citizens from every corner of America have willingly assumed the duty of military life. And time after time, in conflicts across the globe, they have proven that democracy is mightier than tyranny. From World War I and World War II, to the conflicts in Korea, Vietnam, and the Persian Gulf, to the recent battles in the war on terror, our military has built a great tradition of courageous and faithful service. Our veterans have helped bring freedom to countries around the world. Free nations and peoples liberated by American troops are grateful for the long, distinguished line of American veterans who have come to their aid.
Today, our veterans inspire new generations of Americans as we work to defeat terrorism and advance peace. In respect for and recognition of the contributions our service men and women have made to the cause of peace and freedom around the world,the Congress has provided (5 U.S.C. 6103(a)) that November 11 of each year shall be set aside as a legal public holiday to honor veterans.
Veterans & Remembrance Day
Governor Frank Murkowski: Alaskans pause on November 11 to remember the men and women of our armed forces who have given their time, energy, and dedication to defend America and our way of life. Our brave soldiers, sailors, airmen, Marines, and coast guardsmen have answered the call to duty and have served their nation with unmatched loyalty, patriotism, and resolve. For this we are humbly honored to call them our friends and neighbors.
In peacetime and in war, whether here at home or on distant shores, our veterans have set the standard for the world, as the military force of a peace-loving nation. Here in Alaska, since 1867 when the Imperial Russian flag was lowered at Sitka and the American Stars and Stripes replaced it, the military has had an enduring presence in our lives. Over the years, every branch of the U.S. military has called Alaska its home, and protected our shores.
Today, we are home to more than 20,000 active duty military forces, and more than 6,000 hard working, dedicated Alaska National Guard and Reserve members. Alaska offers unmatched strategic location, military training areas, a track record of innovation, and a special civilian-military bond. America's missile defense system, now being constructed in Alaska, will be operated by members of our Alaska National Guard, taking our state's contribution to national defense to an ever-higher plane.
We take the occasion on Veterans and Remembrance Day to say thank you to the nearly 70,000 veterans who call Alaska home. We also honor Alaskans and Americans who have given their lives in defense of their nation. And we honor our World War II allies - Canadians, British, and Russians, whose final resting place is among Americans at our Fort Richardson National Cemetery.
As we pause to reflect on Veterans and Remembrance Day, we must not lose sight of our active duty men and women, serving the United States around the globe. We are grateful for their efforts, their sacrifices, and their dedication to duty as they fight terrorism.
Go to Sitnews (Front pages - archives)
Sitnews
Stories In The News
Ketchikan, Alaska