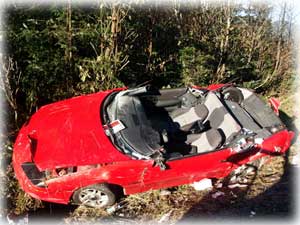 1994 Chevy Camaro
photo by Dick Kauffman

Ketchikan: Three Rollover Accidents Friday on North Tongass; One person injured seriously - The Alaska State Troopers responded to three rollover accidents on North Tongass Friday - at mile 6, mile 13.7, and mile 13.5.
In the area of Mile 6 North Tongass Highway, the Troopers reponded to a report of a single vehicle accident around 9:05 pm.
According to an AST's release, the investigation revealed that a red 1994 Chevy Camaro driven by twenty year old Mitchell Volpi of Ketchikan was traveling north on North Tongass Highway when his car left the roadway for unknown reasons. The car entered the ditch adjacent the southbound lane where it rolled several times.
Volpi sustained serious injuries and was transported to Ketchikan General Hospital by the Ketchikan Fire Department Ambulance. The investigation continues. - Read more...
Sunday - November 09, 2003 - 1:00 am
Go to Sitnews (Front pages - archives)
Sitnews
Stories In The News
Ketchikan, Alaska