Saturday
November 08, 2003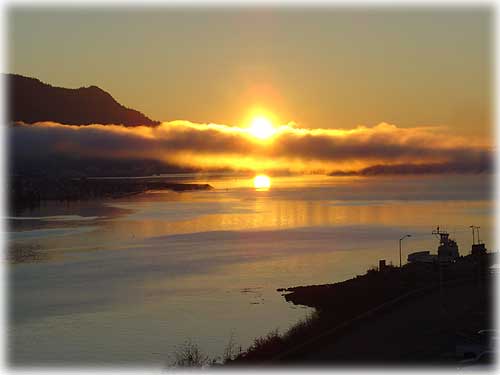 'Double Sunrise'
front page photo by Dan Hart

November 2003
More front pages (click)
Click on the date to view past front page stories & photos...

| | | | | | | |
| --- | --- | --- | --- | --- | --- | --- |
| S | M | T | W | T | F | S |
| | 27 | 28 | 29 | 30 | 31 | 1 |
| 2 | 3 | 4 | 5 | 6 | 7 | 8 |
| 9 | 10 | 11 | 12 | 13 | 14 | 15 |
| 16 | 17 | 18 | 19 | 20 | 21 | 22 |
| 23 | 24 | 25 | 26 | 27 | 28 | 29 |
| 30 | | | | | | |
Ketchikan
Alaska: Top Republicans press for Ruedrich's removal; Party chairman's conflict is viewed as intolerable - Republican Party of Alaska chairman Randy Ruedrich faced growing pressure from prominent Republicans on Friday demanding that he be removed from either the party chairmanship or his job as state oil and gas regulator. - Read more...
Anchorage Daily News - Saturday - November 08, 2003
Ketchikan: Elkins disappointed at ouster, stands by critical words; He says his comments on longevity bonus cost him the appointment - Former Ketchikan bar owner and assemblyman Jim Elkins said Friday that he is disappointed that the governor has withdrawn his nomination to fill an unexpired term in the state Senate. But he stood by the remarks that he thinks caused the fuss. - Read more...
Anchorage Daily News - Saturday - November 08, 2003
Alaska: Tribal firm uses fish waste, sawdust to make compost - What do you do with huge amounts of fish-processing waste and massive piles of sawdust? - Read more...
Billings Gazette - Saturday - November 08, 2003

Alaska: University of Alaska Faculty Reach Contract Agreement - The University of Alaska and the Alaska Community Colleges' Federation of Teachers (ACCFT) announced Friday they have reached a tentative agreement for a new three- year labor agreement.
ACCFT represents 315 university faculty who teach at all campus locations in the University of Alaska system. The University and the union have been in negotiations for 14 months. The tentative agreement, reached between representatives of the university and the union, is subject to ratification by the union's members as well as the university Board of Regents. - Read more...
Saturday - November 08, 2003 - 12:45 am
Alaska: New rules support faster fisheries observer data transmission - The National Marine Fisheries Service (NOAA Fisheries) has put in place rules starting January 1, 2004, that is said will enhance data transmission from fisheries observers on certain catcher vessels, catcher processors, and shore-side processors in Alaska. - Read more...
Saturday - November 08, 2003 - 12:45 am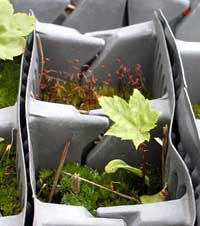 Devil's Club
(Courtesy Sonya Senkowsky)
Alaska: Alaska's Thorny Future - Could Alaska's thorniest weed become its next big cash crop? Some think that the much-scorned devil's club has just that potential.
If you've ever tangled with the common Alaska weed known as devil's club, you don't have to ask how it got that name. In some areas, the plant grows as tall as seven or eight feet. And it's covered in long, sharp thorns that, if you mess with them, hurt like the devil.
Alaska agronomist Peggy Hunt said, "It's funny because the scientific name for it is Oplopanux horridus. Think of horrid."
Hunt is a plant ecologist at the state-run Native Plant Nursery, in Palmer, Alaska, which is dedicated to finding the most effective ways to propagate and raise native plants-including devil's club. Hunt said, "And then, hopefully, we'll be able to give the native plants to commercial growers, who will then be able to take those parent plants and sell them to people who may want them." - Read more...
Saturday - November 08, 2003 - 12:45 am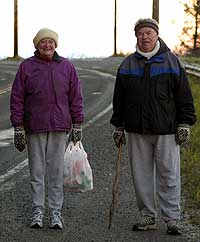 Judy and John Stenfjord
photo by Carl Thompson
People of Ketchikan: Judy and John Stenfjord - The Stenfjords stay in shape with morning walks along South Tongass. While enjoying their walks together, they take the time to pick up any trash they come across and bag it. They put the bags of trash they collect by a guard rail for Doug Pearce who comes along later and picks up the bags to dispose of them.
The Stenfjords, with the help of Doug Pearce, are doing their part in helping to keep Ketchikan beautiful - and have been doing so for a very long time. - View a larger photograph...
Saturday - November 08, 2003 - 12:45 am
Ketchikan: White Cliff Replacement School Design Update Meeting - The members of the Design Team for the White Cliff Replacement School will present the updated plans to the Ketchikan Gateway Borough District School Board on Monday, November 10th. The meeting is scheduled to begin at 7:00 pm at the Ted Ferry Civic Center Conference room. - Read more...
Saturday - November 08, 2003 - 12:45 am

More State & Local News Stories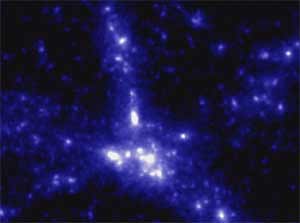 Dark Matter
Credit: Chung-Pei Ma, Ed Bertschinger
UC Berkely
Science: Dark matter" forms dense clumps in ghost universe - The "dark matter" that comprises a still-undetected one-quarter of the universe is not a uniform cosmic fog, says a University of California, Berkeley, astrophysicist, but instead forms dense clumps that move about like dust motes dancing in a shaft of light.
In a paper submitted this week to Physical Review D, Chung-Pei Ma, an associate professor of astronomy at UC Berkeley, and Edmund Bertschinger of the Massachusetts Institute of Technology (MIT), prove that the motion of dark matter clumps can be modeled in a way similar to the Brownian motion of air-borne dust or pollen.
Their findings should provide astrophysicists with a new way to calculate the evolution of this ghost universe of dark matter and reconcile it with the observable universe, Ma said. - Read more...
Saturday - November 08, 2003 - 12:45 am

More Science News
Go to Sitnews (Front pages - archives)
Sitnews
Stories In The News
Ketchikan, Alaska