People of Ketchikan
Judy and John Stenfjord
photo by Carl Thompson
November 8, 2003
Saturday - 12:45 am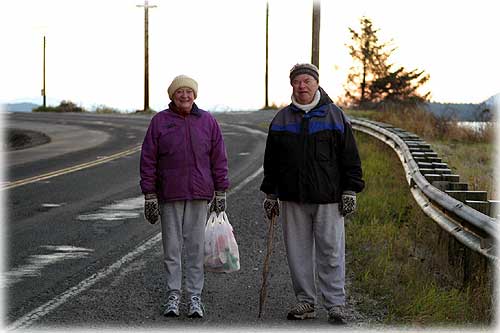 Judy and John Stenfjord
Ketchikan, AK: Judy and John Stenfjord stay in shape with morning walks along South Tongass. While enjoying their walks together, they take the time to pick up any trash they come across and bag it. They put the bags of trash they collect by a guard rail for Doug Pearce who comes along later and picks up the bags to dispose of them.
The Stenfjords, with the help of Doug Pearce, are doing their part in helping to keep Ketchikan beautiful - and have been doing so for a very long time.
Carl Thompson ©2003
Carl's Alaska Photos Web Site
Submit your photos for publication to photos@sitnews.org.
E-mail Dick Kauffman: editor@sitnews.org
Post a Comment View Comments
Submit an Opinion - Letter
Sitnews
Stories In The News
Ketchikan, Alaska