Tuesday
October 28, 2003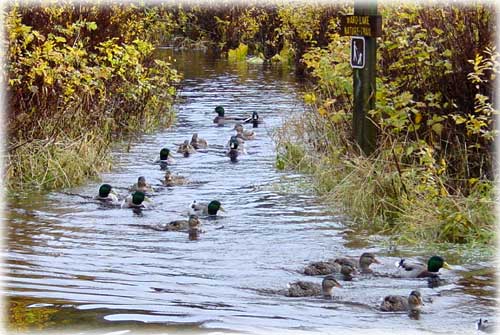 'Make Way for Duckies'
by Mimi Eddy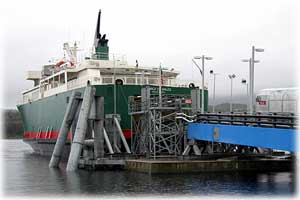 High Tide Photo Gallery
photo by Carl Thompson
Monday's high tide of 19' was captured by Carl Thompson in these photographs.
---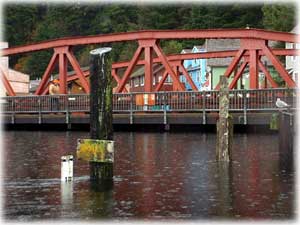 High Tide Photo Gallery
photo by Chris Wilhelm
Monday's high tide of 19' was captured by Chris Wilhelm in these photographs.


Ketchikan: Front Page Photo 'Make Way for Duckies' - Mimi Eddy planned to walk the trail at Ward Lake Sunday, but found the side trail to the left was flooded... and look what was coming down the hiking trail!

The whole place was flooded. Eddy said, "Once you got to the campground you couldn't walk on the trail! There were picnic tables, the cooking stands under water! It was amazing!"

According to the Federal Aviation Administration's Flight Service Station, there was a total of 4.10 inches of rain that fell Saturday & Sunday. According to NOAA, Ketchikan's highest tide recorded on Sunday was over 19 feet. - Page...
Tuesday - October 28, 2003 - 1:00 am

Alaska: Gov. Murkowski New President of Council of State Governments - Governor Frank H. Murkowski on Sunday was elected President of the Council of State Governments for a one-year term, which runs through September 2004. CSG, founded in 1933, serves the executive, judicial, and legislative branches of state governments through leadership education, research, and information services. - Read more...
Tuesday - October 28, 2003 - 1:00 am

Alaska: NOAA Fisheries Proposes Depleted Designation For Prince William Sound Killer Whales - National Marine Fisheries Service (NOAA Fisheries) has proposed designating the AT-1 killer whale group of Prince William Sound as depleted under the Marine Mammal Protection Act.
"We are concerned about this group of killer whales," said Dr. James Balsiger, administrator for the Alaska Region of NOAA Fisheries. "For genetic, behavioral, ecological and management reasons we propose designating AT-1 whales as separate from the larger population of transient killer whales in the eastern North Pacific." - Read more...
Tuesday - October 28, 2003 - 1:00 am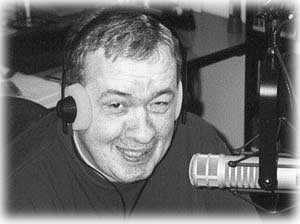 Bob Kern
photo courtesy KFMJ
Ketchikan: Kern Inducted Into Alaska Broadcasters Association "Hall of Fame" - Ketchikan radio personality and pioneer broadcaster Bob Kern was inducted into the Alaska Broadcasters Association "Hall of Fame" at the Association's annual convention in Anchorage Friday night.

The Association cited Kern for his more-than 4 decades of broadcast and media service.
Kern founded and built Ketchikan radio station KFMJ in 1997, and does the station's "Fats and Gang" morning show, in addition to acting as the station's manager. Kern is also co-publisher of The Local Paper and has several other local business interests.

Kern first came to Ketchikan in 1964, as a radio operator at the Coast Guard Radio Station at Point Higgins. He was first heard on Ketchikan radio station KTKN in 1965. - Read more...
Tuesday - October 28, 2003 - 1:00 am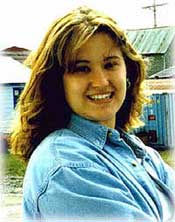 Vicki Muzik
KFMJ Production Manager
photo courtesy KFMJ
Ketchikan: KFMJ Earns Two "Goldie" Awards - Ketchikan radio station KFMJ earned two "Goldie" awards at the Alaska Broadcasters Association annual convention and banquet in Anchorage Friday night.
Goldies are awarded annually to broadcasters for excellence in production, reporting, promotions and entertainment. The annual awards are Alaska's equivalent of the "Emmy" or "Oscar" awards.

KFMJ received one of the "Goldie" awards for a series of radio commercials written and produced by production manager Vicki Muzik. The commercials, entitled "Great Chefs of the World", were produced for West Coast Cape Fox Lodge and highlighted the hotel's restaurant. The commercials were written and produced by Muzik and were voiced by KFMJ's Julie Slanaker, Stuart Whyte, and Chef Tim Frank.
The other "Goldie" was for a public service announcement KFMJ produced in conjunction with Alaskans For Drug-Free Youth and Ketchikan General Hospital. The anti-drug spot was called "I Have A Dream", and was written and voiced by teen volunteers from ADFY and produced by Vicki Muzik. - Read more...
Tuesday - October 28, 2003 - 1:00 am
National: National Crime Statistics for 2002 Released by FBI - Nationally, the volume of crime reported to law enforcement in 2002 (estimated at 11.9 million offenses) increased by less than one-tenth of one percent when compared to the 2001 volume, the Federal Bureau of Investigation reported Monday. Five- and 10-year trend data showed that the 2002 estimated volume was 4.9 percent lower than the 1998 volume and 16.0 percent lower than the 1993 volume. The FBI's Uniform Crime Reporting (UCR) Program released this information today in its annual publication, Crime in the United States, 2002.
In 2002, more than 17,000 city, county, and state law enforcement agencies voluntarily provided data on serious crime: 4 violent crimes (murder and nonnegligent manslaughter, forcible rape, robbery, and aggravated assault) and 3 property crimes (burglary, larceny-theft, and motor vehicle theft) to the UCR Program. These agencies represented 93.4 percent of the total U.S. population as established by the U.S. Bureau of the Census. - Read more...
Tuesday - October 28, 2003 - 1:00 am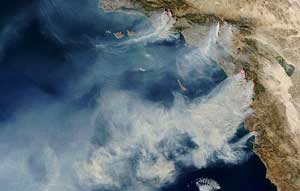 NASA's satellite image of California's fires...
Image courtesy Jacques Descloitres, NASA

National: Fires in Southern California - Several massive wildfires were raging across southern California over the weekend of October 25, 2003. Whipped by the hot, dry Santa Ana winds that blow toward the coast from interior deserts, at least one fire grew 10,000 acres in just 6 hours.
At least 14 people have lost their lives because of these fires, which officials are reporting were caused by carelessness and arson. Thousands have been evacuated across the region and at least a thousand homes have been lost.
Ten large fires rage across southern California in this true-color Moderate Resolution Imaging Spectroradiometer (MODIS) image taken on October 27, 2003 by NASA's Aqua satellite. - Read more & view photos...
Tuesday - October 28, 2003 - 1:00 am
Health: Halloween can be dangerous for those wearing illegal costume contact lenses - They can turn brown eyes blue or human eyes to monster eyes. Decorative, or costume, contact lenses can be a fun way to change one's looks, especially for Halloween. However, the American Academy of Ophthalmology, the Eye M.D. Association, warns consumers about the dangers associated with illegally sold costume contact lenses. The over-the-counter contact lenses have been sold by unlicensed vendors at beauty salons, video stores, gas stations and flea markets.
A study appearing in this month's issue of Eye & Contact Lens, the clinical journal of the Contact Lens Association of Ophthalmologists, presented six case studies of patients, teenagers and young adults, who experienced problems associated with these lenses. The vision-threatening problems included bacterial infections, corneal abrasions and allergic reactions. One 14-year-old patient needed a corneal transplant following a serious eye infection that required hospitalization and another patient was left legally blind in one eye. - Read more...
Tuesday - October 28, 2003 - 1:00 am
Go to Sitnews (Front pages - archives)
Sitnews
Stories In The News
Ketchikan, Alaska