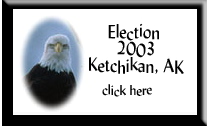 About the Candidates
Candidates' Forum
Election Information
Readers' Questions

Ketchikan
Today's Front Page
Thursday's Front Page
More Front Pages
Daily Precip & Temp
Alaska: Our Alaska Show to Expand on Gasline Issue - "Our Alaska" to Expand on Natural Gas Pipeline Issue / TV Show to Include More of "60 Minutes" Interview with Lesley Stahl.
Alaska Governor Frank Murkowski will present the case for the Alaska Highway route for the Alaska natural gas pipeline in his weekly television program, "Our Alaska," airing Friday evening on statewide cable and satellite TV systems. He will discuss both the enabling provisions and fiscal incentives in the federal energy bill, and why their passage is vital to Alaska and the nation. - Read more...
Friday - October 03, 2003 - 12:50 am

Arctic: Scientists Use Satellite To "Pond-er" melted Arctic Ice - NASA researchers and other scientists used a satellite combined with aircraft video to create a new technique for detecting ponds of water on top of Arctic sea ice. Until now, it was not possible to accurately monitor these ponds on ice from space.
Water that forms on sea ice during the summer, called a melt pond, absorbs the Sun's energy rather than reflecting it back to space the way ice does. The balance between reflected and absorbed energy has a large effect on Arctic and global climate. When more ponds of water form on the Arctic sea ice cover in early summer, more heat is absorbed, causing the Arctic's sea ice cover to melt faster during the summer. Knowledge of when and where these melt ponds form will help scientists calculate the balance of energy in the Arctic and improve their knowledge and projections of climate both regionally and globally. - Read more...
Friday - October 03, 2003 - 12:50 am
Go to Sitnews (view previous front pages)
Sitnews
Stories In The News
Ketchikan, Alaska