OCT. 8: WILLIAM A. EGAN DAY
To honor Alaska's first Governor
by June Allen
Photograph of Bill Egan courtesy Ketchikan Museums

Bigelow & Lyband Tie for
Second Assembly Seat
Assembly Shall Direct Recount
Unofficial Results 10/08/03 (pdf)
The Canvassing Board met Wednesday morning to count the absentee and questioned ballots. After counting the absentee and questioned ballots, Ketchikan Assembly Candidates Barbara Bigelow and George Lybrand were tied for the second assembly seat with 935 votes each. Dave Kiffer was the top vote getter unofficially securing one of the two Assembly seats with 1,227 votes.
According to Borough election codes, a recount shall be directed by the Borough Assembly. When directed by the Assembly, the Canvassing Board will individually recount all ballots cast on Tuesday - including absentee & questioned ballots. A special Assembly Meeting is scheduled for Thursday at 5:30 pm in the City Council Chambers for the purpose of ordering a recount. The recount would likely be scheduled for Monday at 9:00 am in the City Council Chambers.
If after the recount, Bigelow and Lybrand are still tied, Borough code states that the winner will be determined fairly by lot. This would be done in a Borough Assembly meeting under the direction of the current Assemblymembers. Likely a special meeting would be scheduled....
Wed. - Oct. 08, 2003 - 1:50 pm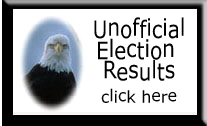 Unofficial Results (pdf) posted: Wednesday - 10/08/03 - 1:27 pm
Unofficial Results (pdf) posted: Tuesday - 10/07/03 - 10:21 pm
About the Candidates
Ketchikan

In 1985 the Alaska State Legislature named October 8 each year as William A. Egan day, "to honor the first governor of the State of Alaska for a lifetime of service to the Territory and State of Alaska." Bill Egan was Alaska's first - and to this date - only Alaska-born governor. He would have been proud of that honor. He died in 1984 at age 70. At his Anchorage funeral he was eulogized by public officials but perhaps would have been more pleased by the many oldtimers who slipped in to pay their last respects almost unnoticed - fedoras, wool watch caps or ear-flapped fur hats in hand - as they bowed their heads in silent honor to the "people's governor." - Read the rest of this story by June Allen...
Wednesday - October 08, 2003 - 12:50 am

Front page photo: Bill Egan; date unknown - from: "Bill Egan And Alaska: a pictorial tribute to a gallant leader of a courageous state" a book prepared and printed through the efforts of the many friends of Bill Egan on the occasion of his birthday, October 8, 1965. Photograph courtesy Ketchikan Museums

To read more stories by June Allen, click here...
June Allen's Column Is Made Possible In-Part By These Local Sponsors: Madison Lumber & Hardware, Inc. ~ Downtown Drugstore ~ Alaska Glass & Supply ~ Sourdough Bar Liquor Store ~ Davies-Barry Insurance ~ Sitnews...
---
Alaska: U.S. Supreme Court Hears Red Dog Case Oct. 8; Case is fundamental state's rights issue - The U.S. Supreme Court will hear Alaska's case challenging the Environmental Protection Agency's authority under the Clean Air Act to invalidate a permit issued by an "approved" state because it prefers the use of different technology.
"The Supreme Court granted Alaska's petition to hear this case, we believe, because it's a fundamental state's rights issue that can have a major impact on all other states," said Governor Frank Murkowski. "If EPA has approved a state's program and then second-guesses a state's decision, it upsets a state's ability to manage and protect its environment, upsets normal business practices for permitting and business enterprises, and creates an uncertain business environment." - Read more...
Wednesday - October 08, 2003 - 12:50 am
Alaska: State targets innovative strategies for Alaska hire - Murkowski administration labor officials are launching a new program, the Investment Strategy initiative, to encourage "outside the box" thinking that will foster innovative proposals to increase job opportunities for Alaskans.
Commissioner of Labor and Workforce Development Greg O'Claray said that hiring more Alaskans for good jobs is a Murkowski administration priority and the driving force behind the Investment Strategy. - Read more...
Wednesday - October 08, 2003 - 12:50 am
Dick Morris Columnist: Barbarians at The Gate - How did Arnold Schwarzenegger get to become the frontrunner in California's recall election? How did Wesley Clark come out of nowhere to lead the pack seeking the Democratic nomination? How has Howard Dean been able to parlay the Internet into fund-raising that surpasses the entire field of traditional Democratic pros? Why has President Bush slipped so dramatically in the polls?
Each event is part of a popular uprising against the political class that governs America. Voters realize, correctly, that our nation's politicians are a self-serving, self-perpetuating oligarchy that rules us with scant regard for our concerns and interests. - Read more...
Wednesday - October 08, 2003 - 12:50 am
Alaska: Governor Appoints Laraine Derr as Boards & Commissions Director - Alaska Governor Frank Murkowski on Tuesday announced that Laraine Derr has been appointed as his director of boards and commissions, effective October 15. Derr recently retired as president and CEO of the Alaska State Hospital and Nursing Home Association. - Read more...
Wednesday - October 08, 2003 - 12:50 am
Go to Sitnews (view previous front pages)
Sitnews
Stories In The News
Ketchikan, Alaska