Bolling Wins $10,000 American Legion Raffle
Jim Van Horn of the American Legion-Post 3 in Ketchikan
presents Rhonda Bolling with a check for $10,000...
Photo by Gigi Pilcher - Photo courtesy Rhonda Bolling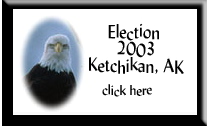 About the Candidates
Candidates' Forum
Election Information
Readers' Questions

Ketchikan
Ketchikan: Bolling Wins $10,000 American Legion Raffle - It would be a rare day indeed to learn that you are the big winner of a $10,000 raffle and for Rhonda Bolling it was almost unbelievable. Bolling's lucky raffle ticket was the 300th ticket drawn out of 300 tickets in Saturday's Ketchikan American Legion Post 3 raffle.
Bolling said Kathy Graham, her sister-in-law, and other family members who were present during the American Legion drawing called her at the Ketchikan High School volleyball game when her lucky ticket was drawn. She said the phone had to be passed around to about four different people at the Legion to assure her that this wasn't a joke and that somebody wasn't just pulling her leg. Bolling said she understands that her sister-in-law was jumping up and down screaming and clapping when Bolling's name was announced as the $10,000 winner. - Read more...
Wednesday - October 01, 2003 - 1:15 am
National: Numbers of Americans With and Without Health Insurance Rise - The number of people with health insurance rose by 1.5 million between 2001 and 2002, to 242.4 million, and the number of uninsured rose by 2.4 million, to 43.6 million, the U.S. Census Bureau reported Tuesday.
An estimated 15.2 percent of the population had no health insurance coverage during all of 2002, up from 14.6 percent in 2001, according to the report, Health Insurance Coverage in the United States: 2002.
The proportion of insured children did not change in 2002, remaining at 64.8 million, or 88.4 percent of all children.
For the second year in a row, the overall decrease in coverage was attributed to a drop in the percentage (62.6 percent to 61.3 percent) of people covered by employment-based health insurance. - Read more...
Wednesday - October 01, 2003 - 1:15 am