Bolling Wins $10,000 American Legion Raffle
by M.C. Kauffman
October 01, 2003
Wednesday - 1:15 am

Ketchikan, AK - It would be a rare day indeed to learn that you are the big winner of a $10,000 raffle and for Rhonda Bolling it was almost unbelievable. Bolling's lucky raffle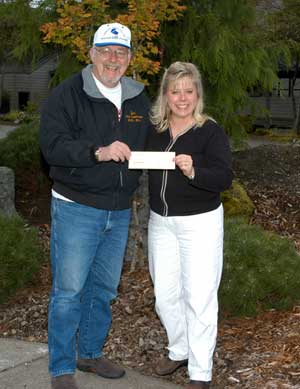 Jim Van Horn of the American Legion-Post 3 in Ketchikan presents Rhonda Bolling with a check for $10,000 for being the winner in Saturday's, September 27th, American Legion raffle.
Photo by Gigi Pilcher
Photo Courtesy Rhonda Bolling

ticket was the 300th ticket drawn out of 300 tickets in Saturday's Ketchikan American Legion Post 3 raffle.

Bolling said Kathy Graham, her sister-in-law, and other family members who were present during the American Legion drawing called her at the Ketchikan High School volleyball game when her lucky ticket was drawn. She said the phone had to be passed around to about four different people at the Legion to assure her that this wasn't a joke and that somebody wasn't just pulling her leg. Bolling said she understands that her sister-in-law was jumping up and down screaming and clapping when Bolling's name was announced as the $10,000 winner.

Bolling said, "I'd love to say I was going to do something fun with the money but I'm applying it toward a bill that I've been working very hard to pay off. I guess that's fun though!"

"I am very thankful to the men and women of the American Legion and how they've served our country and continue to serve our community."

Bolling said she likes to support the American Legion and other local groups by buying raffle tickets any chance she can but she's never won anything until now. "It's pretty exciting - almost unbelievable. Wow. It's awesome to win and to also know that the Legion wins in this fund raising effort as well."

Bolling said she really appreciates and supports how the American Legion uses the proceeds to send kids to Boys or Girls State.

"Thank you, thank you, thank you American Legion and Jim Van Horn for selling me the lucky ticket", Bolling said.

Bolling said she only purchased one $100 ticket - and as Bolling has learned, it only takes one ticket to win!





E-mail Editor: editor@sitnews.org
Post a Comment -------View Comments
Submit an Opinion - Letter

Sitnews
Stories In The News
Ketchikan, Alaska