Friday
November 14, 2003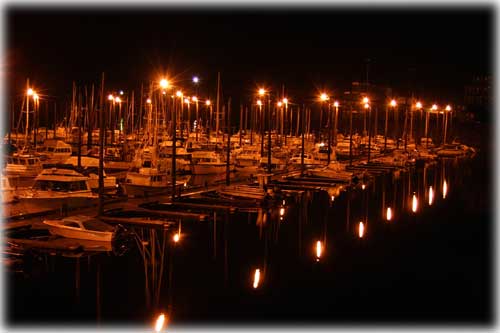 'Lights of Bar Harbor'
Photo by Carl Thompson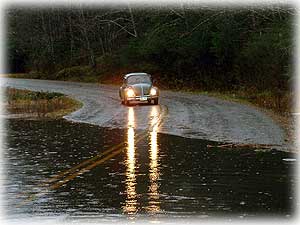 'How high's the water...'

Ketchikan: Water flows across the road leading to the Ward Lake area Thursday. - Ward Lake Photo Gallery by Chris Wilhelm...
Friday - November 14, 2003 - 1:15 am
Ketchikan: Wind, rain buffets Ketchikan - While some residents suffered earlier this week without their Internet service, it didn't compare to the hardship of the two guys who fixed the problem. - Read more...
Fairbanks Daily News Miner - Friday - November 14, 2003 - link posted 7:05 pm
Ketchikan: Front Page Photo 'Lights of Bar Harbor'- Bar Harbor is calm Thursday afternoon following the high winds earlier Thursday morning.
Thursday morning at 6:30 am the Federal Aviation Administration's Flight Service Station located at the Ketchikan International Airport reported high winds blowing steady at 65 mph and gusting up to 85 mph.
The FAA/FSS reported 5.31 inches of rain on Wednesday, November 12th, and 4.33 inches of rain on Thursday - a total of 9.64 inches over the 48 hour period ending at midnight Thursday.
Friday - November 14, 2003 - 1:15 am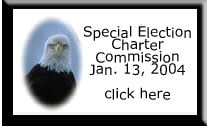 Candidates: Final Filings
Friday - Nov. 14, 2003 - 6:45 pm
Last day to file Nov. 14, 2003
Ketchikan
Ketchikan: USDA Approved Cash Benefits for Alaska's Pacific Salmon Fshers - The United States Department of Agriculture approved Alaska's Pacific salmon fishers to receive cash benefits under the new Trade Adjustment Assistance (TAA) program.
Applications for this program are currently being accepted by the Alaska Farm Service Agency in the Ketchikan Hub office located in the Job Service Center at 2030 Sea Level Drive, Suite 220, Ketchikan, Alaska. - Read more...
Friday - November 14, 2003 - 1:15 am
Alaska: Major Tobacco Companies Agree to Eliminate Advertising from School Editions of Weekly News Magazines - Attorney General Gregg Renkes announced Thursday that the principal tobacco companies whose advertising has appeared in Time, Newsweek, and U.S. News and World Report have agreed to the request by Attorneys General from throughout the country that they remove advertising for their cigarette and smokeless tobacco brands from copies of those magazines that are sent to schools as part of the magazines' school programs. - Read more...
Friday - November 14, 2003 - 1:15 am
Alaska: Climate Linked To Extinction of Alaska's Native Horses - Alaska's native horses became extinct about 12,500 years ago. But before they did, they shrank, says R. Dale Guthrie, Institute of Arctic Biology researcher - a professor emeritus at the University of Alaska Fairbanks. This suggests, he says in this week's Nature, that climate change, not hunting, was to blame for their demise. Guthrie radiocarbon-dated bones from the forelimbs of two Alaskan horse species. Bones from the last days of the horses were about 12% shorter than those from the beginning of the period, about 27,000 years ago. - Read more...
Friday - November 14, 2003 - 1:15 am
Ketchikan: 'Bucho Is My Name'... Bucho and Noni Burno's story; Alaska and animal lovers, this book will steal your heart! - Bucho Is My Name, written by Ketchikan residents Bucho and Noni Burno, is a heartwarming story of an abandoned Golden Retriever mix dog who finds the perfect home - in Alaska.
According to Noni Burno who was born and raised in Alaska, this story will capture your heart and the heart of any child you share it with. She said for those that have a soft spot for Alaska and dogs, this is a great children's book. - Read more...
Friday - November 14, 2003 - 1:15 am
Pacific Northwest: Some large Pacific Northwest quakes could be limited in size by their location - Large, deep earthquakes have shaken the central Puget Sound region several times in the last century, and nerves have been rattled even more often by less-powerful deep quakes. New University of Washington research suggests the magnitude of these temblors might depend on just where beneath the Earth's surface they occur. - Read more...
Friday - November 14, 2003 - 1:15 am
World: By the year 2050, human population could add 2.6 billion people, reports Rockefeller scientist - It took from the beginning of time until 1950 to put the first 2.5 billion people on the planet. Yet in the next half-century, an increase that exceeds the total population of the world in 1950 will occur. - Read more...
Friday - November 14, 2003 - 1:15 am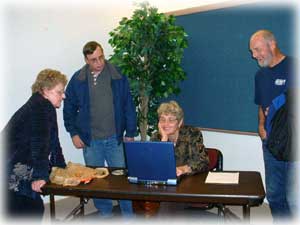 Pat Roppel searches her database...
Photo Gallery by Chris Wilhelm

Ketchikan: Popular Historian and Author Pat Roppel Spoke at The Ted Ferry Civic Center Thursday - Pat Roppel, inveterate historian of Southeast Alaska, widely published author, and former Ketchikan resident, presented an illustrated talk, "The Changing Face of Ketchikan," at the Ted Ferry Civic Center on Thursday evening.
According to information provided by the Tongass Historical Society, Pat Roppel arrived in Ketchikan on a steamer in 1959 and lived here for 25 years. Now a resident of Wrangell, she has researched and written about nearly every aspect of Ketchikan's rich and colorful history. Her talk, extensively illustrated with historical photographs, reviewed the development of Ketchikan, from its beginnings in 1887 to its current status as Alaska's premier cruise ship port. - View the photo gallery...
Friday - November 14, 2003 - 1:15 am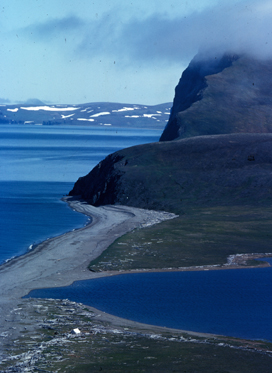 St. Matthew Island in the Bering Sea... Dave Klein photo
Alaska Science: When Reindeer Paradise Turned to Purgatory by Ned Rozell - During World War II, while trying to stock a remote island in the Bering Sea with an emergency food source, the U.S. Coast Guard set in motion a classic experiment in the boom and bust of a wildlife population.
The island was St. Matthew, an unoccupied 32-mile long, four-mile wide sliver of tundra and cliffs in the Bering Sea, more than 200 miles from the nearest Alaska village. In 1944, the Coast Guard installed a loran (long range aids to navigation) station on St. Matthew to help captains of U.S. ships and aircraft pilots pinpoint their locations. The Coast Guard stationed 19 men on St. Matthew Island to operate the station. Those men-electrical technicians, cooks, medics, and others-made up the entire human population of the island. - Read more...
Friday - November 14, 2003 - 1:15 am
National: Do You Know Where Your Seafood Comes From? - The crab used in 'Maryland' crab cakes most likely comes from Indonesia, Thailand or Venezuela, even when they're ordered at a restaurant on the Chesapeake Bay. Bay scallops, traditionally from New England and a popular item on menus across the country, today are raised primarily in China. And nearly 90 percent of all shrimp, the number one seafood consumed in the United States, is now imported from farms in Thailand, India, Vietnam, Ecuador and China rather than caught wild in the Gulf of Mexico or other nearby waters. - Read more...
Friday - November 14, 2003 - 1:15 am
Go to Sitnews (Front pages - archives)
Sitnews
Stories In The News
Ketchikan, Alaska