Photo Gallery
Popular Historian and Author Pat Roppel Spoke
at The Ted Ferry Civic Center Thursday
Photos by Chris Wilhelm
November 14, 2003
Friday - 1:15 am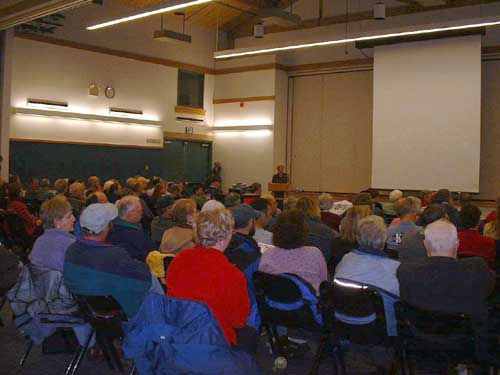 Pat Roppel, inveterate historian of Southeast Alaska, widely published author, and former Ketchikan resident, presented an illustrated talk, "The Changing Face of Ketchikan," at the Ted Ferry Civic Center on Thursday evening.
According to information provided by the Tongass Historical Society, Pat Roppel arrived in Ketchikan on a steamer in 1959 and lived here for 25 years. Now a resident of Wrangell, she has researched and written about nearly every aspect of Ketchikan's rich and colorful history. Her talk, extensively illustrated with historical photographs, reviewed the development of Ketchikan, from its beginnings in 1887 to its current status as Alaska's premier cruise ship port.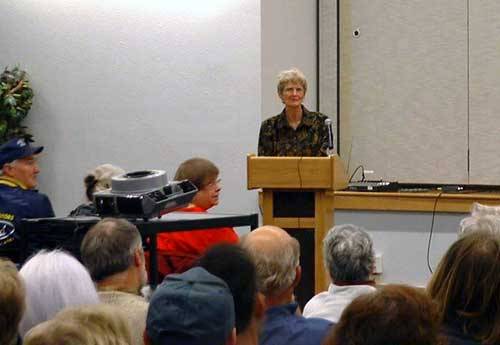 Pat Roppel takes questions from the audience.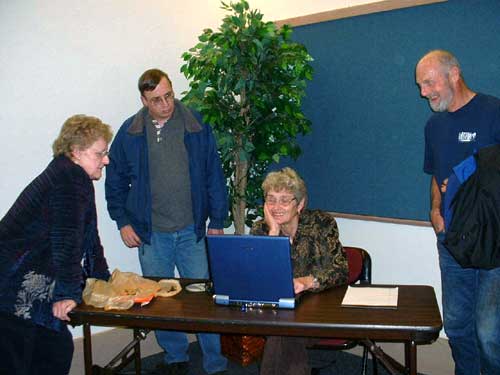 Roppel searches her database.
Chris Wilhelm ©2003
E-mail Chris Wilhelm: citytour@kpunet.net
Submit your photos for publication to photos@sitnews.org.
Dick Kauffman: editor@sitnews.org
Post a Comment View Comments
Submit an Opinion - Letter
Sitnews
Stories In The News
Ketchikan, Alaska