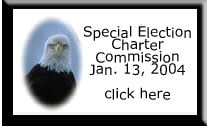 Last day to file Nov. 14, 2003
Ketchikan
Ketchikan: New UAS Ketchikan Scholarship Opens - The University of Alaska Southeast Ketchikan announced that the Ketchikan Bridge Club 1975-2000 Scholarship is now open and accepting applications. The club ceased operations in 2000 and dedicated their club's fund to supporting education in Ketchikan. The Spring 2004 award of $500 will be the first award for the endowment. - Read more...
Wednesday - November 12, 2003 - 1:00 am

Ketchikan: Yonker Named KGH Employee of the Month - Mike Yonker, a 6 year employee of Ketchikan General Hospital, has been named Employee of the Month for November by a committee of his co-workers. Yonker is a member of the Maintenance Department, with a wide variety of skills required to keep a diverse plant such as a hospital and clinics operational. Yonker has life-long training as a carpenter, having grown up working with his parents in their painting and decorating business. He has completed many remodeling projects for KGH, as new technology continuously requires changes in room configurations. - Read more...
Wednesday - November 12, 2003 - 1:00 am
Alaska: Forest Service issues decision for Woodpecker Project Area - The Forest Service recently approved the harvest of timber in the Woodpecker Project Area within the Tongass National Forest in Southeast Alaska. The area is located on the Petersburg Ranger District, Mitkof Island, about 27 miles south of Petersburg, Alaska.
Tongass National Forest Supervisor Forrest Cole has approved the harvest of approximately 10.9 million board feet of timber and the construction of approximately 4.8 miles of classified road and approximately 1.3 miles of temporary road to facilitate the harvest. An earlier decision in December 2002, on the same project area, approved approximately 5.4 million board feet of timber harvest along the existing road system. Options at that time were limited due to a since-lifted federal district court injunction. - Read more...
Wednesday - November 12, 2003 - 1:00 am
Alaska: $3.5 million grant will help DHSS treat persons with co-occurring substance abuse and mental disorders - The Alaska Department of Health & Social Services was awarded on Monday a grant of nearly $3.5 million, which will be disbursed over five years, for co-occurring substance abuse and mental health problems. Health and Human Services SAMHSA Administrator Charles Curie presented the award to Governor Frank H. Murkowski today at the governor's office in Juneau. - Read more...
Wednesday - November 12, 2003 - 1:00 am
Columnist
Dick Morris: The Clark Collapse - Old soldiers who run for president, to paraphrase MacArthur, never die, they just fade away. Wesley Clark has just faded.
The latest Marist Poll taken at the end of October shows the former general fading from a tie for first place to fifth in the Democratic primary field, dropping to 8 percent of the Democratic vote nationwide, well behind Howard Dean who led at 16 percent of the likely Democratic primary voters.
Other recent polls confirm the same trend. The ABC/Washington Post poll last week shows Clark fading to fourth place and the Fox News/Opinion Dynamics poll records a drop in his favorable/unfavorable ratio from 24-11 at the end of September to 25-19 at the end of October.- Read more...
Wednesday - November 12, 2003 - 1:00 am
Go to Sitnews (Front pages - archives)
Sitnews
Stories In The News
Ketchikan, Alaska