'Old Fence'
Photo by Chris Wilhelm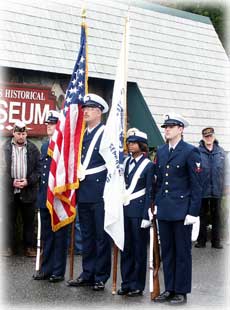 ---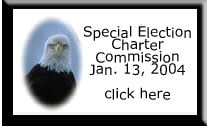 Last day to file Nov. 14, 2003
Ketchikan
Alaska: Governor Personally Outraged By Democratic Grand Standing - The Murkowski administration on Wednesday called on Representatives Les Gara and Ethan Berkowitz to apologize to Alaska's veterans for abusing the occasion of Veterans Day in an apparent attempt to score political points regarding HB 245. That bill, passed last session, clarifies that one soldier may not sue another soldier for tort damages while they are acting as members of the military. - Read more...
Thursday - November 13, 2003 - 12:50 am
Alaska: Construction records steady growth, second only to oil in workers' wages - Alaska's construction industry is recording steady growth and increased economic stability, according to state labor officials.
Neal Fried, an economist with the Research and Analysis Section in the state Department of Labor and Workforce Development, this week reported that Alaska's construction industry has changed from its earlier years of "boom and bust" to become more stable and predictable. - Read more...
Thursday - November 13, 2003 - 12:50 am
Ketchikan: Fifth Annual Enchanted Forest Dance & Auction - The Ketchikan Area Chamber of Commerce's fifth annual Enchanted Forest Dance & Auction will be held on Saturday, December 06, 2003, at the Ted Ferry Civic Center from 6:30 pm until midnight. - Read more...
Thursday - November 13, 2003 - 12:50 am
Alaska: Highway Funding Bill Approval by EPW Committee Welcomed by Sen. Murkowski - U.S. Senator Lisa Murkowski, a member of the Senate Environment and Public Works (EPW) committee, welcomed the approval for several amendments to the reauthorization of the Transportation Equity Act for the 21st Century (TEA-21). "The highway bill is the largest economic engine of this Congress. I am looking forward to seeing it go to the Senate floor early next year, and to its eventual enactment. It will help to create jobs, promote economic growth and address Alaska's transportation needs," said Murkowski. - Read more...
Thursday - November 13, 2003 - 12:50 am
Health: Immune memory from smallpox vaccination lasts more than 50 years, according to Emory research - Immune memory after smallpox vaccination persists for at least 50 years in immunized individuals, according to research conducted by scientists at the Emory Vaccine Center and Emory University School of Medicine. This is good news, since the findings, published in the Nov. 15 issue of the Journal of Immunology, suggest that individuals vaccinated against smallpox prior to the end of the smallpox vaccination program in 1972 may still retain at least some protection against smallpox. - Read more...
Thursday - November 13, 2003 - 12:50 am
Science: Arctic and Antarctic sea ice marching to different drivers - A 30-year satellite record of sea ice in the two polar regions reveals that while the Northern Hemisphere Arctic ice has melted, Southern Hemisphere Antarctic ice has actually increased in more recent years. However, due to dramatic losses of Antarctic sea ice between 1973 and 1977, sea ice in both hemispheres has shrunk on average when examined over the 30-year time frame. - Read more...
Thursday - November 13, 2003 - 12:50 am
Mike Harpold Column
Ketchikan: LEARNING FROM VIET NAM - Late at night before I go to bed, I check the internet news for the latest word on American casualties in Iraq. It is in a sense a morbid habit, but like the moth examining the flame I am struggling to understand our dangerous engagement in Iraq and the future of the generation of young Americans we have asked to carry the burden.
I was part of an earlier generation that was asked to provide security and help the South Vietnamese build a viable government, serving two years as an advisor to the Vietnamese National Police. In large measure we were successful, only to see our own government pull the rug from under what we had accomplished. Now a new generation must do the same, help build a nation committed to democratic principles where none have existed before. I have no doubt that the generation we have sent to Iraq can do it, but they deserve the commitment of our leaders to keep our country behind the effort until it is done. - Read more...
Thursday - November 13, 2003 - 12:50 am
Go to Sitnews (Front pages - archives)
Sitnews
Stories In The News
Ketchikan, Alaska