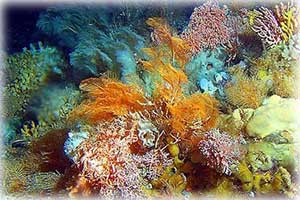 Scientists exploring the deep seafloor off Alaska discovered never-before-seen coral gardens, such as this one near the Aleutian Islands.
Photo Courtesy Bob Stone,
National Marine Fisheries Service...

Alaska Science: Alaska's Coral Gardens by Doug Schneider - Deep on the bottom of the sea, in one of the most remote parts of Alaska, let alone the planet, lie some of the most beautiful coral gardens the world has-for the most part-never seen. And now these same coral beds have taken center stage in a battle to protect the waters off Alaska from overfishing.
More than 1,000 feet beneath the ocean surface, and hundreds of miles from the closest city, Bob Stone of the National Marine Fisheries Service lies flat on his side, cramped into a two-person submersible, and peers out a small porthole. Beyond the one-and-a-half-inch thick Plexiglas™ window is a world steeped in darkness. As the submersible reaches the bottom of a submarine canyon, the pilot turns on the floodlights and a video camera. Suddenly, Stone's world is filled with the truly amazing colors and fantastic shapes of a deep-sea coral garden. - Read more...
Tuesday - November 18, 2003 - 12:40 am
Columnist Mike Reagan: Free Colonel Allen West - Last June the FBI arrested a 20 year-old college student who was plotting to bomb Coast Guard and National Guard bases in Washington state.
According to NewsMax.com, Paul Douglas Revak tried to get another student to help him bomb the Coast Guard station in Bellingham, Washington. He was also accused of talking about obtaining or making C-4 explosives and bombing other military installations including Whidbey Island Naval Air Station near Oak Harbor and the Washington Air National Guard and Army National Guard stations near Bellingham International Airport.
Court papers revealed that Revak described himself as an "anarchist" and gave another student a "manifesto" declaring war against the government.
For this grievous offense which could have killed large numbers of U.S. servicemen and women, Revak could have been sentenced to life in prison, but soft hearted old Uncle Sam made a deal with him which his lawyer says will allow this punk kid to be out of the slammer by Christmas, even though the lesser charge he copped to could have kept him behind bars for 10 years.
Contrast that to the treatment now being accorded to a genuine American hero, Lt. Col. Allen B. West who now faces serious punishment and the end of his distinguished military career in the United States Army for saving the lives of his men. - Read more...
Tuesday - November 18, 2003 - 12:40 am
Go to Sitnews (Front pages - archives)
Sitnews
Stories In The News
Ketchikan, Alaska