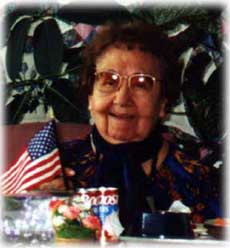 Pauline Blackstad Celebrated
100th Birthday Sunday
Photo courtesy Shirley Goodwin Crane

People of Ketchikan: Pauline Blackstad Celebrated 100th Birthday - Pauline Blackstad celebrated her 100th birthday Sunday in Ketchikan with family and friends at a community pot luck.
Escorting Blackstad to the her very special birthday celebration was her husband of 75-years, Bill Blackstad.
Pauline Blackstad was born on Nov, 16th 1903, in Kasaan Alaska. In 1928 she married William Blackstad who came to Kasaan from Hawaii aboard a fish tender. Pauline was 25 and Bill was 23 when they married. The Blackstads celebrated their 75th wedding anniversary this year.
The Blackstads lived in Kasaan for many years before moving to Ketchikan around 1990.
Among the many persons attending Blackstad 100th Birthday celebration at the Ketchikan Pioneers' Home was the Mayor the City of Ketchikan, Bob Weinstein. The Mayor spoke briefly and led the celebrants in singing Happy Birthday to Pauline Blackstad. Mayor Weinstein and Mrs. Blackstad both share the same day of birth - November 16th.
A beautiful birthday cake was provided by the Ketchikan Indian Community. Over 50 persons attended the pot luck dinner and more celebrants continued to drop by to present their birthday wishes. - View the photo gallery...
Monday - November 17, 2003 - 12:45 am
Go to Sitnews (Front pages - archives)
Sitnews
Stories In The News
Ketchikan, Alaska