Governor, First Lady Christen New Ferry in Connecticut

Not Happy, However, that Connecticut Senators Do Not Support Alaska
November 17, 2003
Monday - 12:45 am

Bridgeport, CT - Governor Frank H. Murkowski and First Lady Nancy Murkowski on Firday attended the christening of the first of Alaska's new generation of fast ferries. High winds, however, prevented the launching of the new 235-foot, catamaran-hulled vessel, which is expected to enter service in northern Southeast next May.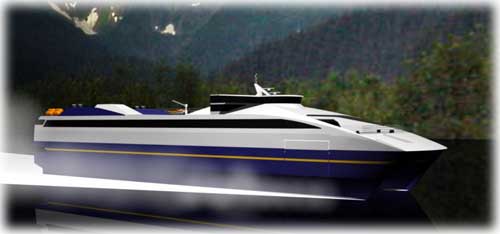 "It is a pleasure for Nancy and me to be here to christen the 'Fairweather' in New England," Murkowski said. "We look forward to the delivery and sea trials of this new vessel, which really represents a new era for the Alaska Marine Highway System and the people of Alaska who are served by our ferries."
Murkowski said he was impressed by the family-owned and -operated Derecktor Shipyard, where the "Fairweather" and its sister ship, the "Chenega," are being constructed. The shipyard employs about 300 workers on the two ships, which will cost about $38 million apiece.
"Alaska appreciates the service this Connecticut shipyard is providing and we are glad to do business here," Murkowski said. "However, neither of Connecticut's US Senators support Alaska in opening ANWR. If Alaska is not able to develop its resources, then we will be unable to pay for projects like this, which provide jobs for shipyard workers in Connecticut. I am asking Connecticut's two senators to reconsider and show some reciprocity by voting to open ANWR."
Approximately 400 people attended the christening, including Bridgeport Mayor John Fabrizi, Congressman Christopher Shays, Admiral Jim Underwood of the 17th Coast Guard District, Karen Schmid, Deputy Division Administrator for the Federal Highway Administration, and other Alaskans. Transportation and Public Facilities Commissioner Mike Barton noted, after Nancy Murkowski broke a bottle of champagne over one of the "Fairweather's" twin hulls, that, "she has an excellent arm for such affairs."
The "Fairweather" is an aluminum, twin-hulled vessel designed for high speed and low wake. It will carry 250 passengers and 35 vehicles, and will serve Juneau, Sitka, and upper Lynn Canal. The "Chenega" will enter service in spring of 2005, serving Cordova, Valdez, and Whittier.
AMHS Photo Gallery:
Source of News Release:
Office of the Governor
Web Site
Source of Photograph:
Derecktor Shipyards
Web Site




E-mail Editor: editor@sitnews.org
Post a Comment -------View Comments
Submit an Opinion - Letter

Sitnews
Stories In The News
Ketchikan, Alaska