"Dumpers" Busy Dropping Off Early Christmas
Presents for Borough Residents
November 28, 2003
Friday - 12:45 am

Ketchikan, AK - Jerry Cegelske, Code Enforcement Officer for the Ketchikan Gateway Borough said, "Dumpers have been busy giving early Christmas presents to Borough residents in the weeks before Thanksgiving. They are trying to please everybody by dropping gifts off from one end of the road system to the other." But, according to Cegelske, unfortunately the citizens of Ketchikan will be the ones who pay for these gifts of trash left by these irresponsible "dumpers".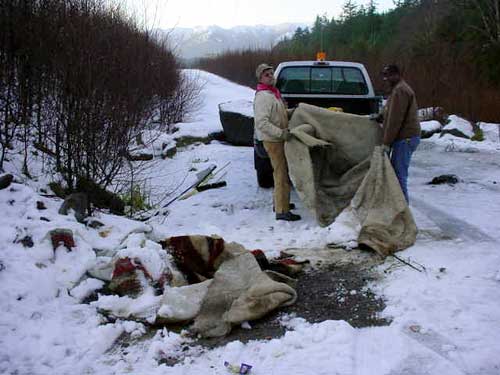 Borough employees Tom Konen and Herman Baham clean up the mess off
Revilla Road Wednesday morning...
photo courtesy Jerry Cegelske

Cleaning up the mess is expensive. Cegelske said the travel trailer frame disposed of at mile 7 South Tongass will cost the Borough about $300.00 to dispose of. He said the owner could have just taken it to the Ward Cove Mill disposal site. Cegelske said the tires dumped at Mile 9 South Tongass Highway along with Bud Lite beer cans from a party will cost the Borough about $100.00 to dispose of. Cegelske said, "It's nice to see that the litterers are concerned about their weight and health."
A blue truck dropped off at mile 16 on the North Tongass Highway for the Borough to cleanup will cost about $300.00 to have it towed, said Cegelske. Instead of dumping the blue truck, the irresponsible owner could have made a much better choice and obtained a voucher from the KGB Public Works Department and dropped the truck off for free at the disposal site.
Cegelske said, "Apparently many people don't know they can dispose of vehicles for free after they obtain a voucher from the Public Works Department. Metal items can also be disposed of for free. It is hard to believe people are not aware of the disposal site after all the advertising which has been done on junk vehicles. Maybe it is just laziness on their part."
A Kenmore dishwasher dropped off on Whipple Spur Road along with a TopBrass paintball container, Tidy Cat litter container and Budweiser beer cans will cost Borough residents about $200.00 to clean this mess up, said Cegelske. "Whipple Spur Road was one of the main dumping areas cleaned up by the employees of Carriage Works Auto Shop, the State, and Borough employees on June 13th of this year. This is the second time a large quantity of trash has been dumped here since it was cleaned up," said Cegelske.
Cegelske said, "The carpet remnants, padding, and trash have also been dumped off Revilla Road opposite the road to Ward Lake and were on Sitnews November 5, 2003. After that someone dumped the skeletal remains of about seven deer in the area to add to the asphalt, plastic pipe, glass, camper top, construction materials, paint cans and household trash. People using the trail have been disgusted when exposed to the carcasses." He said, "Hopefully someone will be able to shed some light on the people dumping all the trash and solid waste along our roads due to their laziness."
According to Cegelske, the general penalty for violations of the Solid Waste Code section 29.30.090 calls for a fine of up to $500.00 and/or imprisonment for not more than 30 days. Cegelske said, "I and the other people working to clean up the trash around Ketchikan are looking forward to the day in court we can represent the responsible people of Ketchikan who take care of their trash."

KGB Code Enforcement Officer Jerry Cegelske can be contacted by calling (907) 228-6621.

Photo Gallery


This travel trailer frame disposed of at mile 7 South Tongass will
cost Borough residents about $300.00 to dispose of...
photo courtesy Jerry Cegelske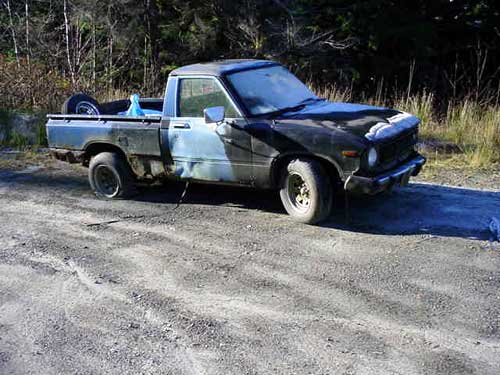 This blue truck dropped off at mile 16 on the North Tongass Highway for the Borough to cleanup will cost Borough residents about $300.00 to have it towed...
photo courtesy Jerry Cegelske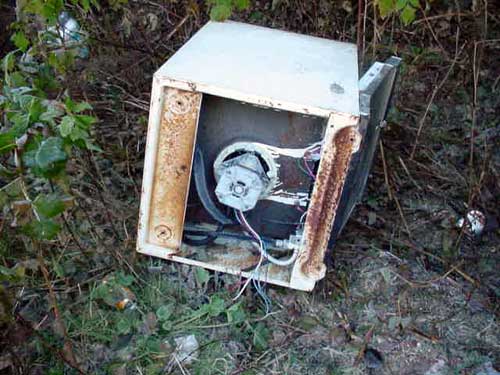 This Kenmore dishwasher dropped off on Whipple Spur Road along with a TopBrass paintball container, Tidy Cat litter container and Budweiser beer cans will cost Borough residents about $200.00 to clean up...
photo courtesy Jerry Cegelske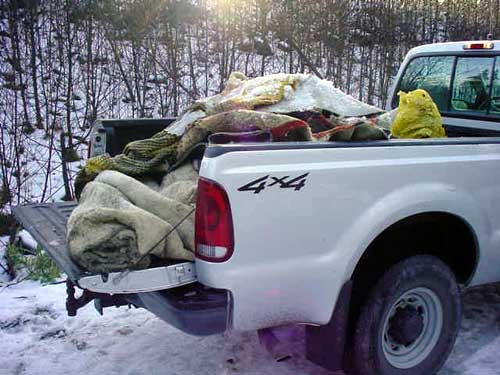 Carpet remnants, padding, and trash cleaned up Wednesday on Revilla Road,
opposite the road to Ward Lake....
photo courtesy Jerry Cegelske
E-mail Editor: editor@sitnews.org
Post a Comment -------View Comments
Submit an Opinion - Letter

Sitnews
Stories In The News
Ketchikan, Alaska