Monday
November 24, 2003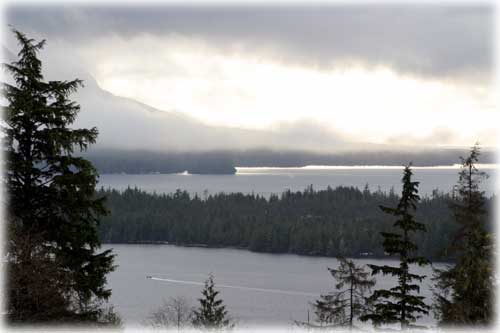 'Islands in the Clouds'
Front page photo by Carl Thompson
National: Senate advances major Medicare bill; Budget point of order defeated - Two last-minute efforts by Democratic senators to block passage of a contentious $400 billion plan overhauling Medicare failed Monday, and the historic bill was expected to win passage in the Senate by the end of the day. - Read more...
CNN - link posted Monday, November 24, 2003 - 1:15 pm
Alaska: Alaska's Unemployment Rate Unchanged In October; Ketchikan's Unemployment Rate Rises to 7.9 percent - Alaska's unemployment rate remained at 6.8 percent in October as both employment and unemployment numbers fell slightly. The comparable national rate (not seasonally adjusted) fell two-tenths of a percentage point to 5.6 eprcent. Dan Robinson, a labor economist with the Alaska Department of Labor and Workforce Develpment, reported the numbers.
According to Robinson, as expected in October, Alaska's employment continued its seasonal contraction. Approximately 2,500 fewer Alaskans were employed in October than in September. Generally the decline in employment produces a corresponding, though smaller, increase unemployment. This month's numbers show a slight decrease in unemployment, however.
Ketchikan's unemployment rate rose from 5.7 percent in September to 7.9 percent in October. In September 2003 the number reported employed was 7,245 and in October 2003 the number reported employed was 6,755. However, October 2003 had a larger number employed than in October 2002 when the number employed was reported at 6,390. - Read more...
Monday - November 24, 2003 - 12:15 am
Alaska: Murkowski backs off $250 million budget cut target - Gov. Frank Murkowski is backing off talk of cutting $250 million from next year's budget. - Read more...
Fairbanks Daily News Miner - link posted Monday, November 24, 2003
Alaska: State vulnerable to big drop in federal funds - The amount of federal money pouring into Alaska's economy has soared over the past 20 years, reaching $7.6 billion in 2002, ranking the state first in the nation for per-capita federal spending. - Read more...
Fairbanks Daily News Miner - link posted Monday, November 24, 2003 - 12:15 am
National: Medicare Bill Would Enrich Companies; $125 Billion More for Employers, Health Firms - The Medicare legislation that passed the House near dawn on Saturday and is moving toward a final vote in the Senate would steer at least $125 billion over the next decade in extra assistance to the health care industry and U.S. businesses, in addition to its widely heralded goal of helping older Americans pay for prescription drugs. - Read more...
Washington Post - link posted Monday, November 24, 2003 - 12:15 am
National: Senators wrangle over Medicare - Frist calls rare Sunday session, promises Monday vote - Senators spent a rare Sunday session debating a sweeping Medicare bill that for the first time would offer retirees prescription drug coverage. - Read more...
CNN - link posted Monday, November 24, 2003 - 12:15 am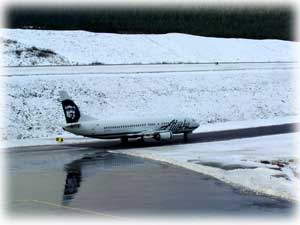 New Taxiway B
Alaska Airlines departs the ramp at Ketchikan International Airport on the new Taxiway B which was just recently opened for use...
Photo by Dan Hart
National: Senate Showdown on Medicare Bill Looms - The Republican-controlled Senate pointed toward a showdown Sunday on a sweeping Medicare prescription drug bill that sparked a last stand by outnumbered critics and beckoned Democratic presidential hopefuls to the Capitol to join the fight. - Read more...
Fox News - link posted Monday, November 24, 2003

World: Antarctic eclipse wows scientists - Hundreds of scientists and staff in Antarctica braved freezing temperatures Monday to catch a glimpse of the first total solar eclipse ever recorded on the icy continent. - Read more...
CNN - link posted Monday, November 24, 2003
POW: IFA Boards 100,000th Passenger - A small group of dignitaries gathered at the Hollis ferry terminal on Prince of Wales Island Saturday counting passengers as they boarded the M/V Prince of Wales for its daily 8:00 am departure for Ketchikan. They were in attendance to identify the 100,000th person to travel on the Hollis-Ketchikan route since the Inter-Island Ferry Authority inaugurated service on January 15, 2002. Eighty five passengers and 24 vehicles boarded at Hollis, including Vicki Hamilton of Craig, who was honored as passenger number 100,000.
IFA chair and Craig mayor Dennis Watson presented Vicki Hamilton with a complimentary round-trip ticket, and gift certificates for a two night stay at the Best Western Landing Hotel, two days of car rental from Alaska Car Rental, and dinner for two at Annabelles. The prizes were donated by Ketchikan merchants. Hamilton is Craig city clerk. Her father in law, Fred Hamilton, Sr. was the first passenger on the M/V Prince of Wales, when he rode the vessel from the shipyard in Anacortes to Ketchikan on its delivery voyage in December, 2001. - Read more...
Monday - November 24, 2003 - 12:15 am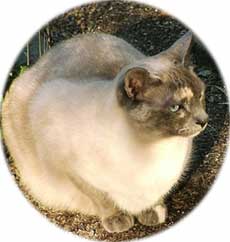 Sophia
photo by MC Kauffman
Pet Health
by Dr. Fran Good
Toxoplasma - Last year, Ketchikan had several otter deaths that were attributed to the parasite Toxoplasma. Toxoplasma uses cats as an intermediate host, meaning that cats carry it without any signs Several people asked me whether runoff contaminated with cat feces posed a threat to people using area beaches.
It's a smart question, because Toxo is excreted in the feces, but the short answer to the smart question is that human infections by Toxo are usually asymptomatic. The only people who need to watch out for Toxo are pregnant women, because Toxo can be transmitted transplacentally to the embryo. If the infection occurs in the first trimester, fetal death and/or abortion occurs. If the transmission occurs in the last trimester, then neurological and visual abnormalities are the most common result. - Read more...
Monday - November 24, 2003 - 12:15 am
Go to Sitnews (Front pages - archives)
Sitnews
Stories In The News
Ketchikan, Alaska