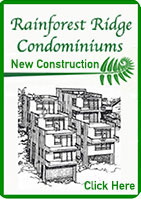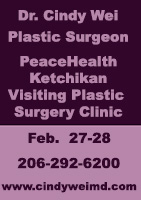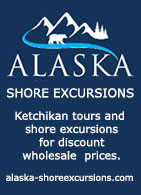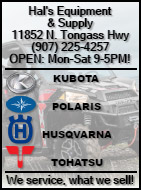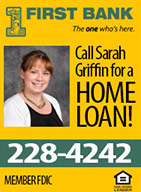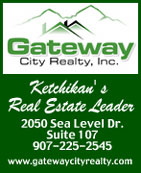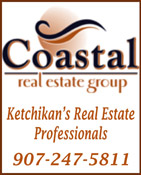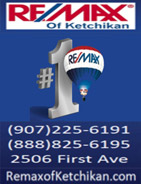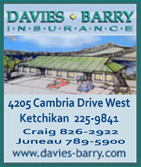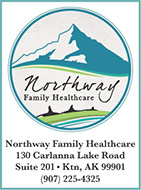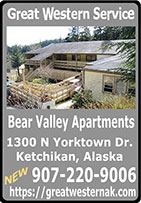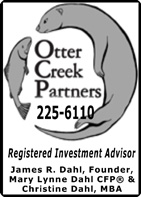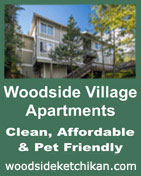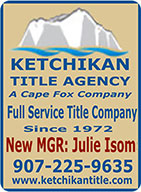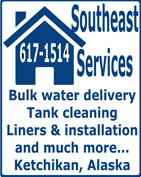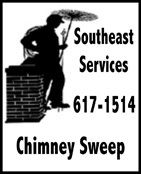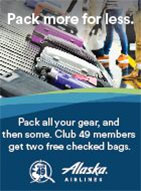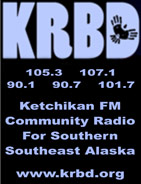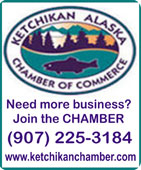 Contact


Call 617-9696


Webmail Letters


News Tips


Copyright Info


Archives
Quick News Search


Alaska


Ketchikan


SE Alaska


Alaska News Links
Columns - Articles


Dave Kiffer


Money Matters
Historical Ketchikan


June Allen


Dave Kiffer


Louise B. Harrington
Ketchikan Arts & Events


Ketchikan Arts


Ketchikan Museums


KTN Public Library
Sports


Ketchikan Links
Public Records


FAA Accident Reports


NTSB Accident Reports


Court Calendar


Recent Filings & Case Dispositions


Court Records Search


Wanted: Absconders


Sex Offender Reg.


Public Notices


AST Daily Dispatch


KTN Police Reports


Juneau Police Reports
Weather, Webcams


Today's Forecast


KTN Weather Data


AK Weather Map


AK Weathercams


AK Earthquakes
TV Guide


Ketchikan
Ketchikan Phone Book


Yellow Pages


White Pages
Government Links


Local Government


State & National

Northern Flicker


Front Page Feature Photo By CINDY BALZER ©2017



Ketchikan: Bentwood Baby Box donated to PeaceHealth Foundation - One good thing can inspire another. The truth of that became apparent when a generous donation by Tsimshian artist Ken Decker led to another by Safe and Sound Innovations LLC.

Tsimshian artist Ken Decker.
Sleep and Sound commissioned Decker to create an authentic bentwood cedar chest featuring his designs.
Photo courtesy PeaceHealth Ketchikan Medical Center

The story starts in early 2015, when Women's Health Clinic Manager Gail Jones first read about Finland's baby box program. Because these boxes give babies a safe place to sleep when they go home from the hospital, that country achieved one of the lowest infant mortality rates in the world. Jones spearheaded a plan to make them available to every infant born in Ketchikan. - More...
Sunday AM - February 26, 2017

Alaska: Attorney General Praises Repeal of Restrictive Mining Rules - Alaska Attorney General Jahna Lindemuth praised Congress for passing a resolution that disapproved of the Stream Protection Rule, recently issued by the U.S. Department of the Interior, Office of Surface Mining Reclamation and Enforcement (OSMRE). The Rule took took effect on the final day of President Obama's term in office (January 19, 2017).

The Congressional Review Act allows Congress to overturn regulations that were published in the previous 60 legislative days.

Attorney General Lindemuth and Commissioner Andy Mack, Department of Natural Resources, stated in a news release they are pleased that President Trump signed the resolution. President Trump signed H.J. Res. 38 on February 16, 2017, which disapproved the rule known as the Stream Protection Rule. In early February, the U. S. House and Senate voted to repeal the Stream Protection Rule using a regulation-killing tool known as the Congressional Review Act.

"I thank Alaska's Congressional delegation for their unwavering commitment to this important issue," said Attorney General Lindemuth. "Repealing this restrictive rule allows Alaska's existing coal mining regulatory program, which already includes protections for streams and other environmental resources, to remain in place."

"We will continue our efforts to protect Alaska's streams and other critical resources as we pursue responsible resource development activities in Alaska," said Natural Resources Commissioner Andy Mack. - More...
Sunday AM - February 26, 2017


Southeast Alaska: Tribal Court Selected to Participate in Project to Improve Outcomes for Abused and Neglected Children - The Central Council of Tlingit and Haida Indian Tribes of Alaska (Central Council) has been selected as one of six new courts to be a part of the National Council of Juvenile and Family Court Judges' (NCJFCJ) Implementation Sites Project to improve outcomes for abused and neglected children and their families.

Central Council of Tlingit and Haida Indian Tribes
of Alaska's Tribal Court Room
Photo Courtesy Central Council

The project is funded by the U.S. Office of Juvenile Justice and Delinquency Prevention to provide child abuse and neglect courts with training, technical assistance, and support to guide program improvement, sustainability, and performance. Under the project, Central Council's Tribal Court will implement meaningful change, evaluate progress, and share challenges and successes with other courts across the country.

"Being a part of the NCJFCJ's Implementation Sites Project will not only help grow and expand our Tribal court in the child welfare area of services, but would greatly benefit our court's needs for technical assistance, practical tools, and collaborative assessment," said Presiding Judge Debra O'Gara.

According to a news release, Central Council's Tribal Court has greatly expanded its judicial services since it was established ten years ago. Currently, the Tribal Court has subject matter jurisdiction over a large range of civil and criminal issues including adoptions, child custody, child support, child welfare, divorce, domestic violence protection orders, guardianship, marriage, and paternity.

"Building the infrastructure and capacity of our Tribal Court and ICWA team to keep our children safe, out of the State's custody, and placed with Native families has been one of my top priorities," said President Richard Peterson. "This project will help the Tribe move in the right direction of transferring more child welfare cases from the Alaska Court System to our Tribal Court." - More...
Sunday AM - February 26, 2017





Alaska: Where the Whales Are; First estimates of whale abundance in offshore Gulf of Alaska find some species recovering while others remain depleted 35 years after whaling By CHRISTINE BALER - A new study provides the most comprehensive information available on whale distribution and abundance in the offshore Gulf of Alaska since historical whaling records.

Humpback whale.
Photo: Brenda Rone, NOAA Fisheries

Current abundance and distribution data are essential for effective management and protection of marine mammals. Until now, what we knew about whales in the offshore Gulf of Alaska came mainly from 19th and 20th century whaling records. Due to its remote location, vast geographic area, and challenging environmental conditions, marine mammals of the offshore Gulf have been largely unsurveyed by scientists.

New research led by marine mammal scientist Brenda Rone of NOAA Fisheries' Alaska Fisheries Science Center combines data from three years of surveys to provide the most current information on whales and porpoises in the region. Surveys in 2009 and 2013 were designed to find out which marine mammals might be affected by U.S. Navy training exercises. In 2015 the team conducted the first search for the critically endangered North Pacific right whale.

"Information on some species has been collected in the nearshore Gulf of Alaska since 1980, but there was a big data gap in offshore waters," says Rone. "We were excited to have the opportunity to explore an area that had never been surveyed to this extent." - More...
Sunday AM - February 26, 2017




Over $70,000 awarded from KMC Gift Shop proceeds
KMC Gift Shop volunteers deciding on how to use the proceeds from the shop during Saturday's luncheon, February 18th
Photo courtesy PeaceHealth Ketchikan Medical Center

Ketchikan: Over $70,000 awarded from KMC Gift Shop proceeds - It's lovely when there are tangible results of kindness.

The women who volunteer at the Gift Shop do that very thing – their hard work morphs into baskets of self-care items for chemo patients, wheelchairs for Long Term Care residents, sleeper beds in the Birthing Center and, this year, a used car for caregivers to travel from the Craig Clinic to other places on Prince of Wales.

Our Foundation Gift Shop volunteers voted for these and 13 other requests at their annual luncheon Saturday, February 18th. They meet yearly to consider requests from PeaceHealth Ketchikan departments and distribute the proceeds from the shop.

Proceeds from the small shop in the Ketchikan Medical Center lobby usually yield about $35,000 for grants. This year was different. The volunteers were able to award over $70,000 to various PeaceHealth Ketchikan departments.

"We went back through the finances from past years," said Foundation Director Matt Eisenhower. "We had been starting fresh each year but we found not all past year's grants were distributed plus we had generous donations to the Gift Shop this year." - More...
Sunday AM - February 26, 2017




COLUMNS - COMMENTARY


DICK POLMAN: No, Obama is Not Plotting a 'Treasonous Coup' - We're all well acquainted with the fake news phenomenon - the Trumpian sewage that's routinely pumped into the brains of the dumb and numb. But the good news is, Facebook has started to fight back, working with a coalition of fact-based media outlets.

Better late than never. The 2016 campaign was festooned with phony scoops like "Pope Francis shocks world, endorses Donald Trump for president" and "FBI agent suspected in Hillary email leaks found dead in apartment in murder-suicide" and "Hillary sold weapons to ISIS." Credulous social media users clicked and shared and were happy to get suckered.

It's no surprise that the con lives on. My new favorite bit of fakery, which has already been shared tens of thousands of times, and re-posted on dozens of websites with names like Angry Patriot and Trump Media, features this eye-candy headline:

"BREAKING. Congress Moves to STOP Obama's Treasonous Coup Attempt Against Trump"

Sigh. These people still can't quit the guy. - More...
Sunday AM - February 26, 2017

JOSEPH COTTO: Washington's Enduring Corruption - Most Americans think that their government is corrupt.

According to a 2014 Gallup study, the number is 75 percent, a jump from 2009, when only 66 percent of Americans believed the same.

When this represents the good old days, where does the present-day stand?

"The perception that there's widespread corruption in the national government could be a symptom of citizen disengagement and anger," Gallup's Jim Clifton wrote in early 2016. "Or it could be a cause -- we don't know. But it's very possible this is a big, dark cloud that hangs over this country's progress. And it might be fueling the rise of an unlikely, non-traditional leading Republican candidate for the presidency, Donald Trump."

You think? - More...
Sunday AM - February 22, 2017




Editorial Cartoon: Oscar Baiting
By Steve Sack, The Minneapolis Star Tribune
Distributed to subscribers for publication by Cagle Cartoons, Inc.




Real Time U.S. Debt Clock
http://www.usdebtclock.org/

U.S. Inflation Calculator
Easily calculate the buying power of the US dollar & inflation rate from 1913-2016

U.S. Energy Info. Admin.
Heating Oil & Propane Update

Public Meetings & Info

Ketchikan Borough Assembly

Live video stream of current meeting
Archived videos
Agenda and Information Packets
Assembly Meeting Minutes
Borough Records
Calendar

Ketchikan Planning Commission

Live video stream of current meeting
Agenda, Information Packets & Minutes

Ketchikan City Council

View a Video of Meeting
Agenda & Information Packets

Ketchikan School Board

Live video stream of current meeting
Agenda & Information Packets


Gravina Access Project SEIS Alternatives Development

Gravina Access Website

Police Dispatches

AK Troopers Daily Dispatch
Ketchikan Police Reports
Juneau Police Reports

Ketchikan

Jobs
Ketchikan's Forecast
Satellite
Today's Weather Images
Marine Forecasts
AK Weathercams
Ketchikan Weather Data
Current AK Weather Map




CLASSIFIEDS' CATEGORIES

Public Meetings
Announcements
Upcoming Events
Boats, etc.
Help Wanted
For Sale / Free Stuff
Garage Sales
Homes / Apts/ Property
Pets
Wanted
Lost & Found
Publish Your Ad

Front Page Archives
Letter Archives
Jan. - Feb. 2017

| | | | | | | |
| --- | --- | --- | --- | --- | --- | --- |
| S | M | T | W | T | F | S |
| 01 | 02 | 03 | 04 | 05 | 06 | 07 |
| 08 | 09 | 10 | 11 | 12 | 13 | 14 |
| 15 | 16 | 17 | 18 | 19 | 20 | 21 |
| 22 | 23 | 24 | 25 | 26 | 27 | 28 |
| 29 | 30 | 31 | 01 | 02 | 03 | 04 |
| 05 | 06 | 07 | 08 | 09 | 10 | 11 |
| 12 | 13 | 14 | 15 | 16 | 17 | 18 |
| 19 | 20 | 21 | 22 | 23 | 24 | 25 |




Viewpoints,
Opinions/Letters
Basic Rules &
Freedom of Speech

Questions, please contact the editor at editor@sitnews.us or call 617-9696
Sitnews reserves the right to edit.

Resolution to Investigate Possible Downstream Impacts to Water and Fish By Gavin C. Dirom - As an association representing responsible mineral explorers and developers, we read with interest a February 6 story published in SitNews from Ketchikan, Alaska, regarding House Joint Resolution 9 as introduced by Representative Dan Ortiz about mine development in British Columbia. Canadians respect the rights of citizens and legislative processes in other jurisdictions, including the recent American resolution calling "to investigate long-term, region-wide downstream effects of proposed and existing industrial development". We do, however, find the resolution puzzling given that as long-term good neighbours, the State of Alaska and Province of British Columbia, have already signed a Memorandum of Understanding that was further entrenched by a Statement of Cooperation agreement, to do essentially what Rep. Ortiz's resolution appears to be asking for. The agreement is already being implemented by Alaska and British Columbia to ensure that water quality and aquatic life will be monitored and studied in a comprehensive, bilateral approach between the two neighbouring jurisdictions on an ongoing basis. This is good. - More...
Sunday AM - February 26, 2017

Trump Jeopardizing National Security By Donald Moskowitz - As a former Naval Intelligence officer, I am concerned with the Administration's adverse impact on our national security. - More...
Sunday AM - February 26, 2017

Hiking Trails By Caden Mattson - I would like to share some information about hiking trails, specifically about good ones for dogs. Connell lake is a good trail because it isn't sloped and you could let the dog(s) off the leash an it is usually not crowded. Carlanna lake is a good inclined trail with a beautiful view of the mountains and the lake, however it is usually crowded on weekends. Ward creek trail is good because it is good for a quick walk that dogs would enjoy to play at. Salvage trail is good for getting dogs tired after the walk it's also sloped a lot of the trail. Rainbird trail is good because you can see the city from a distance, it's also very sloped and is very muddy sometimes. - More...
Sunday AM - February 26, 2017

Chaffetz and Murkowski By Ghert Abbott - Rep. Jason Chaffetz (R-Utah) is the chairman of the House Oversight Committee. The President's ongoing refusal to divest himself of the Trump Organization, along with the massive potential for corruption which has resulted from this decision, thus falls right within Chaffetz' purview. The Oversight Chairman has however steadfastly refused to hold any hearings on this issue, despite it often being front page news for the past three months. Instead, Chaffetz has decided that the best use of the Oversight Committee's time and resources is threatening to investigate the Office of Government Ethics for the office's public criticisms of the President. - More...
Friday PM - February 17, 2017

Roe v Wade By Mike Sallee - In the spirit of the recent women's marches around the world I offer a couple of citations. In one simple quote, Sister Joan Chittister, O.S.B. sums up the hypocrisy of many in the 'pro-life' movement: - More...
Friday PM - February 17, 2017

JUST CURIOUS: IS THERE A SOLUTION BESIDES MOVING OUT OF KETCHIKAN? By David G Hanger - I have recommended Rodney Dial's recent Sitnews commentary to a number of individuals as more or less required reading. I am a little bothered by the fact Rodney that put this stuff out there and have a disconnected telephone. So tell me, Rodney, you got a solution to this mess, or is it time to just get the hell out of here? - More...
Tuesday PM - February 14, 2017

Strong and effective schools By Rep. Dan Ortiz - This session, I am honored to be serving as Chair of the House Finance Department of Education and Early Learning Budget Subcommittee, which reviews Alaska's education budget. In this capacity I will closely examine Alaska's school funding, and the unique programs and services that support effective learning. - More...
Saturday AM - February 11, 2017

Meeting Alaska's Education Challenge By Dr. Michael Johnson - The most pressing issue for Alaska's public education system is the lack of a fiscal plan. Our state savings accounts are almost depleted due to the lack of agreement on a sustainable fiscal plan that will address the new economic normal for Alaska. Oil will not provide the income we have enjoyed in the past. We have to make some difficult choices. - More...
Saturday AM - February 11, 2017

Don't 'tear up' the Iran deal. Let it fail on its own. By U.S. Sen. Dan Sullivan - As a candidate, Donald Trump said he would "tear up" the Iran nuclear deal once elected. Many of us in the Senate strongly opposed this deal on substance — it provides the world's largest state sponsor of terrorism a pathway toward to nuclear weapons inside of a decade — and also on process. The Obama administration sought the approval of the U.N. Security Council, but essentially ignored the constitutional role of the Senate in seeking to finalize the deal as an executive agreement, not a treaty. As a result, President Trump would be within his rights and authority to undo the deal through executive action, particularly as Iran continued to show that it has no intention of abiding by the deal by launching yet another ballistic missile on Sunday (January 29th). - More...
Saturday AM - February 11, 2017

Webmail your letter or
Email Your Letter To: editor@sitnews.us

---

Articles & photographs that appear in SitNews may be protected by copyright and may not be reprinted or redistributed without written permission from and payment of required fees to the proper sources.

E-mail your news & photos to editor@sitnews.us

Photographers choosing to submit photographs for publication to SitNews are in doing so, granting their permission for publication and for archiving. SitNews does not sell photographs. All requests for purchasing a photograph will be emailed to the photographer.

The Local Paper is now available online.
Click here for this week's printed edition.