Bentwood Baby Box donated to PeaceHealth Foundation
February 26, 2017
Sunday AM

(SitNews) Ketchikan, Alaska - One good thing can inspire another. The truth of that became apparent when a generous donation by Tsimshian artist Ken Decker led to another by Safe and Sound Innovations LLC.
The story starts in early 2015, when Women's Health Clinic Manager Gail Jones first read about Finland's baby box program. Because these boxes give babies a safe place to sleep when they go home from the hospital, that country achieved one of the lowest infant mortality rates in the world. Jones spearheaded a plan to make them available to every infant born in Ketchikan.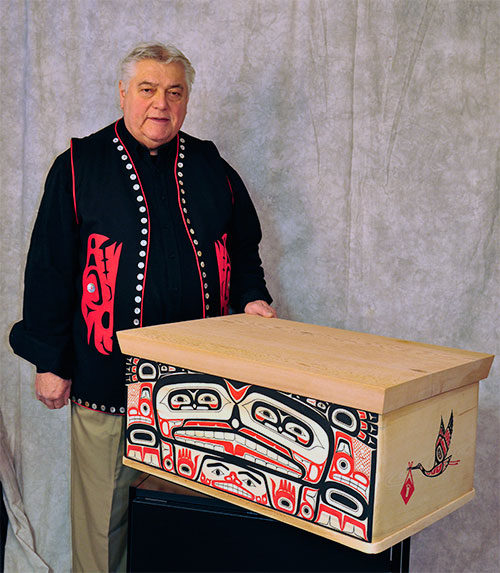 Tsimshian artist Ken Decker
Sleep and Sound commissioned Decker to create an authentic bentwood cedar chest featuring his designs.
Photo courtesy PeaceHealth Ketchikan Medical Center

Part of Jones' vision was to incorporate local Native designs, creating a box that was both functional and a beautiful keepsake. So she reached out to Ken Decker, owner of Crazy Wolf studios.
Decker saw the project as a way to honor the skill of Native artisans while giving back to the community. These cardboard baby boxes, printed with Decker's original stork designs, pay tribute to the innovative craftsmanship of the bentwood cedar chests created by Pacific Northwest Native artists.
When Jones shared her plans for a native design with Safe and Sound Innovations, the source for the boxes, excitement for this distinctive design spread. Decker donated the rights to his stork and box design to Safe and Sound Innovation so they could make the box design available to their growing lists of clients across the nation.
In honor of Decker's generous gift, Sleep and Sound commissioned him to create an authentic bentwood cedar chest featuring his designs. When completed, Safe and Sound Innovations LLC presented the box to the PeaceHealth Ketchikan Medical Center Foundation at the December 2016 Winter Gala.
Plans are underway to display the chest in the PeaceHealth Medical Group office, where the community can appreciate the beauty of Decker's art and continue to be inspired to provide resources for the continuation of the local baby box project.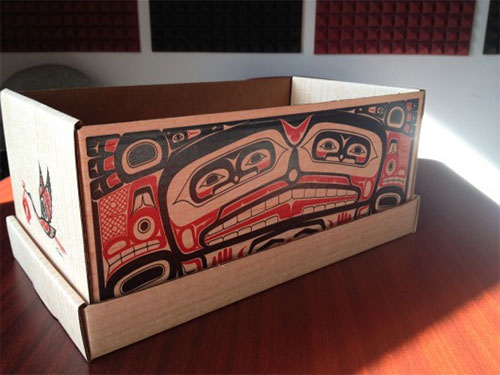 A doll sized cardboard version of the baby box is available at PeaceHealth Medical Group's Women's Health for a donation of $30 to the Foundation.
Photo courtesy Ketchikan Medical Center