The Borough Assembly on Monday night, Oct 15th will consider a motion to begin foreclosure on RKG immediately.
Agenda & Information Packets
Web Opinion Poll
Web polls are not scientific polls.
VOTE
Should the Borough foreclose as quickly as possible on RKG/Jerry Jenkins if he does not pay the $9 million and back interest owed by November 4, 2007 as promised or should the Borough agree to give Renaissance Ketchikan Group/Jerry Jenkins more time, such as the January 4, 2008 target date recommended by the Borough attorney and Finance director?
Click here to VOTE
View Results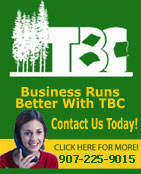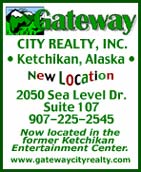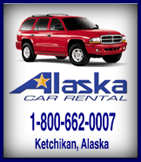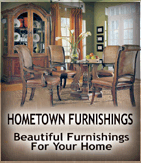 Contact


Webmail Letters


News Tips


Search Sitnews


Copyright Info


Archives
Today's News


Alaska


Ketchikan


Top Stories


U.S. News


U.S. Politics


Stock Watch


Personal Finance


Science News


US Education News


Parenting News


Seniors News


Medical News


Health News


Fitness


Offbeat News


Online Auction News


Today In History


Product Recalls


Obituaries
Quick News Search


Alaska


Ketchikan


SE Alaska


Alaska News Links
Columns - Articles


Dave Kiffer


Arts & Entertainment


Parnassus Reviews


Jason Love


Fish Factor


Bob Ciminel


Chemical Eye On...


Rob Holston


More Columnists
Ketchikan


Our Troops
Historical Ketchikan


June Allen


Dave Kiffer


Louise B. Harrington
Recognition


Match of the Month


Asset Builders
Kid's Corner


Bob Morgan
Ketchikan Arts & Events


Ketchikan Museums


KTN Public Libraryt


Parks & Recreation


Chamber
Lifestyles


Home & Garden


Food & Drink


Arts & Culture


Book Reviews


Movie Reviews


Celebrity Gossip
On the Web


Cool Sites


Webmaster Tips


Virus Warnings
Sports


Ketchikan Links


Top Sports News
Public Records


FAA Accident Reports


NTSB Accident Reports


Court Calendar


Court Records Search


Wanted: Absconders


Sex Offender Reg.


Public Notices
Weather, Webcams


Today's Forecast


KTN Weather Data


AK Weather Map


Ketchikan Webcam


SE AK Webcams


Alaska Webcams


AK Earthquakes


Earthquakes
TV Guide


Ketchikan
Ketchikan Phone Book


Yellow Pages


White Pages
Employment


Employment
Government Links


Local Government


State & National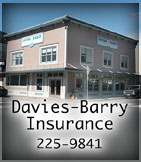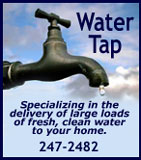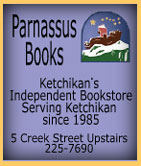 Monday
October 15, 2007



Mourning Dove at Bayview

A Mourning Dove (Zenaida macoura) is a 12 inch long, slim, slate colored gray-brown bird with a small head and a long, pointed tail. The Mourning Dove is considered a game bird in many states, and has the widest distribution of any North American game bird. Its flight speed has been clocked at 40-55 mph, but a strong tailwind will result in higher ground speeds, making it a difficult bird for a hunter to hit. The name comes from the familiar, although easily overlooked song, a low-toned moaning cooah, coo, coo, coo. This dove, found across the United States and southern Canada, is most common throughout the Great Plains in the Midwest.
Front Page Photo by Jim Lewis: jlewis[at]kpunet.net

Alaska: An extraordinary shipwreck discovered in Alaska By GEORGE BRYSON - Plumbing the shallows of Lower Cook Inlet near the tip of the Kenai Peninsula this summer, a team of divers located what authorities say is the oldest American shipwreck in Alaska.

It also marks a pivotal chapter in U.S. history.

The four-person party charted and photographed remnants of the Torrent, a huge, square-rigged sailing vessel that struck a reef and sank near Port Graham in 1868, less than a year after the U.S. purchased Alaska from Russia.

Aboard the vessel at the time were women, children and a battery of 130 U.S. soldiers, some of whom were veterans of the recent Civil War. They had been ordered to construct the first U.S. fort on the mainland of south central Alaska.

Before they found a suitable building site, however, their vessel, a 576-ton bark piloted by civilians, struck a reef near Dangerous Cape, partly due to the absence on deck of a captain who had been drinking. The castaway crew and passengers had to camp on an adjacent beach for 18 days awaiting rescue as the ship broke up offshore and sank.

Somewhere near the reef at the bottom of the sea the shipwreck remained unexamined for 139 years, until July, when a team of divers -- authorized by the state to conduct an archaeological survey of the site -- finally located significant pieces of the vessel at the end of a two-year search.

In addition to partly buried portions of the wooden hull (most of which had been swept away by powerful tides), the search team located the rudder, anchors, portholes, plumbing, pieces of rigging and two cannons.

"Like a jigsaw puzzle -- one piece at a time over the course of quite a number of dives -- we were able to find different distinctive pieces of wreckage," said team leader and local shipwreck historian Steve Lloyd, co-owner of Title Wave Books in Anchorage. - More...
Monday - October 15, 2007

Science - Technology: What's your carbon footprint? By CYNTHIA HUBERT - Just about everything you do, from burning a light bulb to washing a load of laundry, has an environmental impact on our planet.

Your "carbon footprint" is a rough calculation of the amount of "greenhouse gases" produced, either directly or indirectly, to support your lifestyle.

For example, when you drive, the car engine burns fuel that emits into the atmosphere a certain amount of carbon dioxide, a greenhouse gas related to global warming. When you eat a cheeseburger, you're indirectly contributing to the production of CO2 based on the energy required to produce, store, transport and cook that burger.

How big is your carbon footprint? To get a general idea, consider the amount of CO2 generated to support your everyday activities. - More...
Monday - October 15, 2007

Metlakatla: Alaska schools named Blue Ribbon Schools by the U.S. DOE - Richard Johnson Elementary School in Metlakatla and Delta Junction Elementary School have been named 2007 No Child Left Behind Blue Ribbon Schools by the U.S. Department of Education.

"I congratulate the students, the schools' staffs, and their communities for this well-deserved recognition," said Alaska Interim Education Commissioner Barbara Thompson. "They represent the many Alaska schools that strive to improve the academic achievement of all their students."

Richard Johnson Elementary, in the Annette Island School District, serves nearly 150 students in kindergarten through grade five in a predominantly Native community. Delta Junction Elementary, in the Delta-Greely School District, serves nearly 400 students in prekindergarten through grade five.

They are among 287 schools nationwide to win the award, which honors schools for helping students achieve at very high levels or for making progress in closing the achievement gap between disadvantaged students and other students. - More...
Monday - October 15, 2007

Ketchikan: Federal grant boosts mentors in four school districts - Two nonprofit organizations are teaming up to expand adult mentoring for young students in four Alaska school districts, thanks to a grant from the U.S. Department of Education's Office of Safe and Drug-Free Schools.

The $237,000 grant enables the Association of Alaska School Boards and Big Brothers Big Sisters to address the academic and social needs of children in 4th through 8th grades in the Ketchikan Gateway, Alaska Gateway, Delta-Greely and Dillingham school districts.

"This is an exciting opportunity to boost the academic and social success of students with the greatest need," said Carl Rose, executive director of AASB. "We know that when adults take an active and positive interest in kids, they improve in school and in their relationships with peers, teachers and family members."

Big Brothers Big Sisters served more than 740 students in school-based mentoring programs in Alaska last year. The one-to-one program matched caring adults and high school volunteers with youth in grades K-8, usually once a week during the school year, in 30 different communities.

"We know from national research that volunteers can make a lasting impact on children matched in our school-based programs," said Peggy Owens, chief executive officer of Big Brothers Big Sisters. "But the demand for volunteers is always greater than the supply of kids who need us. Hopefully, this grant will enable more adults to get involved in the lives of children in their community." - More...
Monday - October 15, 2007

Arts & Entertainment

Ketchikan: Arts & Entertainment This Week - This week in Ketchikan Joseph Haydn's Lord Nelson Mass will be performed in Concert featuring the full Orchestra, Seattle String Quartet, and Ketchikan and Metlakatla Choirs. Performances are on Saturday, October 20th at 7 and 8:30 pm at the Ketchikan United Methodist Church, and on Sunday, October 21st at 3pm at Metlakatla Duncan Memorial Church. Tickets are $10 for adults and $5 for students, and are available at the Arts Council, McPherson Music, and through the Performers. ON SALE NOW! For more information, contact Kathy Tullotson at 247-2420. The Friends of the Library seeks Volunteers for the Wishing Star Project. Come help create new star ornaments at 6:30 pm on Tuesday, October 16th in the Ketchikan Public Library Children's Department. This project benefits the New Library Building Fund. For more information, call 225-3331 or 225-0370.

The October Monthly Grind hosted by Dave Lieben. This month's Monthly grind features Greg Thomas, Paddy's Leather Britches, Sam Burrous, Badriyah Bhangra Troupe, and First City Players-"Beauty and the Beast." Kim Blunt will do a reading on The Theory of the Spoons. See you at the Tribal House on the 20th!

2007 Winter Arts Faire Booth Registration: Open-registration begins Wednesday, October 17th. The final deadline for booth registration is Friday, November 16th.

Wintering Your Garden! Ketchikan Garden Club. The Ketchikan Garden Club will meet on Monday, October 22nd at the Ketchikan Public Library, focusing on wintering your garden for the cold months. Call 225-3331 or 225-0370 for info.

SParks of Inspiration Now Showing. This juried art show is up and running at the Mainstay Gallery through Oct. 26, 2007. Works submitted for this exhibit are inspired by the Alaska State Parks of Ketchikan. Come view works by artists of all levels and experience working in a variety of media. Call 225-2211 or visit www.ketchikanarts.org for more info.

Workshops & Classes:

Bigfoot Pottery Studio is in the old Physical Graffiti building, downstairs. Classes and the studios are again available at various times. Call Erik at 617-2378 for more information and to register for classes.

Beading, Knitting, and other fabric art sessions are ongoing throughout the year at The Bead and Yarn Shoppe located in Salmon Landing Market. Call Cheri Pyles at 225-2858 for more information.

Sewing, Quilting and other fabric art sessions are available through Rainforest Crafts. For more info and to register call Rainforest Crafts at 247-2738.

Quilting classes: The Silver Thimble Quilt Shop is hosting a variety of quilting classes for the beginner to more experienced quilters, available at varying times. Please call the Quilt Shop for more information and registration at 225-5422. - More...
Monday - October 15, 2007




Ketchikan

Ketchikan Police Report
AK Troopers Daily Dispatch
Today's Forecast
Satellite
Today's Weather Images
Marine Forecasts
Ketchikan Weather Data
Current AK Weather Map

CLASSIFIEDS

Publish ad
Please select the proper category before posting.




CLASSIFIEDS' CATEGORIES

Announcements and
Help Wanted
For Sale / Free Stuff
Garage Sales
Homes / Apts/ Property
Pets
Wanted
Lost & Found
Local Services
Publish your ad

Front Page Archives

October 2007

| | | | | | | |
| --- | --- | --- | --- | --- | --- | --- |
| S | M | T | W | T | F | S |
| | 01 | 02 | 03 | 04 | 05 | 06 |
| 07 | 08 | 09 | 10 | 11 | 12 | 13 |
| 14 | 15 | 16 | 17 | 18 | 19 | 20 |
| 21 | 22 | 23 | 24 | 25 | 26 | 27 |
| 28 | 29 | 30 | 31 | | | |

More Front Page Archives

Viewpoints
Opinions/Letters
Basic Rules

Corruption Trials Are Painful, But Necessary By Senator Gene Therriault - The recent jury verdicts in the public corruption trials of former Alaska Legislators have been disturbing, to say the least. As a strong supporter of the legislative process in our democratic system of checks and balances, I take no pleasure in seeing Alaskans' confidence in our representative system of government shaken to its very foundation. As difficult as this is to bear, I believe it is necessary to begin restoring confidence in the Legislature. For this reason, I recently chose to attend portions of the trial of former Speaker of the House Pete Kott to show that members of the Legislature are watching to fully understand the illegal activities that transpired in the recent oil and gas tax debate. While some observers take satisfaction that the current investigations reflect badly on Republican Legislators, a review of the past indicates that impropriety by elected officials is not limited to a particular party. - More...
Monday PM - October 15, 2007

Foreclose By P. J. Travis - YES, foreclosure on the Renaissance Ketchikan Group/Jerry Jenkins needs to continue and be completed promptly. - More...
Monday PM - October 15, 2007

Metlakatla/Saxman Ferry terminal By Jeff Hendrickson - I thought Virginia Atkinson's letter needed a response from a Ketchikan resident. The letter you wrote about the people of Ketchikan rejecting your new terminal needs a little clarification I think. First, we appreciate the money that the people of Metlakatla spend in our community. That money helps the economy of Ketchikan. - More...
Monday PM - October 15, 2007

Legislators Tackle Health Care Crisis By Senator Johnny Ellis - From Washington, D.C. to Hollywood, public attention has finally begun to focus on America's health care crisis, an issue I have followed for as long as I have been a legislator. While this problem is gaining attention nationwide, Alaska has a unique opportunity to begin resolving it here at home. This past session, the legislature took some steps toward improving health care in the state. But much work remains to make health care an accessible and affordable right for all Alaskans. - More...
Monday PM - October 15, 2007

South Tongass Project & Ferry Terminal By Robert McRoberts - My last letter was only to get the point out why it is that I am not happy with the South Tongass fire station project. Small contractors need a few bigger jobs. We can not make it on small stuff and the big out-of-towners do not usually mess with them. Some of us have everything invested and sometimes we pay just to have our jobs. - More...
Monday PM - October 15, 2007

Seeing isn't believing, nor is a bridge. By Marie Zellmer - Politics aside I do heartily thank our Governor for her renovation of our state government. I also have to thank her for knocking some people upside the head (in a decent manner rather then how Murkowski seems to have bullied everyone to do what he wanted not what was best for everyone) about the proposed and planned bridge. - More...
Monday PM - October 15, 2007

Pebble Mine By Charlotte Tanner - I wish to thank Rep. Gabrielle LeDoux, I hope she can get her Bills passed to undo the dirty work of our previous egregious Governor whose name I shall not mention. - More...
Monday PM - October 15, 2007

RE: Misguided By Jerilyn Lester - Mr. Cowley the point is that the money was earmarked for Ketchikan, The bridge which was promised 30 years ago and the bridge was supposed to go the airport and since the airport is on Gravina then it was going there. - More...
Monday PM - October 15, 2007

More Letters/Viewpoints
Webmail your letter or
Email Your Letter To: editor@sitnews.us

---

E-mail your news tips, news
releases & photos to:
editor@sitnews.us

SitNews
Stories in the News
©1999 - 2007
Ketchikan, Alaska

M.C. Kauffman, Webmaster/Editor
webmaster@sitnews.us

In Memory of SitNews's first editor,
Dick Kauffman
1932-2007

Locally owned & operated.
Online since 1999

Articles & photographs that appear in SitNews are protected by copyright and may not be reprinted or distributed without written permission from and payment of required fees to the proper sources.