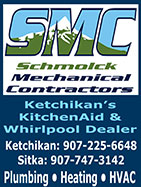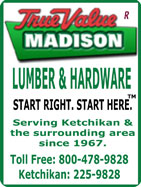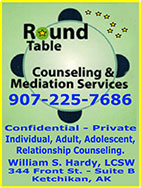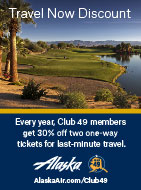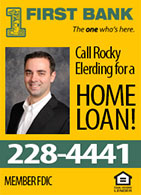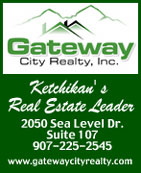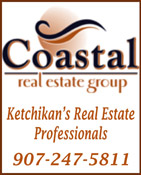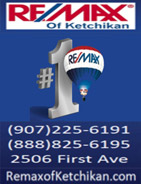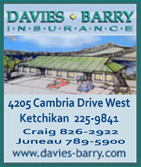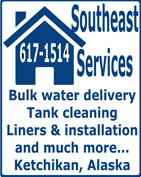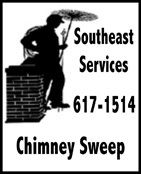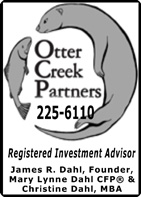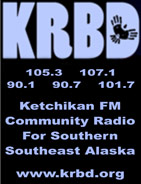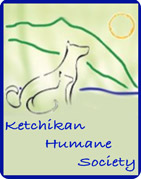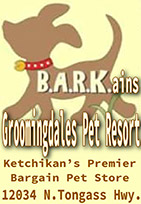 Contact


Call 617-9696


Webmail Letters


News Tips


Copyright Info


Archives
Quick News Search


Alaska


Ketchikan


SE Alaska


Alaska News Links
Columns - Articles


Dave Kiffer


Fish Factor


Money Matters
Historical Ketchikan


June Allen


Dave Kiffer


Louise B. Harrington
Ketchikan Arts & Events


Ketchikan Arts


Ketchikan Museums


KTN Public Library
Sports


Ketchikan Links
Public Records


FAA Accident Reports


NTSB Accident Reports


Court Calendar


Recent Filings & Case Dispositions


Court Records Search


Wanted: Absconders


Sex Offender Reg.


Public Notices
Weather, Webcams


Today's Forecast


KTN Weather Data


AK Weather Map


AK Weathercams


AK Earthquakes

TV Guide


Ketchikan
Ketchikan Phone Book


Yellow Pages


White Pages
Government Links


Local Government


State & National

Bear Fish Ladder
Avoiding the bear, this salmon jumped on the bear's back at Polk Inlet's Dog Salmon Fish Pass near Hydaburg. The bear did not get the salmon. At Salmon Fish Pass, salmon climb up the foaming waterfall or use the alternate fish ladder route, or in this case, the bear's back.
Front Page Photo By EARL JEFFREY ©2015
Click Here to select your Favorite Front Page Photo(s) of the Month
(Submit your photograph to be featured on the SitNews' front page. Email photo to editor@sitnews.us include your name and a brief photo description.)

Ketchikan: "Black Matt" Berkovich and Son Nick: A Ketchikan Story By LOUISE BRINCK HARRINGTON- "There's a story going round about Black Matt Berkovich's mustache. The big Slavonian had a famous mustache and this hirsute adornment was his badge of identity for years. A short time before his trial, he appeared clean-shaven on Ketchikan streets. 'Sampson has been shorn of his hair,' quoth the boys at the Mint. 'Watch him; he's due for a fall.' Almost immediately came his arrest, indictment and conviction as a bootlegger. Then the grand finale." (Wrangell Sentinel, Dec. 17, 1930)

Court House; Ketchikan, Alaska
Collection Name Wickersham State Historic Site. Photograph 1882-1930s.
Photo courtesy Alaska State Library - Historical Collections

Murder and Suicide

The "grand finale" took place in the Mint Pool Hall, located in Ketchikan near the corner of Stedman and Mission Streets.

The Mint was a combination pool hall, card room and barber shop. "The place where Gentlemen meet and Headquarters for all Sourdoughs," read an ad that ran in local newspapers. Matt held a mortgage on the building and liked to frequent the place, and that's where he pulled a .38 automatic from his pocket and pumped three shots into his former accomplice, Phil Dohm, who died instantly.

As the shots rang out a man seated nearby stood up, started forward and yelled,

"Matt, what are doing?"

Matt swung on him and ordered, "Sit down and shut up, or you'll get it too."
The man sat down.

Matt placed a letter on the cigar counter. "Give this to my son Nick," he instructed his friend Ben Schoen, who stood behind the counter. Then he turned the gun to his temple, pulled the trigger and blew his brains out, according to the Ketchikan Tribune of December 12, 1930.

Immediately after the shooting crowds gathered along Stedman Street. Angry voices rose, demanding revenge and retaliation. There were those who hated Matt and believed he stood for pure unadulterated evil, and those who thought he was not so bad and even considered him a friend.

As the two sides grew more violent, fights broke out and U. S. marshals patrolled the streets. They rounded up the men who testified against Matt, took them to jail and locked them up - for safekeeping!

The telephone switchboard lit up like never before in Ketchikan. All available telephone operators, including the supervisor, worked all night fielding hundreds of calls. Everyone in town wanted to know what happened and express an opinion, pro or con.

The next day the Ketchikan Alaska Chronicle headlined in big black print: "Black Matt Kills Phil Dohm, Chief Witness against Him, Then Suicides." Another headline screamed: "Whole Town Stirred by Dramatic Killing!" - More...
Wednesday PM - August 19, 2015



Alaska: Republican Legislators Believe Governor's action to expand Medicaid violates the Alaska Constitution; Alaska Legislature Takes Governor to Court By MARY KAUFFMAN - The Alaska Legislative Council voted Tuesday to file an injunction against Governor Bill Walker (I) over his unilateral decision to expand Medicaid, a key element of President Barack Obama's healthcare law, which they assert was without legislative consent. The suit, announced from Anchorage, will seek to enjoin implementation of Medicaid expansion until the courts decide on the constitutionality of the governor's action.

Governor Walker during the Medicaid Expansion announcement in July 2015. Seated behind the Governor is Alaska Department of Health and Social Services Commissioner Valerie Davidson
Photo Office of the Governor

"Today's Legislative Council action is not about the merits of whether or not to accept Medicaid expansion, it is about the process the governor chose to use: expanding to include optional groups falls under the purview of the Legislature," said House Speaker Mike Chenault (R-Kenai). "This is about protecting our role and the Alaska Constitution."

This decision was made following a closed door, executive session and was made without the support of the Alaska Independent Democratic Coalition or the input of the people of Alaska, according to Representative Andy Josephson (D-Anchorage). Quoting a news release from Josephson, "On Tuesday, a small handful of Republican lawmakers voted to authorize a lawsuit seeking to block Alaska Governor Bill Walker's decision to use his executive powers to expand Medicaid eligibility in Alaska."

Governor Walker responded to the news on FaceBook writing, "I am disappointed in the Legislative Council's decision to bring litigation that would take away the right for Alaskans to receive 100% federally funded healthcare. Our state is currently facing a 3.5 billion dollar deficit, and this is the time to be making responsible fiscal decisions. Medicaid expansion will save Alaskan lives and will save our state money. I will never lose sight of who I represent because Alaskans deserve nothing less. Medicaid expansion is the right thing to do and I stand firm by my decision."


On July 16, Governor Walker announced he would expand Medicaid unilaterally – without the approval of the Legislature.

According to the Alaska Legislative Council, many lawmakers, while open to expanding Medicaid with reforms, believe it's important that any action comply with the legal process established in the state constitution.

"The framers of Alaska's Constitution wisely gave the Legislature sole authority to appropriate state funds because they believed a healthy separation of powers was vital for our democracy," said Senate President Kevin Meyer (R-Anchorage). "If we don't stand up for our constitutional duties as a co-equal branch of government, then we set a dangerous precedent where governors believe they can spend money and change the law without legislative approval."

"This is a major policy decision for Alaska, with serious fiscal consequences," said House Majority Leader Charisse Millett (R-Anchorage). "It's very important that the decision is made in a manner consistent with Alaska's Constitution. This action is not about Medicaid expansion – it's about preserving the integrity of Alaska's Constitution."

Quoting a news release from the Alaska House Majority (Republicans) and Senate Majority (Republicans), in NFIB v Sibelius, the U.S. Supreme Court made it clear that Medicaid Expansion is "optional" and not mandatory. State law makes it equally clear that any new groups must be approved by the Alaska Legislature.

"The U.S. Supreme Court has the final say on Medicaid expansion," said Senate Majority Leader John Coghill (R-North Pole). "The Court declared that the additional group of able-bodied, childless adults is an optional group and that the states have a genuine choice as to whether to expand Medicaid to include that population. That being the case, state statute requires legislative approval for any new additional groups. The Governor may not expand unilaterally."

The Alaska House and Senate Majorities say state and national legal experts agree that the governor's unilateral action disregards both state law and the Supreme Court's 2012 ruling in NFIB v. Sebelius. - More...
Wednesday PM - August 19, 2015



Alaska: Spike in emergency medical responses to "spice" overdoses and illnesses prompts warning to Alaskans - A spike in the number of emergency medical responses in Anchorage suspected to have come from the consumption of synthetic marijuana or "spice" has prompted the Alaska Department of Health and Social Services to reissue a warning to Alaskans against smoking or consuming synthetic marijuana products or "sticks." These products are often sold as incense in attractive packages and go by other names like zero gravity, King Kong, Godzilla, K2, great ape, and gorilla. Spice is also sold repackaged in Ziploc bags or as individual cigarettes.

"Spice is a generic name for a form of unregulated synthetic marijuana that consists of herbal mixtures sprayed with chemicals made in a laboratory that are intended to produce mind-altering effects similar to cannabis," said Dr. Joe McLaughlin, chief of the Alaska Section of Epidemiology. "After using spice, however, people sometimes develop moderate to severe adverse health consequences, including vomiting, muscle spasms, seizures, hallucinations, confusion, and suicidal thoughts. In some cases, spice has been linked to heart attacks and deaths."

An autopsy done after a recent death on an Anchorage homeless person showed a positive test result for spice, and spice was attributed as one of the causes of death.

Spice products can be sold in colorful packages online or in stores, or local dealers can alter and repackage these products with other chemicals. Often, they can resemble potpourri and are sold with warning labels that say "Not for human consumption," even though they are made purely for that use.

"At this point, the bulk of the medical transports have involved young adults; however, there have been many transports involving adolescents," McLaughlin said. "Parents should warn their children about the dangers of using spice, and strongly instruct them to stay away from it." - More...
Wednesday PM - August 19, 2015

Columns - Commentary

SUSAN STAMPER BROWN:Obama Opposes Legislation to Fix the VA - We are created with an innate sense of right and wrong and a desire for justice, so when we hear about maddening scandals like the one at the Veterans Administration last year, we expect those in charge to quickly take action to right wrongs. If only it were that easy.

A little background: Public awareness of the VA scandal erupted after evidence surfaced that a large number of veterans died while waiting for appointments at a medical care facility in Phoenix, Arizona. Investigations also found the problem was nationwide, with approximately 120,000 veterans waiting for care. VA employees created "secret" waiting lists and fudged scheduling to give the appearance veterans were receiving appropriate care in a timely manner. According to the Arizona Republic, the VA acknowledged the Phoenix facility "manipulated patient wait-time records to trigger bonuses." All the while, taxpayer-funded bonuses and above-average performance ratings were divvied out for VA execs about as frivolously as the Obama administration dispenses Obamaphones. So, after all the corruption, we should believe that government-run healthcare is better than the free market? - More...
Wednesday PM - August 19, 2015

Political Cartoon: GOP Immigrant Solution
By Pat Bagley ©2015, Salt Lake Tribune
Distributed to subscribers for publication by Cagle Cartoons, Inc.




Real Time U.S. Debt Clock
http://www.usdebtclock.org/

U.S. Inflation Calculator
Easily calculate the buying power of the US dollar & inflation rate from 1913-2014

U.S. Energy Info. Admin.
Heating Oil & Propane Update

Public Service Announcements
Public Meetings & Info

KGB Animal Protection

Ketchikan Borough Assembly

Live video stream of current meeting
Archived videos
Agenda and Information Packets
Assembly Meeting Minutes
Borough Records
Calendar

Ketchikan Planning Commission

Live video stream of current meeting
Agenda, Information Packets & Minutes

Ketchikan City Council

View a Video of Meeting
Agenda & Information Packets

Ketchikan School Board

Live video stream of current meeting
Agenda & Information Packets


Gravina Access Project SEIS Alternatives Development

Gravina Access Website

Police Blotters

AK Troopers Daily Dispatch
Ketchikan Police Reports
Juneau Police Reports

Ketchikan

Jobs
Today's Forecast
Satellite
Today's Weather Images
Marine Forecasts
AK Weathercams
Ketchikan Weather Data
Current AK Weather Map




CLASSIFIEDS' CATEGORIES

Announcements
Help Wanted
Job Wanted
For Sale / Free Stuff
Garage Sales
Homes / Apts/ Property
Pets
Wanted
Lost & Found
Publish Your Ad

Front Page Archives
Letter Archives
July - August 2015

| | | | | | | |
| --- | --- | --- | --- | --- | --- | --- |
| S | M | T | W | T | F | S |
| 28 | 29 | 30 | 01 | 02 | 03 | 04 |
| 05 | 06 | 07 | 08 | 09 | 10 | 11 |
| 12 | 13 | 14 | 15 | 16 | 17 | 18 |
| 19 | 20 | 21 | 22 | 23 | 24 | 25 |
| 26 | 27 | 28 | 29 | 30 | 31 | 01 |
| 02 | 03 | 04 | 05 | 06 | 07 | 08 |
| 09 | 10 | 11 | 12 | 13 | 14 | 15 |
| 16 | 17 | 18 | 19 | | | |


Viewpoints
Commentary
Opinions/Letters
Basic Rules &
Freedom of Speech

Questions, please contact the editor at editor@sitnews.us or call 617-9696
Sitnews reserves the right to edit.

No say as shareholders By Wanda J Culp - Yay Tilli Abbott for speaking the truth that few can imagine. ANCSA is indeed a heavy burden for village's mass land ownership, and a mega windfall for the ones who are determined that "being Indian" is now worthy of claiming. - More...
Wednesday PM - August 19, 2015

PeaceHealth Ketchikan Medical Center By Chris Elliott - June 10, 2015, I went to the emergency room before work because I'd had a nose bleed for about 45 minutes. After giving them my insurance information, I was escorted to a bed & reclined for about 10 minutes. I declined a full-screen blood test as I had just had one a month ago and it ran me $400. I then left the hospital, went home & got ready for work. - More...
Wednesday PM - August 19, 2015

Truth-challenged By Richard Peterson - I recently published an op-ed decrying the uninformed fear-mongering being smeared around Alaska by opponents of tribal trust land. Then I saw the blog posted by Suzanne Downing, the communications director for our State's Republican Party. To put it politely – her blog is truth-challenged.

First, what's at stake is not "millions of acres." A tribe may ask to have land placed in trust only if the tribe owns the land outright. It is sheer lunacy to think ANCSA corporations will sell off their land holdings to tribes. Tribes in Alaska have nowhere near enough money to buy thousands of acres, much less "millions." - More...
Sunday PM - August 16, 2015

Open Letter: Greetings Ketchikan Gateway Borough Assembly and Managers By Teri Walker - I am writing to you regarding a concern I have about the elderly population in Ketchikan, many of our elderly are living in retirement homes, or on their own independently - and while we all strive for a little bit of independence, companionship is vital for quality of life. Countless studies have shown that interaction between the elderly and animals provides increases in healthy heart and blood pressure rates, decreases in depression and suicidal thoughts or ideologies. And an overall sense of purpose that many of them are lacking in their twilight years. - More...
Sunday PM - August 16, 2015

Protection, Safety & Welfare By Lavenia Sylvia - Since VPSO Sgt Clinton O Malley left, the City of Thorne Bay has not had a VPSO. I am told by City of Thorne Bay Councilman Harvey McDonald, that the Kasaan VPSO is covering Thorne Bay (Goose Creek, Southside and City Center), Kasaan, and Hydaburg. That is mind-boggling as two VPSOs are required to adequately service the three disparate sections that comprise the City of Thorne Bay. According to Councilman McDonald, this is all due to lack of funding for the VPSO Program. - More...
Sunday PM - August 16, 2015

Our future in Ketchikan By Ed Plute - Water Department Crisis: It's beyond time to put an end to this nonsense! All we really need is a little bit of stand pipe, ammonia in no way is mandated! Shouldn't we just quit our losses, and simply keep the water dark? This must come to a stop!

Hospital Fiasco: Time to start cleaning house! Starting with City Manager Karl Amylon, this man collects two separately paychecks from the city. And my question to you is, why are the city council along with our mayor letting him get away with this? As city manager he runs and signs off on the bids composed of many millions of dollars. Dollars that could easily have been saved under responsible unbiased management! This is proof of the consequences of the abundant use of enterprise funds. We are in desperate need of a true audit run by the state. There is no longer any doubt that this must be done. - More...
Sunday PM - August 16, 2015

Ketchikan's tobacco tax By Charlie Freeman - It appears that the 'Glorious Guardians of Good' have managed to join with the 'Tax and Spend' members of the Borough Assembly to propose an unreasonable, and unjustifiable tax on not only smokes, but the means to get out! Please tell me what kind of logic is involved here? No one will argue that smoking is good for you (we called cigarettes coffin nails when I was a little kid). No one with the brain of a mole was deceived. The question is will taxation cause people to quit smoking? See, prison stops meth heads from smoking meth? Probably not the best analogy, but not far off. - More...
Sunday PM - August 16, 2015

Webmail your letter or
Email Your Letter To: editor@sitnews.us

---

Articles & photographs that appear in SitNews may be protected by copyright and may not be reprinted or redistributed without written permission from and payment of required fees to the proper sources.

E-mail your news & photos to editor@sitnews.us

Photographers choosing to submit photographs for publication to SitNews are in doing so, granting their permission for publication and for archiving. SitNews does not sell photographs. All requests for purchasing a photograph will be emailed to the photographer.

The Local Paper is now available online.
Click here for this week's printed edition.