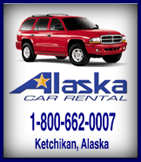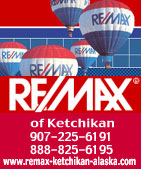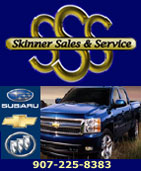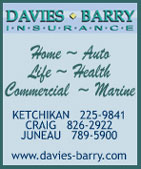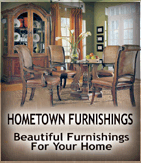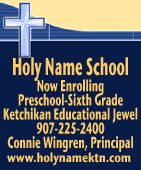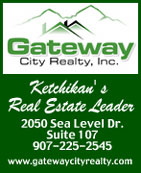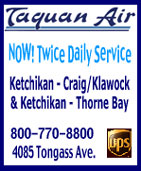 Contact


Call 254-1948


Webmail Letters


News Tips


Search Sitnews


Copyright Info


Archives
Today's News


Alaska


Ketchikan


Top Stories


U.S. News


U.S. Politics


Stock Watch


Personal Finance


Science News


US Education News


Parenting News


Seniors News


Medical News


Health News


Fitness


Offbeat News


Online Auction News


Today In History


Product Recalls


Obituaries
Quick News Search


Alaska


Ketchikan


SE Alaska


Alaska News Links
Columns - Articles


Dave Kiffer


Fish Factor


Chemical Eye On...


Parnassus Reviews


George Pasley


More Columnists
Historical Ketchikan


June Allen


Dave Kiffer


Louise B. Harrington
Ketchikan Arts & Events


Ketchikan Museums


KTN Public Library


Parks & Recreation


Chamber
Lifestyles


Home & Garden


Food & Drink


Arts & Culture


Book Reviews


Movie Reviews


Celebrity Gossip
On the Web


Cool Sites


Webmaster Tips


Virus Warnings
Sports


Ketchikan Links


Top Sports News
Public Records


FAA Accident Reports


NTSB Accident Reports


Court Calendar


Court Records Search


Wanted: Absconders


Sex Offender Reg.


Public Notices
Weather, Webcams


Today's Forecast


KTN Weather Data


AK Weather Map


Ketchikan Webcam


SE AK Webcams


Alaska Webcams


AK Earthquakes


Earthquakes
TV Guide


Ketchikan
Ketchikan Phone Book


Yellow Pages


White Pages
Government Links


Local Government


State & National


Monday
July 20, 2009



Salmonberry Feast
A Sitka Black-tailed deer enjoys the 'fruit' of the Salmonberry. According to Wikipedia, the name Salmonberry came about because of the First Nations' fondness for eating the berries with half-dried salmon roe.
Front page photo By RHONDA BALL

Fish Factor: "No" to self-tax to fund Rainforest Wild By LAINE WELCH - Salmon fishermen in Southeast Alaska again voted "no" to bankrolling their own Regional Seafood Development Association, already widely known as Rainforest Wild.

RSDA's - a unique concept ok'd by the state in 2004 - lets fishermen in 12 Alaska regions band together and tax themselves based on the value of their catches. The tax is collected by the Alaska Dept. of Revenue and the money is disbursed back to the RSDA each year. It can be used for marketing, infrastructure, ice barges, new products - whatever the fishermen want. RSDAs also give fishermen more access to federal and state grants and programs.

Ballots were sent in May to 475 Southeast drift gillnet permit holders asking if they approved a one percent self-tax to fund the association. The state released the results last week -- of 212 votes, 60% voted no (132/80). Two years ago, a similar RSDA effort lost by two votes.

"I guess the majority just don't want it. I'm surprised it lost by such a wide margin," said a disappointed John Jensen of Petersburg, an interim RSDA board member working to get the RSDA off the ground.

"It is too bad that these guys don't realize they need to think beyond Southeast Alaska, and that they are competing with a much wider market," said Richard Mullins, marketing manager at Orca Bay Seafoods. "They used to think they were competing with other areas of Alaska, now they are competing town by town. Their competition is more than Alaska, and even more than Atlantic salmon - it is center of the plate proteins!"
Part of the difficulty stems from the vastness of the fishing region, said interim program director Elizabeth Dubovsky.

"The geographic expanse of Southeast Alaska is one of the things that make it such a unique region. It's a blessing in some ways, and in other ways it's a challenge," she said. "Especially when you're trying to bring all these fishermen together under one group, and then you bring money into the picture, and that makes it even more challenging."

John Jensen agreed.

"I know from talking with people that there's a lot of apprehension that one community would get more of the money than others, and wouldn't be treated fairly. For example, Petersburg has the largest gillnet fleet, and I think people were worried about that," he explained.

The tax would only amount to a few hundred dollars each year, pointed out board member Keith Anundi, a Wrangell fisherman who initially opposed the RSDA. - More...
Monday - July 20, 2009

Ketchikan: Ketchikan joins cities nationwide for America's Night Out Against Crime - On Tuesday, August 4, 2009, neighborhoods throughout Ketchikan are being invited to join forces with thousands of communities nationwide for the "26th Annual National Night Out" (NNO) crime and drug prevention event. National Night Out, which is sponsored by the National Association of Town Watch (NATW) and co-sponsored locally by the Ketchikan Police Department and Tongass Substance Screening, will involve over 15,000 communities from all 50 states, U. S. territories, Canadian cities and military bases around the world. In all, over 37 million people are expected to participate in 'America's Night out Against Crime'. NNO 2009 is being supported in part by TARGET, the national corporate sponsor.

National Night Out is designed to: (1) heighten crime and drug prevention awareness; (2) Generate support for, and participation in, local anticrime efforts; (3) Strengthen neighborhood spirit and police-community partnerships; and (4) Send a message to criminals letting them know neighborhoods are organized and fighting back.

From 5 to 8 PM on August 4th, residents and shop owners throughout Ketchikan and across the nation are asked to turn on outside lights and spend the evening outside with neighbors and police. While turning on a porch light is largely symbolic in the summer here in Ketchikan, it demonstrates solidarity against crime. This is a good time for block parties, cookouts, flashlight walks, and other activities. - More...
Monday - July 20, 2009

Science - Technology: Windspire' turbine could be breakthrough in wind power By JOHN MURAWSKI - It looks like an abstract sculpture or metallic lawn art, and its promoters say that installing several can turn an ordinary backyard into a wind garden.

Some Green energy advocates say the Windspire, a power turbine that spins in an upright position in a confined space, could represent a major breakthrough for wind energy. Instead of using towers 100 feet tall or higher for conventional windmills, the Windspire is just 30 feet tall.

The Windspire -- with its comparatively low price tag and a design that works on office rooftops and in suburban open spaces -- also offers a potential solution for those who just want to supplement their power supply. - More...
Monday - July 20, 2009

Science - Technology: Technology from NASA space program continues to touch everyday life By DAN MAJORS - You don't have to look to the stars to see how America's space program has touched your daily life. Look at your cell phone, your tennis shoes, your tool belt, your computer or television.

Daniel Lockney, editor of Spinoff, a NASA publication since 1976, makes it his job to inform readers of the benefits of space technology, from medicine to industry to entertainment.

"When NASA was founded in 1958," Lockney said, "Congress said, 'You can have this money for space exploration, but the money that goes up in space has to come back down in some practical and tangible forms. And we'd like to know what they are.' - More...
Monday - July 20, 2009

Columns - Commentary

DAVE KIFFER: Ketchikan Didn't Need to Be 30 Miles Long, Four Blocks Wide - I have the greatest respect for the founders of Ketchikan.

They came up here, survived the weather that we only grumble about in much worse conditions than we have to deal with - outdoor plumbing and no central heat, anyone?

They chopped and they dug and they blasted and they built a town - Our Fair Salmon City - that clings to the side of a hill.

And when that wasn't enough they filled and built pilings and managed to make a bigger town out of just about no flat land at all.

In fact, they created our lovely little "30 miles long, four blocks wide" community. And we are here because of them. God bless them.

But sometimes I can't help but wonder, out of all this wilderness, couldn't they have chosen a slightly better location?

No, I don't mean Cabo San Lucas or Waikiki - although October would be much more pleasant in both those climes.

But even in these here parts, I think there were probably better options. - More...
Monday - July 20, 2009

MARTIN SCHRAM: Pay vets' disability claims -- now - Today we are proposing a solution for stimulating America's slow-to-recover economy that can please Washington's left, center and right.

And it has the added virtue of patriotically doing what is right for those who have already done so much for us all.

The U.S. economy has responded more slowly than many predicted to the Obama stimulus plan. Unemployment has soared to a 25-year high. For months we heard about stimulus projects that were "shovel-ready." Now we know what the politicians were shoveling.

Today many experts say a second round of stimulus will be needed. Yet Republicans who opposed the first stimulus as too costly and too porky still prefer to do it with tax cuts. Perhaps we can do the job without more shovels or more tax cuts.

On July 13, The New York Times published a report by James Dao of front-page significance (never mind that it was way back on page A-10): The Department of Veterans Affairs' perpetual backlog of unprocessed claims of military veterans has soared to a high of 400,000. Six years ago, the VA's backlog of 253,000 was considered unacceptable. - More...
Monday - July 20, 2009

JAY AMBROSE: Health care? Nope, land shark - Someone's knocking at the door, the young woman inside the apartment asks who's there, and a pleasant voice replies, "flowers." The woman is suspicious, and is then told "plumber," and later "candy-gram."

It's really a shark -- a land shark that hangs out in urban areas, or at least in the old "Saturday Night Live" skits -- and it finally tricks the woman into thinking it's a dolphin. She opens the door and is devoured.

This was all very, very funny when the movie "Jaws" was a hot topic, but what's not so funny is the congressional version we've lately been seeing in Washington.

Congress comes knocking and says, "stimulus package, low unemployment," proffering a long, hurry-up-and-pass-it, $800 billion bill no one has had time to read. From it, we get tons of pork. We get welfare-state extensions. We get no stimulation, but the highest jobless rate in a more than two decades. - More...
Monday - July 20, 2009




Public Meetings & Info

Ketchikan




CLASSIFIEDS' CATEGORIES

Announcements and
Help Wanted
For Sale / Free Stuff
Garage Sales
Homes / Apts/ Property
Pets
Wanted
Lost & Found
Publish Your Ad

---


Commercial Ads

Viewpoints
Opinions/Letters
Basic Rules

If you submit a letter and it is not published, please contact editor@sitnews.us or call 254-1948. Your letter may not have been received.

ASTRONAUTS By James Schenk - IN 1969 I WAS 10 YEARS OLD, A COMPLETE SPACE NERD. When the Apollo lander was headed for the surface of the moon, I was transfixed to the t.v. along with my brothers and sisters 40 years ago. We all watched with supreme pride in being AMERICANS and watching Armstrong take that first step onto the surface of the moon. We all cheered and hugged, I took pictures of the T.V. and my Family with the Astronauts walking on the moon, my heroes. - More...
Monday - July 20, 2009

Re: Rude Behavior By A.M. Skidmore - Don't worry about the person who was so rude to you Mr. Grant. He is obviously a very unhappy person. His rudeness and racism only goes to prove that he is so unhappy. Rather pity him, he will not last long in the retail trade. - More...
Monday - July 20, 2009

Palin Resignation By Jerilyn Lester - I agree with Georgianna Zimmerle 150% and would go even farther to say that the worst thing that has happened to Southeast Alaska since the logging shut down was Governor (not for much longer) Palin. I have come out and called her a thief both in letters to SitNews and to her face in an email to her. She started the work and then delayed it for 2 years so that she didn't have to move to the Governor's mansion in Juneau. She has stolen the money for the bridge to our airport, refused to even consider an alternative and then helped to stop any road to the outside world from anywhere in Southeast. - More...
Friday PM - July 17, 2009

Palin, bridge and other small things By A. M. Johnson - A timely quote: "No one knows where the future will take Palin, not even the governor herself. Her reemergence on the national scene and the scathing response from so many of her party peers underscore one thing, however: Republicans may hold dear their memories of the late Ronald Reagan. But his famous 11th commandment -- "Thou shalt not speak ill of any fellow Republican" -- was laid to rest a long time ago." - More...
Friday PM - July 17, 2009

PALIN RESIGNATION GOOD FOR SOUTHEAST ALASKA By Cindi Davis - Well said, Georgianna Zimmerle! What a well crafted and sensible letter. - More...
Friday PM - July 17, 2009

OceansAlaska By Rob Holston - What a great letter of support for OceansAlaska by Tor Jorgensen . I would agree with it all IF it were private enterprize money footing the bill for OceansAlaska. But it is not. Please address the crux of the issue, "Tax dollars putting private business out of business." - More...
Friday PM - July 17, 2009

It's Time for Prison Reform By Tom Proebsting - There are more than 2.3 million persons behind bars in the U.S. according to last year's statistics. Prisons cost taxpayers in excess of $55 billion annually. - More...
Friday PM - July 17, 2009

Rude Behavior By Vernon Grant - On 4th of July @ 12:15 PM as my friend and I walked about heading north, on the right side of the road, we stopped in at a seafood store where they sell processed seafoods.And in a teasing happy mood, I stopped in to see what kind of samples they had for the holiday celebrations.As I entered the establishment, I noticed a woman standing there waiting and I said, we just stopped into see what kind of samples you have for today's celebrations. And she said the manager will be out soon and we can see what's available. Within a minute a man came out from the back and he was in a good mood, and said"We have some 4th of July samples of smoked salmon candy" and he walked ahead of me towards the coolers on the right side. I had tried it before and I mentioned to him that I did not like that type of fish. - More...
Friday PM - July 17, 2009

PALIN RESIGNATION GOOD FOR SOUTHEAST ALASKA By Georgianna Zimmerle - On July 3, 2009 I listened with astonishment and unreserved delight as Governor Sarah Palin announced to the world that she would not seek a second term as Governor of the State of Alaska. And if that wasn't enough, she will resign at the end of July surrendering her Governor's seat to Lieutenant Governor Sean Parnell in order to avoid the trappings of a "lame duck" governor. Her reasoning is about as silly as the rest of her rationale for abandoning, in mid-term, the highest elected office in Alaska. After a lengthy diatribe on the virtues of her two years in office, she launched into her many defensive excuses for walking away mid-term in a vain attempt to cloak the facts in pretty paper. It is laughable that she used a basketball analogy to describe her term and her resignation from the Office of Governor. She considers herself the "point guard" leading the team to success and passing off the ball for the sake of the team. I'm sorry but the starting point guard doesn't quit in the fourth quarter just because the game gets rough! She could just as easily avoid behaving like a "lame duck" Governor by simply doing her job. She could stay in the State and attend to State business instead of gallivanting off to spotlight functions across the country. She whined about the many ethics complaints occupying her time since her failed run for Vice-president. She need not address these "frivolous" ethics complaints if there is no validity to them. She is the one who chooses to spend time on them. She has staff that can tend to them while she works on State business. - More...
Sunday - July 12, 2009

Pools vs. Flotation Suits By Dan McQueen - I've been on the water all my life. Yes, I can swim. I earned my 1 mile merit badge in a lake in Eastern Washington. But even knowing how to dog-paddle ain't gonna save you in the North Pacific if you ain't wearing an exposure/life jacket suit at least. - More...
Sunday - July 12, 2009

Sludge fee??? By Robert Bates - Maybe someone could enlighten me on the future benefits of paying this ridiculous quarterly sludge fee... I've been paying this fee for the last couple of years now, which doesn't even hold a candle to someone like my grandfather who has lived in the borough of Ketchikan since 1959. I know it's only 45 dollars every few months, but I see no reason for it. Sure you get a free pump out every couple of years, but my tank is not even close to being in need of one. - More...
Sunday - July 12, 2009

Capital move By Robert Stewart - I'm with Jackie Williams. Moving the capital from Juneau hurts all of Southeast Alaska, not just Juneau. We have voted against this move so many times it is ridiculous. - More...
Sunday - July 12, 2009

AK Airlines Fees By Kayla Edenshaw - I believe that it will change airfare prices for the better if Alaska Airlines had some competition. I have flown from Seattle to Nagasaki Japan for around $900 round trip. I have flown from Ketchikan to Seattle for almost the same price on some occasions. - More...
Sunday - July 12, 2009

EXXON Payments for Processors By Donald Kilbuck - I've done processor work, and that was before the (1989) Valdez Exxon Oil Spill. Although I have gotten a letter stating that I wouldn't get paid, I hear other stories that are far different. - More...
Sunday - July 12, 2009

Community Swimming Pool By Don Borders - I would like to comment on the process of building our community replacement swimming pool. I was raised in a town that lost many people on the Pacific Ocean waters due to them being unable to swim. That community is Reedsport Oregon, where the Umpqua River Bar which has a reputation for being one of the meanest unpredictable ones on the Oregon coast. After one winter after there were too many fishermen lost, the population raised the question why so many were losing their lives on the ocean waters? - More...
Thursday - July 09, 2009

Fire Victims Thank Ketchikan By Shannon Guthrie - On June 13, 2009 our home caught fire. I was at the mall with my son and parents shopping at the Tongass furniture sale and definitely didn't expect anything like this to happen while I was out. We raced home to find several fire trucks, EMS personnel and an ambulance blocking the entire road. After watching my life burn to a crisp we felt hopeless. The place where my husband, son and I resided at for the last 2 years was gone. My Son's 1 year old Cocker spaniel was stuck in the house, his baby pictures, baby blankets toys, clothes... everything we knew was gone. We were lost and felt we had no where to turn. - More...
Thursday - July 09, 2009

OceansAlaska By Tor Jorgensen - I support OceansAlaska. I live and work in Ketchikan year around and have children who attend the local schools. I believe OceansAlaska would be a major benefit to our community. It will create jobs and a new seafood industry for Ketchikan. It will be a great resource for my kids and everyone in Ketchikan, especially in the winter, to learn about the ocean around us and get students involved in science and learning. The science center will make Ketchikan an attractive place for visitors (cruise, fishing lodges, B&Bs, ferry, yachts, etc) increasing their chances of visiting, returning, and staying longer and spending more money locally. It will help keep families and retirees (my parents) in our community, and help attract skilled workers. - More...
Thursday - July 09, 2009

4th of July Parade By Joann Flora - On behalf of Big Brothers Big Sisters, I wish to extend our thanks to the Ketchikan Chamber of Commerce for entrusting our matches with the responsibility of judging this year's parade. Five matches worked diligently to assess and score according to the categories of Best Theme Interpretation, Most Creative, Most Patriotic, Best Performance, Most Entertaining, Best Appearance, and Best of Show. It was an honor and a privilege to be the first youth group selected to perform this important job. We really enjoyed having great seats for viewing the parade and the delicious lunch courtesy of Steamer's. Thanks to all who made this possible and congratulations to this year's winners! - More...
Thursday - July 09, 2009

Juneau is the Capitol of Alaska By Jackie Williams - The first thing I would like to see Governor Parnell do is to, move the capitol back to Juneau, live in the Governor's Mansion (hire the chef back as there would be folks IN RESIDENCE to cook for, do any interviews as Governor from the Governor's Mansion that is officially located in Juneau, SE Alaska, USA. - More...
Thursday - July 09, 2009
The Prophetic 'tongue in cheek' Kiffer By Ed Brown - June 08, 2009, Monday then Dave Kiffer prophesied the following in his column: Ketchikan, Alaska - Press Release from the Office of the President of the United States of America: April 1, 2017 --- President Sarah Palin announced this morning a plan to locate America's newest maximum security "terrorist/enemy non-combantant" permanent holding facility in Ketchikan. - More...
Thursday - July 09, 2009

More Letters/Viewpoints
Webmail your letter or
Email Your Letter To: editor@sitnews.us

---

E-mail your news tips, news
releases & photos to:
editor@sitnews.us

SitNews
Stories in the News
©1999 - 2009
Ketchikan, Alaska

M.C. Kauffman, Webmaster/Editor,
Graphic Designer & Publisher
editor@sitnews.us
907 254 1948

In Memory of SitNews' first editor,
Richard (Dick) Kauffman
1932-2007

Locally owned & operated.
Online since 1999

Articles & photographs that appear in SitNews may be protected by copyright and may not be reprinted or redistributed without written permission from and payment of required fees to the proper sources.