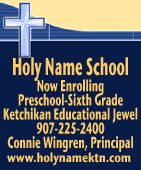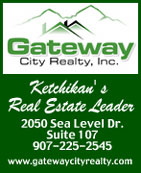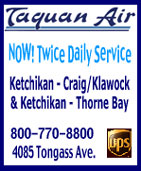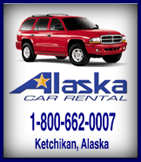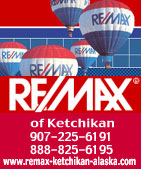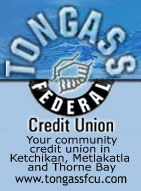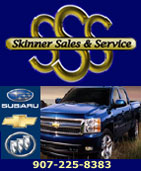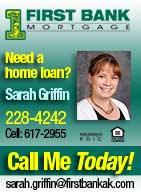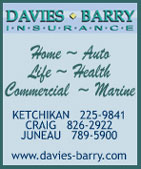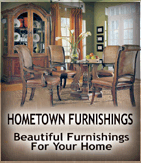 Contact


Call 254-1948


Webmail Letters


News Tips


Search Sitnews


Copyright Info


Archives
Today's News


Alaska


Ketchikan


Top Stories


U.S. News


U.S. Politics


Stock Watch


Personal Finance


Science News


US Education News


Parenting News


Seniors News


Medical News


Health News


Fitness


Offbeat News


Online Auction News


Today In History


Product Recalls


Obituaries
Quick News Search


Alaska


Ketchikan


SE Alaska


Alaska News Links
Columns - Articles


Dave Kiffer


Fish Factor


Chemical Eye On...


Parnassus Reviews


George Pasley


More Columnists
Ketchikan


Our Troops
Historical Ketchikan


June Allen


Dave Kiffer


Louise B. Harrington
Ketchikan Arts & Events


Ketchikan Museums


KTN Public Library


Parks & Recreation


Chamber
Lifestyles


Home & Garden


Food & Drink


Arts & Culture


Book Reviews


Movie Reviews


Celebrity Gossip
On the Web


Cool Sites


Webmaster Tips


Virus Warnings
Sports


Ketchikan Links


Top Sports News
Public Records


FAA Accident Reports


NTSB Accident Reports


Court Calendar


Court Records Search


Wanted: Absconders


Sex Offender Reg.


Public Notices
Weather, Webcams


Today's Forecast


KTN Weather Data


AK Weather Map


Ketchikan Webcam


SE AK Webcams


Alaska Webcams


AK Earthquakes


Earthquakes
TV Guide


Ketchikan
Ketchikan Phone Book


Yellow Pages


White Pages
Government Links


Local Government


State & National


Monday
June 08, 2009



McQueen Takes Derby's Top Spot On Last Day Of Fishing
Front Page Photo Courtesy 2009 Ketchikan King Salmon Derby

Ketchikan: McQueen Takes Derby's Top Spot On Last Day Of Fishing; 0.2 lbs Separates Top Two Spots - If Dan McQueen didn't believe the adage "the early bird gets the worm" he certainly does now. With one day left in the 62nd Annual Ketchikan CHARR King Salmon Derby, McQueen left the house at 1:30 a.m. in hopes of taking advantage of every opportunity on the last day of fishing. McQueen's purpose was singular -- not to win the derby, but to place somewhere in the top ten. He had broken his fishing pole during Saturday's fishing trip and hoped to take advantage of Tongass Trading's offer of a free pole to anglers that bought their tickets at Tongass and placed in the top ten.

McQueen was "fishing hard" by 2:45 a.m., staying near the Mountain Point boat launch. Finding no luck, he pondered where his late father, a former commercial troller, might go to find a fish worthy of the top ten. "No joke," he said. "I looked out over the water and a ray of sunshine shone directly on Stomach Bay." Not five minutes after arriving and getting his gear in the water, McQueen had hooked into the winning entry. It took him nearly one-and-a-half hours to haul the 44.2 lb king over the side. Not content with his monster catch, McQueen rebaited his gear and fished for another 15 minutes before deciding to head back to the weigh-in station at Mountain Point. "I had the fish packed in ice but it was starting to lose some blood. I started getting nervous about it losing too much weight and headed back in."

McQueen's timing could not have been better as his entry topped Mark Tollfeldt's 44-pound entry by only two-tenths of a pound. Tollfeldt had taken the lead on the second day of the first weekend of the derby and held the top spot until McQueen's entry Sunday morning.

When asked what he planned to do with the over $10,000 in prize money McQueen offered only that he would like to take care of some outstanding hospital bills resulting from an accident with an uninsured motorist last summer.

As if spoiling Tollfeldt's top prize wasn't enough, McQueen also garnered the special prize allotted to the angler catching the largest salmon from a skiff 16' or smaller. Tollfeldt's entry had also been caught from a skiff. Tollfeldt, along with 28 other top 30 finishers, will choose from prize packages with a total value of more than $75,000.

McQueen's king salmon bested more than 800 fish entered over the seven days of fishing. Although exact counts are unavailable, derby organizers estimate that over 1200 people participated in the derby.

The awards ceremony will be held on Friday, June 12th, at the Ted Ferry Civic Center where anglers will choose their prizes based on their placement on the derby ladder. Special prize categories such as biggest fish by male youth, biggest fish by female youth, men's and women's hidden weights, and the largest salmon caught by an Alaskan permanent license holder will also be awarded.

Proceeds from the annual derby benefit the Ketchikan CHARR Educational Fund, a local non-profit that provides scholarships to Ketchikan students pursuing post-secondary education. - More...
Monday - June 08, 2009

Southeast Alaska: Hot temps, dry weather mean higher fire risk; Forest Service asks recreationists to exercise caution with flames - Record high temperatures, dry weather and fire can be a risky combination. That's why fire officials on the Tongass National Forest are asking that all area residents, campers, hunters, and day users to the national forest be cautious with any fire.

"We're not under any closures," said Assistant Forest Fire Management Officer Brian Sines, "but we are in a period of higher temperatures and dry weather, so recreationists should be extra careful where fire is concerned."

If you do have any type of a fire, do not leave it unattended at any time, and please make sure you take the time to put it out completely. - More...
Monday - June 08, 2009

Fish Factor: Summer snow crab survey will dictate catch this winter By LAINE WELCH - The summer survey of Bering Sea crab stocks just got underway ­ and a lot is riding on the results. Notably, the data collected over the next two months will dictate if Alaska's snow crab catch will be slashed this winter.

Federal fishery scientists have recommended a snow crab harvest limit at 16 million pounds, down from nearly 60 million pounds last year. Industry stakeholders had hoped for a similar catch level for the 2009/2010 season.

The decrease is not due to the snow crab stocks being in imminent danger of collapse; rather their numbers are not reaching a set target on time, as defined by a rebuilding plan. Snow crab stocks in the Bering Sea were classified as 'overfished 'in 1999, when estimates went from 290 million pounds to 25 million, seemingly in a single year. By law, fishery managers were required to devise a rebuilding plan with a time frame of 10 years.

"So the snow crab fishery has been managed under this rebuilding plan since 2000 and 2010 is the target date to accomplish that," explained Doug Pengilly, research coordinator for the westward region at ADF&G in Kodiak. (The state co-manages the Bering Sea crab fisheries with the feds.)

The snow crab biomass needs to reach 317 million pounds to be considered 'rebuilt'. It's estimated at 260 million pounds now. But at the current rate of fishing, the stocks won't reach the target on time.

"In May, the assessment biologists projected that if we were to try to achieve a 50% probability of being rebuilt (to 317 million pounds), the 2010 harvest may have to be in the order of 16 million pounds, rather than 50 million pounds," Pengilly said.

The results of the Bering Sea crab survey, will tell the tale.

"Part of this projection is based on a guess at what might be occurring in this survey, and that guess could be wrong," Pengilly said. "So the situation could change - for better or worse." Snow crab, or opilio Tanner, is Alaska's largest crab fishery, valued last year at $100 million at the docks. - More...
Monday - June 08, 2009

Alaska: Alaska reports more H1N1 (swine) flu cases - The Alaska Department of Health and Social Services virology laboratory in Fairbanks reported two new positive test results for the novel H1N1 (swine) flu in Alaska. The samples were confirmed last Wednesday, June 3, 2009.

One patient is a pre-teen from Haines. The boy first reported feeling ill on May 27 after returning from a trip to Seattle. A sample was taken by a private provider on May 28. He has since recovered and no one among his family or friends has reported any flu-like illness.

The other patient is an adult male in his 20s from Fairbanks who first reported feeling ill on May 30. A sample was taken at a clinic on June 2. No information is currently available on where or how he may have been infected.

There is no known connection between these two cases and the first case in Fairbanks reported on May 28. - More...
Monday - June 08, 2009

Columns - Commentary

DAVE KIFFER: An Idea Whose Time Has Come - Press Release from the Office of the President of the United States of America: April 1, 2017

President Sarah Palin announced this morning a plan to locate America's newest maximum security "terrorist/enemy non-combantant" permanent holding facility in Ketchikan.

"Some may see it is as 'maverick' to locate such a facility near a populated area," Palin announced. "But I think that 'Guantanamo Cove' is an idea whose time has come."

President Palin went on to discuss Ketchikan's remoteness as a advantage, as America seeks to isolate terrorists and enemy non-combatants.

"When I was governor, even I wasn't aware - initially - that Ketchikan was part of the state of Alaska," She stated. "Eventually, my staff was able to provide me with information that indicated otherwise, that it can occasionally be seen from the roof of the Governor's mansion in Juneau. I think if we want these 'evildoers' to disappear off the face of the earth, we could not hope to find a better location."

Palin also noted that Alaska's unusual political structure is also a plus.

"Traditionally, there have been concerns expressed over the so-called 'rights' that these so-called 'prisoners' would get for simply being on so-called 'US soil,' " Palin said. "But since Alaska was successful - in 2012 - in suing the federal government for the right to refuse or ignore everything from the federal government that did not come in the form of a check, it means that being a so-called 'prisoner' in Alaska affords you no more so called "rights" in Alaska than it would in a 'rendition center' such as in Wackistan or wherever. I think the general position correctly elucidated by Alaskan Governor Bill Allen recently was 'habeas corpus, habeas schmorpus.'"

The President also noted that, unlike many communities, Ketchikan's residents were definitely in favor of the facility.

"Let's face it, the entire population is already on board with 'waterboarding' otherwise they wouldn't live there," she added. - More...
Monday - June 08, 2009




Public Meetings & Info

Ketchikan




CLASSIFIEDS' CATEGORIES

Announcements and
Help Wanted
For Sale / Free Stuff
Garage Sales
Homes / Apts/ Property
Pets
Wanted
Lost & Found
Local Services
Publish Your Ad

May 2009
Front Page Archives

| | | | | | | |
| --- | --- | --- | --- | --- | --- | --- |
| S | M | T | W | T | F | S |
| | | | | | 01 | 02 |
| 03 | 04 | 05 | 06 | 07 | 08 | 09 |
| 10 | 11 | 12 | 13 | 14 | 15 | 16 |
| 17 | 18 | 19 | 20 | 21 | 22 | 23 |
| 24 | 25 | 26 | 27 | 28 | 29 | 30 |
| 31 | 01 | 02 | 03 | 04 | 05 | 06 |

Viewpoints
Opinions/Letters
Basic Rules

Update available soon.

In the wake of the Queen By Mark Gatti - Anyone who lives here in Ketchikan knows that our airport ferry operates in one of, if not the narrowest parts of the Tongass Narrows. Most prudent mariners would agree, given the traffic volume and the current in this area, they would not allow themselves to get into this situation. A 19' Glasply is more manoeuvreable than the Airport Ferry or a large paddle boat. - More...
Sunday - May 31, 2009

KCCB: never a disappointment By Judith Green - Attending any performance under the direction of Roy McPherson is indeed always a pleasure. A Celebration of 50 Years: Alaska Statehood was no different. From Alaska's Flag to America, the Beautiful - an evening of superb music on stage at Kayhi. - More...
Friday AM - May 29, 2009

Music on the Red Carpet By Judith Green - BRAVO! Ms Elliot and choral groups! What a fun night! I SO enjoyed your many and varied talents. Those high school 'kids' really did a great job! And Ms Elliot so enjoyed being 'partner' with them. - More...
Friday AM - May 29, 2009

AMERICA, DEFINE REASON* by Ken Bylund - *reason \ n. computation; to calculate, think: a statement offered in explanation; rational ground, a motive or justification; the thing that makes some fact intelligible... towards comprehending, and sanity. Been reading words from the mind of a true genius, a most brilliant essay on the problems of [our] society, and am taken by the succinct use of words and analogy by this student of human instinct, our flaws, strengths and trends. F. A. Hayek [1899 - 1992], co-winner of the Nobel Prize in economics [1974], and recipient of the Presidential Medal of Freedom [1991]. - More...
Friday AM - May 29, 2009

Supporting troops By Inge Kummant - Ketchikan readers may be interested in learning that Operation AC still needs support, especially from people interested in "adopting" soldiers deployed in Iraq and Afghanistan. - More...
Friday AM - May 29, 2009

More Old Growth trees - meaningless By Don Borders - I am appalled at the pointless and aimless projections that quote "mature trees". Those personal references are not put into proper perspective to just what a mature tree is. To say something is or has reached a particular state of age or growth needs to be referenced to which they are referring as. To say, "mature old growth trees" needs a referenced point, which an end user will use it. One would be: adequately large enough to mill lumber. Another one, a recreational user, who wants to see the overhead canopy of the green tops from older trees, which is screening out the Sun Light so the brush has died off and the young trees have no opportunity to grow due to the lack of light. - More...
Friday AM - May 29, 2009

In the wake of the Queen... By Chris Barry - Sorry I can't show any empathy regarding your concerns, but such is life when you use a waterway as busy as our section of the narrows. - More...
Friday AM - May 29, 2009

Cars Coming from China By Donald A. Moskowitz - General Motors (GM) received $20 billion in U.S. government loans and might need another $50 billion to survive. - More...
Friday AM - May 29, 2009

More Letters/Viewpoints
Webmail your letter or
Email Your Letter To: editor@sitnews.us

---

E-mail your news tips, news
releases & photos to:
editor@sitnews.us

SitNews
Stories in the News
©1999 - 2009
Ketchikan, Alaska

M.C. Kauffman, Webmaster/Editor,
Graphic Designer & Publisher
editor@sitnews.us
907 254 1948

In Memory of SitNews' first editor,
Richard (Dick) Kauffman
1932-2007

Locally owned & operated.
Online since 1999

Articles & photographs that appear in SitNews may be protected by copyright and may not be reprinted or redistributed without written permission from and payment of required fees to the proper sources.