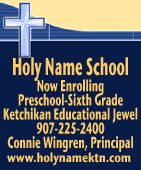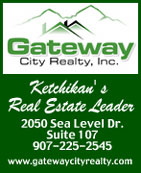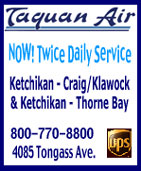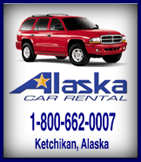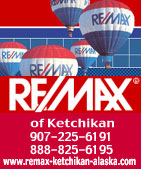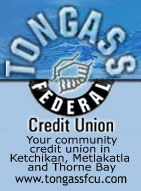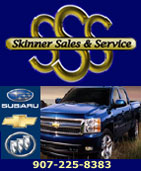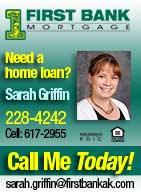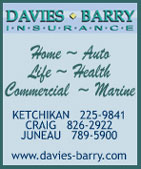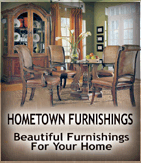 Contact


Call 254-1948


Webmail Letters


News Tips


Search Sitnews


Copyright Info


Archives
Today's News


Alaska


Ketchikan


Top Stories


U.S. News


U.S. Politics


Stock Watch


Personal Finance


Science News


US Education News


Parenting News


Seniors News


Medical News


Health News


Fitness


Offbeat News


Online Auction News


Today In History


Product Recalls


Obituaries
Quick News Search


Alaska


Ketchikan


SE Alaska


Alaska News Links
Columns - Articles


Dave Kiffer


Fish Factor


Chemical Eye On...


Parnassus Reviews


George Pasley


More Columnists
Ketchikan


Our Troops
Historical Ketchikan


June Allen


Dave Kiffer


Louise B. Harrington
Ketchikan Arts & Events


Ketchikan Museums


KTN Public Library


Parks & Recreation


Chamber
Lifestyles


Home & Garden


Food & Drink


Arts & Culture


Book Reviews


Movie Reviews


Celebrity Gossip
On the Web


Cool Sites


Webmaster Tips


Virus Warnings
Sports


Ketchikan Links


Top Sports News
Public Records


FAA Accident Reports


NTSB Accident Reports


Court Calendar


Court Records Search


Wanted: Absconders


Sex Offender Reg.


Public Notices
Weather, Webcams


Today's Forecast


KTN Weather Data


AK Weather Map


Ketchikan Webcam


SE AK Webcams


Alaska Webcams


AK Earthquakes


Earthquakes
TV Guide


Ketchikan
Ketchikan Phone Book


Yellow Pages


White Pages
Government Links


Local Government


State & National


Monday
June 01, 2009



The Leap
Humpbacks have become renowned for their various acrobatic displays. One of the humpback's more spectacular behaviors is the breach. Breaching is a true leap where a whale generates enough upward force with its powerful flukes to lift approximately two-thirds of its body out of the water. This humpback was photographed in the Tongass Narrows around the Ketchikan Airport.
Front Page Photo by RICK ROHWEDER

Ketchikan: Tollfeldt Holds Top Spot Through Week 2; Mountain Point Weigh-In Station Logs All Top Ten Entries - Although three new entrants found their way into the top ten during the second weekend of derby fishing, Mark Tollfeldt's 44-pounder caught during the first weekend of the Ketchikan CHARR King Salmon Derby retained its spot atop the derby ladder. One more weekend of fishing will determine the winner of the 62nd annual event, taking home over $10,000 in cash as the derby's top prize.

287 fish were turned in over the weekend, more than doubling the 139 kings turned in during the derby's second weekend of the 2008 derby, and besting last weekend's three-day fishing schedule by almost 80 fish. More than 1,000 anglers took advantage of the sunny weather and made their way to local fishing grounds in search of a top-prize contender. "Angler reports from the fishing grounds indicated a higher catch rate than anglers saw during the first weekend," said Russell Thomas, 2009 Derby Coordinator.

South-end fishing continued to outpace fishing on the north-end, with all ten of the top fish being weighed in at the Mountain Point Boat Launch. Shannon Farstad (38.6# - 5th Place), Chris Lervick (37.9# - 6th Place), & Donna Frank (34.7# - 8th Place) all cracked into the top ten with entries entered at Mountain Point. In addition to the largest fish, Mountain Point saw the most fish, with 115 entries. However, Thomas stated, a huge increase to the number of anglers using the Bar Harbor weigh-in station has been noted. "With a lot of fish being turned in at Mountain Point and the launch ramp at times being crowded, some fishermen have decided to bring their catch back to town and to utilize the Bar Harbor weigh-in station," said Thomas. Bar Harbor logged 113 fish over the second weekend. - More...
Monday - June 01, 2009

Fish Factor: Plan aims to put the brakes on commercial fishing in the Arctic By LAINE WELCH - A plan by Alaska fishery 'overseers' aims to put the brakes on commercial fishing in the Arctic until more is known about the region's fish stocks and marine environment. Now it's time for the public to weigh in.

The Arctic Ocean is the earth's smallest and least explored ocean. For Alaska, the Arctic waters straddle the North Slope, with the Chukchi Sea and Beaufort Sea on either side of Barrow. The crown of ice in the Arctic is receding fast - in recent years even the Northwest Passage is navigable in late summer! The melting ice is unveiling all kinds of unexplored opportunities for resource development in this unexpected frontier, including fishing.

"Historically, there have been no commercial fisheries in our Arctic seas," said Doug Mecum, head of the Alaska region of NOAA's Fisheries Service in Juneau.

After two years of tinkering, the North Pacific Fishery Management Council has given its unanimous stamp of approval to adopt a plan that strictly defines parameters before any fishing occurs in U.S. portions of the Arctic. The plan governs all fish and shellfish stocks federal waters, meaning from three to 200 miles offshore. It does not affect Arctic subsistence fishing or hunting.

Global environmental groups have applauded the NPFMC's precautionary "look before you leap" approach to the Arctic.- More...
Sunday - May 31, 2009

Ketchikan: Man Injured in Vehicle Accident - Thursday evening at approximately 8:09 PM, Ketchikan Police Department officers responded to a call for a traffic accident with injuries in the 700 block of Stedman Street. When officers arrived on the scene, they discovered two vehicles has been involved in the accident. A blue Ford Escape was wedged into the driver's side door of a gold Toyota Rav4.

According to a news release, witnesses and physical evidence on the scene indicated the driver of the Ford attempted to pass a line of three vehicles and struck the Toyota, whose driver was making a left turn from Stedman. Both vehicles came to rest on the side of the road after striking and destroying a fire hydrant. - More...
Sunday - May 31, 2009

Alaska: Alaska Residents Weigh in on Statewide Energy Plan - Alaska State Senators visited Interior communities last week to see firsthand the devastating effects of high fuel and energy prices and to learn about alternative and renewable energy technologies that could help solve energy challenges in both rural and urban Alaska.

"It was an eye-opening experience to talk with the community leaders in Tanana and Ruby, and meet residents who can barely afford to stay in their villages because of the exorbitantly high price of fuel oil," said Senator Lesil McGuire (R-Anchorage), Co-Chair of the Senate Resources Committee and Chair of the Senate Energy Committee. "In Fairbanks, we learned about ongoing research important for developing practical alternatives that Alaskan villages can use to reduce energy costs and survive."

The seven Senators, including members of the Energy, Resources and Finance Committees, spent Tuesday in Fairbanks and Wednesday in Tanana and Ruby. In Fairbanks, they toured the innovative geothermal power plant at Chena Hot Springs and learned about groundbreaking research being done at the Cold Climate Housing Research Center and the Alaska Center for Energy and Power on the UAF campus.

In Tanana, the Senators toured a ravaged community that is still digging out and beginning to rebuild after recent Yukon River flooding destroyed dozens of homes and displaced almost half the village's population. Tanana residents are seeking energy efficiency upgrades for their school, the cornerstone of their community, which cost over $100K in energy costs last June alone.

In Ruby, the Senate Energy/Resources group saw an innovative prototype of an electrical generation system that has the potential to produce significant amounts of electricity from the flow of the river.- More...
Sunday - May 31, 2009

Alaska: Alaska Chooses to Monitor Common Core Education Initiative - Alaska Governor Sarah Palin announced today that the State of Alaska has chosen to monitor but not yet actively participate in the upcoming initiative to create nationwide common core state standards in reading and math.

The National Governors Association and the Council of Chief State School Officers have announced they intend to work with states to formulate standards in English and math for kindergarten through grade 12 by December 2009.

"Alaska's decision not to participate until after we monitor this is based on our desire to spend our time and public resources to improve instruction in the classroom and to form productive relationships between schools and the communities they serve," Governor Palin said. "If this initiative produces useful results, Alaska will remain free to incorporate them in our own standards."

Commissioner Larry LeDoux of the Department of Education and Early Development noted that Alaskans already have spent considerable time and money to develop detailed standards for the performance of students in grades 3 to 10 in reading, writing and math, including assessments to measure students in those core subjects. There also are numerous other standards for the content of curricula and the performance of younger students and of teachers.

Commissioner LeDoux noted that the Alaska Education Plan includes a commitment to review our standards.

"Alaska's assessments tell us useful information about our students," LeDoux said. "Used correctly, the data helps guide instruction and leads to improved student achievement. If standards and assessments are changed, schools and parents will not be able to compare their students' progress to recent years and once again we will be back to square one." - More...
Sunday - May 31, 2009

Alaska: ALASKA MARKS 10 YEARS OF VINE - The Alaska Department of Corrections commemorated the 10th anniversary of its automated victim notification service, VINE (Victim Information and Notification Everyday) ON Friday, May 29 in Anchorage at the Governor's Office.

Launched statewide in 1999, VINE provides around-the-clock custody status information about offenders in the department's custody. The service is free, anonymous and open to the public.

Crime victims and other concerned citizens can call 800 247 9763 or log on to www.vinelink.com , enter the offender's name or identification number, and receive up-to-date information on that offender's custody status. They can also register to be notified by phone or email in the event of an offender's release, escape, death or change in custody. In addition, VINE provides notification 30 days prior to an offender's release.

Service representatives are available 24 hours a day to assist callers with registration, locating an offender, or accessing local victim services. Callers can interface with the system in English, Russian, Spanish and Central Yup'ik. - More...
Sunday - May 31, 2009




Public Meetings & Info

Ketchikan




CLASSIFIEDS' CATEGORIES

Announcements and
Help Wanted
For Sale / Free Stuff
Garage Sales
Homes / Apts/ Property
Pets
Wanted
Lost & Found
Local Services
Publish Your Ad

May 2009
Front Page Archives

| | | | | | | |
| --- | --- | --- | --- | --- | --- | --- |
| S | M | T | W | T | F | S |
| | | | | | 01 | 02 |
| 03 | 04 | 05 | 06 | 07 | 08 | 09 |
| 10 | 11 | 12 | 13 | 14 | 15 | 16 |
| 17 | 18 | 19 | 20 | 21 | 22 | 23 |
| 24 | 25 | 26 | 27 | 28 | 29 | 30 |
| 31 | | | | | | |

Viewpoints
Opinions/Letters
Basic Rules

In the wake of the Queen By Mark Gatti - Anyone who lives here in Ketchikan knows that our airport ferry operates in one of, if not the narrowest parts of the Tongass Narrows. Most prudent mariners would agree, given the traffic volume and the current in this area, they would not allow themselves to get into this situation. A 19' Glasply is more manoeuvreable than the Airport Ferry or a large paddle boat. - More...
Sunday - May 31, 2009

KCCB: never a disappointment By Judith Green - Attending any performance under the direction of Roy McPherson is indeed always a pleasure. A Celebration of 50 Years: Alaska Statehood was no different. From Alaska's Flag to America, the Beautiful - an evening of superb music on stage at Kayhi. - More...
Friday AM - May 29, 2009

Music on the Red Carpet By Judith Green - BRAVO! Ms Elliot and choral groups! What a fun night! I SO enjoyed your many and varied talents. Those high school 'kids' really did a great job! And Ms Elliot so enjoyed being 'partner' with them. - More...
Friday AM - May 29, 2009

AMERICA, DEFINE REASON* by Ken Bylund - *reason \ n. computation; to calculate, think: a statement offered in explanation; rational ground, a motive or justification; the thing that makes some fact intelligible... towards comprehending, and sanity. Been reading words from the mind of a true genius, a most brilliant essay on the problems of [our] society, and am taken by the succinct use of words and analogy by this student of human instinct, our flaws, strengths and trends. F. A. Hayek [1899 - 1992], co-winner of the Nobel Prize in economics [1974], and recipient of the Presidential Medal of Freedom [1991]. - More...
Friday AM - May 29, 2009

Supporting troops By Inge Kummant - Ketchikan readers may be interested in learning that Operation AC still needs support, especially from people interested in "adopting" soldiers deployed in Iraq and Afghanistan. - More...
Friday AM - May 29, 2009

More Old Growth trees - meaningless By Don Borders - I am appalled at the pointless and aimless projections that quote "mature trees". Those personal references are not put into proper perspective to just what a mature tree is. To say something is or has reached a particular state of age or growth needs to be referenced to which they are referring as. To say, "mature old growth trees" needs a referenced point, which an end user will use it. One would be: adequately large enough to mill lumber. Another one, a recreational user, who wants to see the overhead canopy of the green tops from older trees, which is screening out the Sun Light so the brush has died off and the young trees have no opportunity to grow due to the lack of light. - More...
Friday AM - May 29, 2009

In the wake of the Queen... By Chris Barry - Sorry I can't show any empathy regarding your concerns, but such is life when you use a waterway as busy as our section of the narrows. - More...
Friday AM - May 29, 2009

Cars Coming from China By Donald A. Moskowitz - General Motors (GM) received $20 billion in U.S. government loans and might need another $50 billion to survive. - More...
Friday AM - May 29, 2009

More Letters/Viewpoints
Webmail your letter or
Email Your Letter To: editor@sitnews.us

---

E-mail your news tips, news
releases & photos to:
editor@sitnews.us

SitNews
Stories in the News
©1999 - 2009
Ketchikan, Alaska

M.C. Kauffman, Webmaster/Editor,
Graphic Designer & Publisher
editor@sitnews.us
907 254 1948

In Memory of SitNews' first editor,
Richard (Dick) Kauffman
1932-2007

Locally owned & operated.
Online since 1999

Articles & photographs that appear in SitNews may be protected by copyright and may not be reprinted or redistributed without written permission from and payment of required fees to the proper sources.