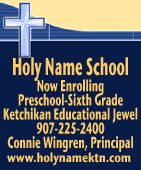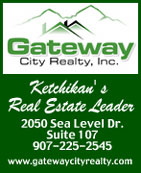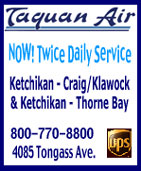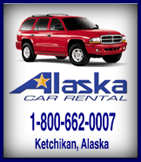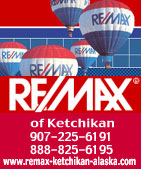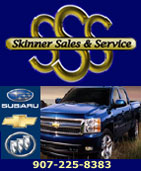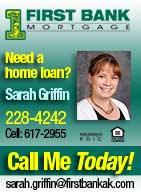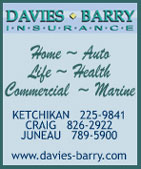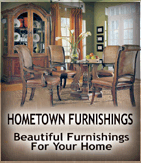 Contact


Call 254-1948


Webmail Letters


News Tips


Search Sitnews


Copyright Info


Archives
Today's News


Alaska


Ketchikan


Top Stories


U.S. News


U.S. Politics


Stock Watch


Personal Finance


Science News


US Education News


Parenting News


Seniors News


Medical News


Health News


Fitness


Offbeat News


Online Auction News


Today In History


Product Recalls


Obituaries
Quick News Search


Alaska


Ketchikan


SE Alaska


Alaska News Links
Columns - Articles


Dave Kiffer


Fish Factor


Chemical Eye On...


Parnassus Reviews


George Pasley


More Columnists
Ketchikan


Our Troops
Historical Ketchikan


June Allen


Dave Kiffer


Louise B. Harrington
Ketchikan Arts & Events


Ketchikan Museums


KTN Public Library


Parks & Recreation


Chamber
Lifestyles


Home & Garden


Food & Drink


Arts & Culture


Book Reviews


Movie Reviews


Celebrity Gossip
On the Web


Cool Sites


Webmaster Tips


Virus Warnings
Sports


Ketchikan Links


Top Sports News
Public Records


FAA Accident Reports


NTSB Accident Reports


Court Calendar


Court Records Search


Wanted: Absconders


Sex Offender Reg.


Public Notices
Weather, Webcams


Today's Forecast


KTN Weather Data


AK Weather Map


Ketchikan Webcam


SE AK Webcams


Alaska Webcams


AK Earthquakes


Earthquakes
TV Guide


Ketchikan
Ketchikan Phone Book


Yellow Pages


White Pages
Government Links


Local Government


State & National


Friday
June 12, 2009



South Point Higgins' Sunset
Front Page Photo by MARK PEREZ

Alaska: Historic Agreement Moves Alaska Gasline Forward - TransCanada Corporation and ExxonMobil announced in Anchorage Friday they have reached terms on a gas pipeline development agreement. TransCanada and ExxonMobil have agreed to work together to advance construction of a natural gas pipeline from Alaska's North Slope to Lower 48 consumers.

Alaska Pipeline Project
Graphic courtesy Alaska Pipeline Project

TransCanada's Alaska Pipeline Project is designed to deliver a reliable and secure source of clean energy to markets for decades to come. With an initial forecasted capital cost of US$26 billion, the project would provide a variety of benefits to Alaska and Canada, as well as the rest of the United States, including substantial revenues, jobs, business opportunities and new, long-term stable supplies of natural gas.

"TransCanada's Alaska Pipeline Project will connect Alaska's natural gas resource to new markets. We are pleased that TransCanada and ExxonMobil have reached agreement on initial project terms to progress this exciting initiative," said Hal Kvisle, TransCanada president and chief executive officer. "TransCanada envisions that our combined activities with ExxonMobil, along with the support of the State of Alaska, the U.S. and Canadian governments, and other interested parties, will result in the timely completion of the project. Today's announcement is an important step toward that goal."

Rich Kruger, president of ExxonMobil Production Company, said, "ExxonMobil and TransCanada have the experience, expertise and financial capability to undertake this project. We have on-the-ground knowledge of Alaska and Canada, experience working in the Arctic, a strong history of technology and innovation, and the proven ability to build and operate projects of enormous scale in the most challenging environments."

"In a volatile world with growing energy needs, the time is now to develop Alaska's valuable resource for the environment, economy and national security," Governor Palin said. She further described this historic announcement as "very encouraging and exciting, but certainly no surprise, because AGIA was crafted to allow just this type of commercial alignment to take place."

The Alaska Gasline Inducement Act (AGIA) was created as a commercial vehicle for advancing the Alaska gas pipeline project through the first stages of development of what will be the largest private energy project in the world.

For the State of Alaska and Alaskans, the owners of the North Slope's world-class hydrocarbon resources, this event represents progress on this long lead-time project. Once construction begins, Alaska will experience economic growth not seen in over a generation, including potentially thousands of jobs created through construction of an open-access pipeline, as well as significant revenues generated from the production and sale of the gas.

Governor Palin said, "The Legislature voted in support of AGIA and subsequently supported issuing TransCanada the AGIA License because the legislators recognized the importance of this investment to our state's economic future. AGIA and its 'must haves' protect the value of the resources that belong to all Alaskans. Of course, we recognize that this step is not the end of the AGIA process, but it is the natural evolution for a project of this magnitude." - More...
Friday - June 12, 2009

Alaska Science: Scientist kills polar bear during first field experience By NED ROZELL - Bob McNabb, 23, is just beginning what may be a long career studying glaciers. No matter how many seasons he spends on ice, he will probably never have a field experience like his first.

One of the paws of a male bear that graduate student Bob McNabb shot and killed in Svalbard after the bear broke windows at the Kinnvika research station.
Photo by Bob McNabb.

In May 2009, McNabb shot and killed a polar bear that was charging him outside a research station in Svalbard. The doctoral student observing an extremely far-north glacier in the Norwegian territory spoke about his experience when he returned to Fairbanks, where he studies at the Geophysical Institute at the University of Alaska Fairbanks.

This spring, McNabb traveled to the island of Nordaustlandet in Svalbard. The Connecticut-size island is just 10 degrees latitude shy of the North Pole. An ice cap covers 80 percent of its land area. The few mammals on the island include walrus, arctic foxes, and polar bears. No people live there.

"It's one of the most remote places on Earth," said Regine Hock, McNabb's advisor and a scientist at the Geophysical Institute.

A research station built by Swedish, Finnish, and Swiss researchers for the 1957-1958 International Polar Year still stands on the island. It's called Kinnvika. The station, consisting of a main building, several others, and an outhouse, is right on the coast, where polar bears sometimes wander the beach. McNabb encountered the polar bear outside of one of the snow-drifted frame buildings.

McNabb woke in the chilly research station on the afternoon of May 10 after a long night in which he worked on nearby Franklinbreen Glacier. His coworkers, from universities in Sweden and Finland, were still sleeping when McNabb thought of heating water for coffee.

"I was getting wood together for the stove when I heard glass breaking in the hallway," McNabb said.

He heard more smashing, coming from the room where his shotgun leaned against a wall. He yelled out "Hello," and got no reply. Then, above the drifted snow on a window right next to him, he saw the polar bear's paws pressing against the glass. They were the size of dinner plates. - More...
Friday - June 12, 2009

Alaska Science: Stampede Trail has a story of permafrost's warming potential By NED ROZELL - Each fall, beginning in the early 1970s-decades before the actions of Christopher McCandless made a gravel road in central Alaska the setting of a bestselling book and movie - Tom Osterkamp was driving the Stampede Trail near Healy to reach his favorite moose-hunting areas.

Jason Vogel at the Eightmile Lake permafrost - monitoring.
Photo by Ted Schuur.

In 1985, Osterkamp, a professor emeritus and permafrost researcher with the University of Alaska Fairbanks' Geophysical Institute, remembered a lake with a view of Denali when he was searching for sites to study permafrost. He returned there, a few miles up the Stampede Trail, drilled a deep borehole in the tussock tundra near the lake, and set up a system to measure the temperature of the ground at different depths.

Every study site is a calculated gamble, where researchers guess from where, over time, the best information will emerge. The spot Osterkamp chose near Eightmile Lake has turned into one that is giving scientists insight on how thawing permafrost could cause the world to become warmer.

"(It was) the first one out of more than 20 of my permafrost observatories that showed any effects that could be associated with the changing climate," Osterkamp said from his home in Saint Clair, Missouri, where he has lived since retiring from the university in 1997.

By checking temperature data every year, Osterkamp noticed by 1989 that the permafrost began to warm around Eightmile Lake. He saw that the ground there was getting bumpy, and small pits were beginning to form. After watching the site for several more years, he figured the permafrost was thawing because thick blankets of snow during the 1990s were insulating the ground from the frigid air of winter.

"Once I realized that the permafrost was thawing naturally, I knew it was a very important site," he said.

He shared the news of this dynamic area with UAF's Terry Chapin, who in turn contacted Ted Schuur of the University of Florida. Schuur who wrote a proposal and got money for a post-doctoral scientist, Jason Vogel, to take a close look at what was happening off Stampede Trail. - More...
Friday - June 12, 2009




Public Meetings & Info

Ketchikan




CLASSIFIEDS' CATEGORIES

Announcements and
Help Wanted
For Sale / Free Stuff
Garage Sales
Homes / Apts/ Property
Pets
Wanted
Lost & Found
Local Services
Publish Your Ad

May - June 2009
Front Page Archives

| | | | | | | |
| --- | --- | --- | --- | --- | --- | --- |
| S | M | T | W | T | F | S |
| | | | | | 01 | 02 |
| 03 | 04 | 05 | 06 | 07 | 08 | 09 |
| 10 | 11 | 12 | 13 | 14 | 15 | 16 |
| 17 | 18 | 19 | 20 | 21 | 22 | 23 |
| 24 | 25 | 26 | 27 | 28 | 29 | 30 |
| 31 | 01 | 02 | 03 | 04 | 05 | 06 |
| 07 | 08 | 09 | 10 | 11 | 12 | |

Viewpoints
Opinions/Letters
Basic Rules

An Educated and Experienced Description of the Life cycle of a Dungeness Crab* or Why They Should Not Be Fished in the Summer By Larry Painter - When I first came to S. E. Alaska in the late 60's we pot fished Dungeness Crab and Spot Prawns all year 'round. There was no closed season for either like there was for Salmon that I seined only in the summer and fall with openings regulated by Fish and Game. As I gained experience I noticed that Dungeness Crab started showing soft shells around late February. Through the summer they all go through a soft shell stage. Around September to October they are hard shelled and full of meat. At this time they are in prime condition! That's the time to start fishing! - More...
Friday - June 12, 2009

Logjam By Elaine Price - You need to hear and understand the story of two little boys in Coffman Cove. These two little boys are supported by a logger, a "faller" to be exact. His paychecks earned from the timber industry work he does provides for these two little boys and their mother.

These two little boys are vitally important to the future of Coffman Cove, to the future of the school here, and to the infrastructure, other jobs, and many businesses across Prince of Wales Island. How can two little boys from Coffman Cove be that important to a regional economy? - More...
Friday - June 12, 2009

Suislaw Forest By Michael Moyer - My comment is directed to Don Borders and all that may believe that just because the forests of Washington and Oregon have vegetation on the hills that all is well in the woods there. Not so. When my Great Grandfather worked in the woods of Washington they didn't use trucks to haul the logs out, they built railroads. They cut everything. They choked the creeks and dredged the rivers, dammed them up and then blew the dams so the logs would flood downstream. They messed up the hills and rivers so bad that even today the fish haven't come back and the original river channels are far from what they used to be. - More...
Friday - June 12, 2009

More AK Airlines Fees By Julie Steiner - It's not bad enough that Alaska Airlines increases their fares for flying to an astronomical price, that they now have to charge each person a fee to take their bags with them? Effective July 15th, they are going to charge EVERYONE a fee of $15 for the first checked bag. And the fee for each additional bag keeps increasing. - More...
Friday - June 12, 2009

Akasofu's predictions By John Ziraldo - Thank you for publishing the article about Syun-Ichi Akasofu's predictions. The continuing lies by the IPCC about climate change, and the political will of the far left to use these lies to impoverish us makes it very critical that articles like these get published. - More...
Friday - June 12, 2009

Traffic, Ferries and Bridges, Oh My! By Marshall H. Massengale - I have been a regular SitNews visitor and Ketchikan watcher for the past nearly two years and have read any number of articles, comments, editorials, opinions, letters, and official documents concerning many of the borough's frequently discussed and debated transportation issues. These issues have included the infamous "Bridge to Nowhere" debacle, vehicle traffic congestion, slow drivers, fast drivers, parking, ferry boats in and out of repair, and now the latest rant about a paddle wheel boat that kicks up a wake in the Narrows. - More...
Friday - June 12, 2009

Create Jobs for Americans By Donald A. Moskowitz - A while ago I read that Bill Gates and Mayor Michael Bloomberg were planning on donating a total of $500 million to reduce the incidence of smoking in developing countries, especially China. I haven't seen any recent information on this subject, but I believe they made a commitment to this ridiculous project. - More...
Friday - June 12, 2009

More Letters/Viewpoints
Webmail your letter or
Email Your Letter To: editor@sitnews.us

---

E-mail your news tips, news
releases & photos to:
editor@sitnews.us

SitNews
Stories in the News
©1999 - 2009
Ketchikan, Alaska

M.C. Kauffman, Webmaster/Editor,
Graphic Designer & Publisher
editor@sitnews.us
907 254 1948

In Memory of SitNews' first editor,
Richard (Dick) Kauffman
1932-2007

Locally owned & operated.
Online since 1999

Articles & photographs that appear in SitNews may be protected by copyright and may not be reprinted or redistributed without written permission from and payment of required fees to the proper sources.