Historic Agreement Moves Alaska Gasline Forward
June 12, 2009
Friday

(SitNews) - TransCanada Corporation and ExxonMobil announced in Anchorage Friday they have reached terms on a gas pipeline development agreement. TransCanada and ExxonMobil have agreed to work together to advance construction of a natural gas pipeline from Alaska's North Slope to Lower 48 consumers.
TransCanada's Alaska Pipeline Project is designed to deliver a reliable and secure source of clean energy to markets for decades to come. With an initial forecasted capital cost of US$26 billion, the project would provide a variety of benefits to Alaska and Canada, as well as the rest of the United States, including substantial revenues, jobs, business opportunities and new, long-term stable supplies of natural gas.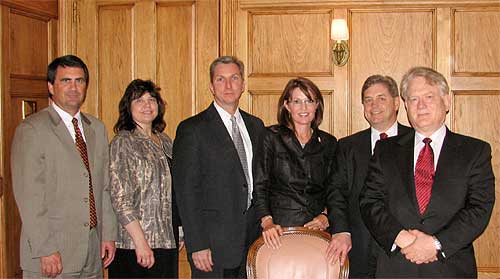 Governor Palin, center, is joined by (left to right) Marty Massey, Joint interest Manager for Exxon Mobil; Alaska Department of Natural Resources Deputy Commissioner Marty Rutherford; Rich Krueger, President of Exxon Mobil Production Company; Hal Kvisle, President and CEO of TransCanada Corporation; and Dennis McConaghy, Executive Vice-President of Pipeline Strategy and Development.
Photo courtesy Office of the Governor
"TransCanada's Alaska Pipeline Project will connect Alaska's natural gas resource to new markets. We are pleased that TransCanada and ExxonMobil have reached agreement on initial project terms to progress this exciting initiative," said Hal Kvisle, TransCanada president and chief executive officer. "TransCanada envisions that our combined activities with ExxonMobil, along with the support of the State of Alaska, the U.S. and Canadian governments, and other interested parties, will result in the timely completion of the project. Today's announcement is an important step toward that goal."
Rich Kruger, president of ExxonMobil Production Company, said, "ExxonMobil and TransCanada have the experience, expertise and financial capability to undertake this project. We have on-the-ground knowledge of Alaska and Canada, experience working in the Arctic, a strong history of technology and innovation, and the proven ability to build and operate projects of enormous scale in the most challenging environments."
"In a volatile world with growing energy needs, the time is now to develop Alaska's valuable resource for the environment, economy and national security," Governor Palin said. She further described this historic announcement as "very encouraging and exciting, but certainly no surprise, because AGIA was crafted to allow just this type of commercial alignment to take place."
The Alaska Gasline Inducement Act (AGIA) was created as a commercial vehicle for advancing the Alaska gas pipeline project through the first stages of development of what will be the largest private energy project in the world.
For the State of Alaska and Alaskans, the owners of the North Slope's world-class hydrocarbon resources, this event represents progress on this long lead-time project. Once construction begins, Alaska will experience economic growth not seen in over a generation, including potentially thousands of jobs created through construction of an open-access pipeline, as well as significant revenues generated from the production and sale of the gas.
Governor Palin said, "The Legislature voted in support of AGIA and subsequently supported issuing TransCanada the AGIA License because the legislators recognized the importance of this investment to our state's economic future. AGIA and its 'must haves' protect the value of the resources that belong to all Alaskans. Of course, we recognize that this step is not the end of the AGIA process, but it is the natural evolution for a project of this magnitude."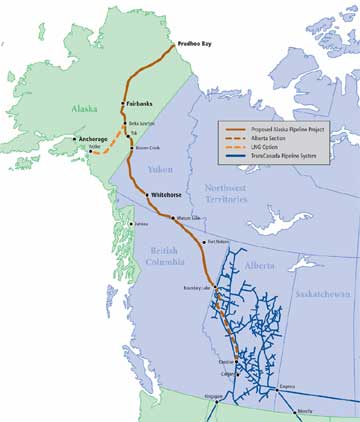 Click on the image to view a larger graphic.
Graphic courtesy Alaska Pipeline Project



Wednesday in Dallas, Governor Palin met with Hal Kvisle, TransCanada president, and Rich Kruger, president of ExxonMobil Production Company, to discuss the proposed alignment. Governor Palin said, "The meeting not only confirmed TransCanada's commitment to the AGIA License, but also ExxonMobil's commitment to continue to advance the Alaska Gasline project with TransCanada, including as additional alignments are reached with other stakeholders."

For TransCanada and ExxonMobil, the alignment provides a mutual benefit by bringing together the key skills of two world-class companies to effectively advance a project of maximum value and mutual benefit. For other producer and explorer companies, this project ensures their discovered resources can be transported to market, and at the lowest reasonable transportation cost. For America, this announcement means an affordable and clean source of energy is on its way and that, as a nation, we are much closer to domestic energy independence.

"ExxonMobil recognizes that the State of Alaska has set a course for commercializing the North Slope's trillions of cubic feet of known natural gas reserves," the governor said. "By recognizing the value of Alaska's relationship with TransCanada, ExxonMobil has made a strategic decision that I believe makes good sense. Alaskans will also be pleased to know that TransCanada's obligations to the state as the AGIA licensee are 100 percent intact and unaltered by this alignment with ExxonMobil," a fact that was echoed by Kvisle.

AGIA involved an open and competitive bidding process and resulted in granting a license to TransCanada to move the project forward through one or more Open Seasons and eventual FERC certification. By providing matching funds during the risky development phase of this project, the state has secured commitments from TransCanada to conduct an Open Season by 2010.

The mandated commercial provisions of the AGIA License also protect the long-term interests of the state by ensuring that pipeline transportation tariffs will remain low. This will protect the "net back" value of the state's natural gas, which will provide Alaska's economic base for future generations. These same provisions guarantee that new gas discoveries will be provided access to the pipeline and that any expansions of the pipeline will not result in tariffs that unduly burden new explorers for gas.

The next major milestone in the AGIA process is the 2010 Open Season, slated to begin sometime in the second quarter of 2010. The regulatory, design, engineering and cost work leading up to this, and the feedback received in the form of commitments made, will play an important role in continuing the progress made to date.

U. S. Senator Lisa Murkowski (R-AK) said in a prepared statement, "A deal between TransCanada and Exxon is a major sign of progress toward our shared goal of commercializing Alaska's vast natural gas reserves," Murkowski said. "While a lot of work remains to be done, this brings us one step closer to bringing jobs and reliable energy to Alaskans and the nation

"A gas line is absolutely essential for Alaska's economic future and for the nation's energy security," Murkowski said. "As the project proceeds, cooperation between the North Slope producers, TransCanada and the state will be the key to its success."

Murkowski recently won approval for inclusion of amendments to the Senate energy bill to increase the federal loan guarantee for an Alaska gas pipeline project from $18 billion to $30 billion, grant the pipeline sponsors access to the Federal Financing Bank, and other provisions.

The Senate Energy and Natural Resources Committee is set to approve the energy bill next week. It will then go to the full Senate for approval.

Murkowski, the ranking Republican on the Senate Energy Committee, vowed to continue to work at the federal level to make the pipeline a reality.

"Getting Alaska's clean-burning natural gas to consumers in the Lower 48 is one of the most significant steps we as a nation can take toward addressing climate change and our energy security," Murkowski said.

U. S. Senator Mark Begich (D-AK) said in a prepared statement, "I am heartened to see this sign of progress on the Alaska natural gas pipeline project. ExxonMobil has always been considered the 'big gorilla' necessary for this project to succeed, so their willingness to get involved and make a substantial financial investment is warmly welcomed."

Begich said, "It eventually will be up to the State Legislature to approve changes to state law which may be requested by Exxon and perhaps the other producers to take the gas line project to the next steps. I believe any Alaska gas line project must provide gas to Alaskans and other benefits, such as jobs and a fair share of revenues, to our citizens."

"Meanwhile, I'll continue to work with the national administration and Congress to provide appropriate support in Washington, such as expanded loan guarantees and other provisions in the energy bill making its way through the Senate," said Begich.

"This is an exciting development for the future of Alaska resources," said Rep. Don Young (R-AK) in a prepared statement. "It is a great step forward for Alaska and for our nation. An American oil and gas corporation that will put Americans to work, developing American resources for consumption by Americans is exactly what I've been fighting for throughout my 36 year career! Starting on day one of my Congressional career I led the fight for our state's greatest energy development project, the Trans-Alaskan Pipeline. This gasline has been a long time coming, but as we embark on the second largest investment into our energy future, I am encouraged and optimistic that the end result will be one of our greatest ventures. Alaska will continue producing for the country, and that is something our great state can be very proud of.

Young said, "I congratulate the Governor for her hard work on this gasline project and I applaud ExxonMobil for joining in this partnership. Years from now many will try to claim credit for the pipeline, but this is not something that the White House got done or the anti-production House leadership got done; the credit lies in the hands of Alaskans. We are only in the beginning stages of this endeavor but I am excited about the prospects. I've felt all along that the major producers would all need to come to the table for a gasline project and today's announcement means that they are all committed to moving forward with Alaska's next great contribution to the country."

AGIA Facts:
Governor Palin introduced Alaskans to AGIA in January 2007, promising swift movement to get Alaska's gas to market.
Alaska legislators passed AGIA 58 to 1 in May 2007.
Five entities expressed interest in applying for the AGIA license to proceed with specific commitments from the State of Alaska.
Private-sector competition created by AGIA encouraged another pipeline project, Denali, to begin down another path to bring Alaska's gas to market.
Alaska legislators awarded the AGIA license to TC Alaska in August 2008.
TransCanada pre-filed with the Federal Energy Regulatory Commission (FERC) in May 2009.
When built, the natural gas pipeline is expected to carry roughly 4 bcf/day, supplying up to 8 percent of the United States' annual consumption.
TransCanada is a leader in developing and operating energy infrastructure in North America.
ExxonMobil is the largest publicly traded international oil and gas company.
The North Slope holds an estimated 35 trillion cubic feet of natural gas proven reserves. Exxon holds the rights to slightly more than a third of the North Slope's reserves. The other two major gas leaseholders, ConocoPhillips and BP, are pursuing a separate gas pipeline project called Denali.
On the Web:
Alaska Pipeline Project
http://www.transcanada.com/company/alaska_pipeline_project.html

Sources of News:
Office of the Governor
www.gov.state.ak.us

Office of Sen. Lisa Murkowski
www.murkowski.senate.gov

Office of Sen. Mark Begich
www.begich.senate.gov

Office of Rep. Don Young
www.house.gov/donyoung

Alaska Gasline Project: News Release
http://www.transcanada.com/news/2009_news/20090611.html
E-mail your news & photos to editor@sitnews.us


Publish A Letter in SitNews Read Letters/Opinions
Contact the Editor
SitNews ©2009
Stories In The News
Ketchikan, Alaska