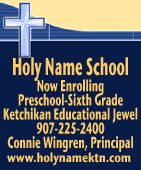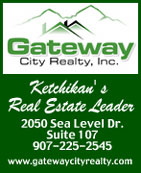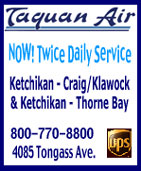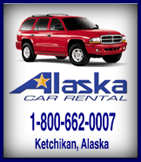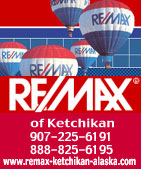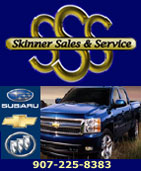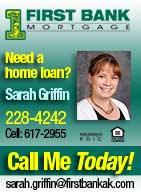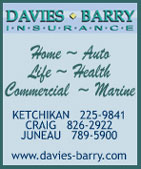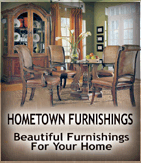 Contact


Call 254-1948


Webmail Letters


News Tips


Search Sitnews


Copyright Info


Archives
Today's News


Alaska


Ketchikan


Top Stories


U.S. News


U.S. Politics


Stock Watch


Personal Finance


Science News


US Education News


Parenting News


Seniors News


Medical News


Health News


Fitness


Offbeat News


Online Auction News


Today In History


Product Recalls


Obituaries
Quick News Search


Alaska


Ketchikan


SE Alaska


Alaska News Links
Columns - Articles


Dave Kiffer


Fish Factor


Chemical Eye On...


Parnassus Reviews


George Pasley


More Columnists
Ketchikan


Our Troops
Historical Ketchikan


June Allen


Dave Kiffer


Louise B. Harrington
Ketchikan Arts & Events


Ketchikan Museums


KTN Public Library


Parks & Recreation


Chamber
Lifestyles


Home & Garden


Food & Drink


Arts & Culture


Book Reviews


Movie Reviews


Celebrity Gossip
On the Web


Cool Sites


Webmaster Tips


Virus Warnings
Sports


Ketchikan Links


Top Sports News
Public Records


FAA Accident Reports


NTSB Accident Reports


Court Calendar


Court Records Search


Wanted: Absconders


Sex Offender Reg.


Public Notices
Weather, Webcams


Today's Forecast


KTN Weather Data


AK Weather Map


Ketchikan Webcam


SE AK Webcams


Alaska Webcams


AK Earthquakes


Earthquakes
TV Guide


Ketchikan
Ketchikan Phone Book


Yellow Pages


White Pages
Government Links


Local Government


State & National


Monday
June 15, 2009



Ketchikan Waterfront
Front Page Photo by RICK COLLINS

Alaska: Exxon Mobil Ordered to Pay $507.5 Million for Exxon Valdez Oil Spill - Exxon Mobil Corporation (NYSE: XOM) was ordered to pay $507.5 million in punitive damages for its 1989 Exxon Valdez oil spill in Alaska, according to reports Monday.

The settlement determined by 9th U.S. Circuit Court of Appeals in San Francisco on Monday is consistent with the figure set by the U.S. Supreme Court last year. The court also said that Exxon and the plaintiffs were responsible for their respective legal fees.

The payment will also include 5.9% interest payment accrued since 1996. Plaintiffs were originally awarded $5 billion, but that amount was severely decreased after subsequent appeals by Exxon.

Exxon Mobil Corporation insisted that the interest payments begin in 2008 after the Supreme Court ruling and also believed that plaintiffs should pay 90% of the company's legal fees. Exxon has paid over $70 million in legal fees, according to the Wall Street Journal.

In a prepared statement U.S. Senator Lisa Murkowski (R-AK) said, "I am gratified by the Ninth U.S. Circuit Court of Appeals decision to award interest to the plaintiffs of the Exxon Valdez oil spill. While I am still extremely disappointed in the Supreme Court's decision to reduce the punitive damage award, it is my hope that the interest will help the victims of the worst environmental disaster in U.S. history recover a small part of their losses and not allow 13 years of appeals to deprive them of any more justice."

The Exxon Valdez tanker ran aground March 24, 1989, spilling 11 million gallons of crude oil into Alaska's Prince William Sound. The incident remains the worst oil spill in U.S. history, covering 11,000 square miles of ocean. - More...
Monday PM - June 15, 2009

National: Congress close to giving FDA approval to regulate tobacco as drug By MICHAEL COLLINS - It has taken years, but the U.S. Food and Drug Administration appears on the verge of getting Congress' approval to regulate cigarettes and other tobacco products as drugs.

The Senate is expected to vote as early as this week on a measure that would let the FDA regulate or even ban chemicals that are put in cigarettes, require larger warning labels on tobacco products. and place tougher restrictions on tobacco advertising.

The House has already approved its version of the bill. President Obama, a smoker who has talked publicly about his struggle to quit, has said he would sign the legislation into law.

Supporters say giving the FDA the authority to regulate tobacco is necessary to stop manufacturers from using additives that make cigarettes more addictive and to keep them from marketing their deadly products to children.

"I've been working in this field for 30 years, and the tobacco companies have never admitted that they have ever marketed to children, even when they were using cartoon characters in their ads," said Matthew Myers, president of the Campaign for Tobacco-Free Kids. - More...
Monday PM - June 15, 2009

Ketchikan: University Collaborates with High School to Provide Student Science Cruise - Students from the marine biology classes and the maritime class at Ketchikan High School participated in a science cruise on the F/V Jack Cotant on May 7, 2009. High school teachers Julie Landwehr and Rick Collins worked with UAS staff Barbara Morgan, UAF Marine Advisory Program Agent Gary Freitag and UAS Fisheries Technology student Jessica Davila to give these students hands-on experience in oceanographic data collection. Thank you to Wayne Kinunen, who also participated, for pioneering the way with many past oceanographic field trips on the F/V Jack Cotant.

UAS Ketchikan and UAF Marine Advisory Program staff assist Ketchikan High School students with water quality testing on F/V Jack Cotant Science Cruise May 7, 2009
Photograph courtesy UAS Ketchikan

During the science cruise, a variety of scientific tests and procedures were conducted. Students practiced taking physical and chemical water quality tests including pH, temperature, dissolved oxygen and salinity. Students did phytoplankton and zooplankton tows and identified the species they found. They also used Van Dorn bottles to practice taking a water sample from depth and took a bottom sediment sample. The cruise gave the Maritime students a chance to learn boating skills.

The science cruise increased student interest and enhance learning. As one student said, "I thought it was really cool that I learned about the item, then we used it in the water and I got to see it firsthand. The trip was really nice. It made me really thing about all the jobs out there and taking a marine class would be really cool." And in the words of another student, "I think it was a great trip and a great experience! I think we should totally do it again!"

This collaborative effort was made possible through a USDA Cooperative State Research, Education and Extension Service (CSREES) grant awarded to UAS Ketchikan Fisheries Technology Program. CSREES' mission is to advance knowledge for agriculture, the environment, human health and well-being, and communities by supporting research, education, and extension programs in the Land-Grant University System and other partner organizations. CSREES helps fund research, education, and extension at the state and local level and provides program leadership in these areas. - More...
Monday PM - June 15, 2009

Alaska: Bering Sea flights prove viability of university's unmanned aircraft - Researchers can chalk up another accomplishment for the University of Alaska's Unmanned Aircraft Program. Based on the seal-observing performance of the program's 40-pound ScanEagles, researchers have learned the aircraft can operate in snow and light icing conditions. This feat enhances the viability of the technology, which has proven useful flying through smoke and fog during previous scientific flights.

A ribbon seal hauled out on sea ice. The university's unmanned aircraft captured this image during a mission in the central Bering Sea on June 6, 2009.
Photo courtesy Greg Walker.

The latest mission coupled University of Alaska staff with scientists from the National Oceanic and Atmospheric Administration. The unmanned aircraft was launched and flown repeatedly from NOAA's ship, McArthur II, over a series of 30 days in the central Bering Sea.

"We have 42 hours of good flights behind us on this cruise," said Greg Walker, manager of the University of Alaska Unmanned Aircraft Program. "I think we have proven the technology meets or exceeds the NOAA expectations for performance and the ability to capture the information they're seeking."

The unmanned aircraft was used to survey Bering Sea ice floes for bearded, spotted, ringed and ribbon seals. The ScanEagle flew up to five miles away-as far as the FAA allowed-from the McArthur II during each survey, capturing high-resolution images throughout with an onboard camera. The camera captured more than 25,000 images during the missions. - More....
Monday PM - June 15, 2009

National: Anti-microbial use in cattle, pigs raises questions By STACY FINZ - Conventional cattle ranchers, and pig and chicken farmers, routinely feed their animals a steady diet of antibiotics to prevent illness and help them grow fatter faster.

But as some consumers become more obsessed with what they eat, including a hunger for meat and chicken raised naturally, without drugs, more producers are promoting their products as antibiotic free.

But is there truth in advertising?

Even producers who have eliminated antibiotics may be using other bacteria-killing compounds in the anti-microbial family, which have a murky definition under the law. Although not all anti-microbials are defined as antibiotics by the U.S. Food and Drug Administration, their use opens up a minefield of issues. - More...
Monday PM - June 15, 2009




Public Meetings & Info

Ketchikan




CLASSIFIEDS' CATEGORIES

Announcements and
Help Wanted
For Sale / Free Stuff
Garage Sales
Homes / Apts/ Property
Pets
Wanted
Lost & Found
Local Services
Publish Your Ad

May - June 2009
Front Page Archives

| | | | | | | |
| --- | --- | --- | --- | --- | --- | --- |
| S | M | T | W | T | F | S |
| | | | | | 01 | 02 |
| 03 | 04 | 05 | 06 | 07 | 08 | 09 |
| 10 | 11 | 12 | 13 | 14 | 15 | 16 |
| 17 | 18 | 19 | 20 | 21 | 22 | 23 |
| 24 | 25 | 26 | 27 | 28 | 29 | 30 |
| 31 | 01 | 02 | 03 | 04 | 05 | 06 |
| 07 | 08 | 09 | 10 | 11 | 12 | 13 |

Viewpoints
Opinions/Letters
Basic Rules

THANK YOU TO THOSE WHO COME FORWARD TO SUPPORT OUT YOUTH. By Roberta "Bobbie" McCreary - A very BIG thank you to the following people WITHOUT WHICH we would not have had a really cool YOUTH ART AUCTION that earned nearly $1000 for our young artists. - More...
Monday PM - June 15, 2009

THANK YOU! TO OUR COMMUNITY FROM THE HOT SHOTS PAINTBALL GROUP By Roberta "Bobbie" McCreary - WE cannot say enough to thank those who come forward to help our youth programs succeed. Last month, we benefitted from over a $1,000 of product and services donated to provide wood chips to make the paintball field safe for players. Thank you to Mike Stewart (First City Wood Haulers) and Wade King Trucking who showed up at 7am on a Sunday morning to deliver 14 loads of wood chips to the field. And to Merril Stulkin who brought his equipment out to the field and spread the chips. - More...
Monday PM - June 15, 2009

Regarding More AK Airlines Fees By LeiLani Lake - It may sound good Ms. Steiner to say that another airline coming to Ketchikan would resolve our airfare and additional luggage fee problems but it won't. Alaska Airlines is only one of many airlines that now charge to your first bag. Actually I believe it was American Airlines that started this trend. - More...
Monday PM - June 12, 2009

An Educated and Experienced Description of the Life cycle of a Dungeness Crab* or Why They Should Not Be Fished in the Summer By Larry Painter - When I first came to S. E. Alaska in the late 60's we pot fished Dungeness Crab and Spot Prawns all year 'round. There was no closed season for either like there was for Salmon that I seined only in the summer and fall with openings regulated by Fish and Game. As I gained experience I noticed that Dungeness Crab started showing soft shells around late February. Through the summer they all go through a soft shell stage. Around September to October they are hard shelled and full of meat. At this time they are in prime condition! That's the time to start fishing! - More...
Friday - June 12, 2009

Logjam By Elaine Price - You need to hear and understand the story of two little boys in Coffman Cove. These two little boys are supported by a logger, a "faller" to be exact. His paychecks earned from the timber industry work he does provides for these two little boys and their mother.

These two little boys are vitally important to the future of Coffman Cove, to the future of the school here, and to the infrastructure, other jobs, and many businesses across Prince of Wales Island. How can two little boys from Coffman Cove be that important to a regional economy? - More...
Friday - June 12, 2009

Suislaw Forest By Michael Moyer - My comment is directed to Don Borders and all that may believe that just because the forests of Washington and Oregon have vegetation on the hills that all is well in the woods there. Not so. When my Great Grandfather worked in the woods of Washington they didn't use trucks to haul the logs out, they built railroads. They cut everything. They choked the creeks and dredged the rivers, dammed them up and then blew the dams so the logs would flood downstream. They messed up the hills and rivers so bad that even today the fish haven't come back and the original river channels are far from what they used to be. - More...
Friday - June 12, 2009

More AK Airlines Fees By Julie Steiner - It's not bad enough that Alaska Airlines increases their fares for flying to an astronomical price, that they now have to charge each person a fee to take their bags with them? Effective July 15th, they are going to charge EVERYONE a fee of $15 for the first checked bag. And the fee for each additional bag keeps increasing. - More...
Friday - June 12, 2009

Akasofu's predictions By John Ziraldo - Thank you for publishing the article about Syun-Ichi Akasofu's predictions. The continuing lies by the IPCC about climate change, and the political will of the far left to use these lies to impoverish us makes it very critical that articles like these get published. - More...
Friday - June 12, 2009

Traffic, Ferries and Bridges, Oh My! By Marshall H. Massengale - I have been a regular SitNews visitor and Ketchikan watcher for the past nearly two years and have read any number of articles, comments, editorials, opinions, letters, and official documents concerning many of the borough's frequently discussed and debated transportation issues. These issues have included the infamous "Bridge to Nowhere" debacle, vehicle traffic congestion, slow drivers, fast drivers, parking, ferry boats in and out of repair, and now the latest rant about a paddle wheel boat that kicks up a wake in the Narrows. - More...
Friday - June 12, 2009

Create Jobs for Americans By Donald A. Moskowitz - A while ago I read that Bill Gates and Mayor Michael Bloomberg were planning on donating a total of $500 million to reduce the incidence of smoking in developing countries, especially China. I haven't seen any recent information on this subject, but I believe they made a commitment to this ridiculous project. - More...
Friday - June 12, 2009

More Letters/Viewpoints
Webmail your letter or
Email Your Letter To: editor@sitnews.us

---

E-mail your news tips, news
releases & photos to:
editor@sitnews.us

SitNews
Stories in the News
©1999 - 2009
Ketchikan, Alaska

M.C. Kauffman, Webmaster/Editor,
Graphic Designer & Publisher
editor@sitnews.us
907 254 1948

In Memory of SitNews' first editor,
Richard (Dick) Kauffman
1932-2007

Locally owned & operated.
Online since 1999

Articles & photographs that appear in SitNews may be protected by copyright and may not be reprinted or redistributed without written permission from and payment of required fees to the proper sources.