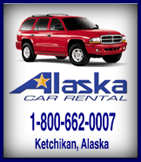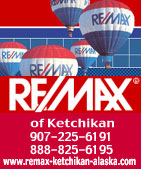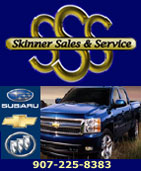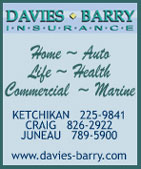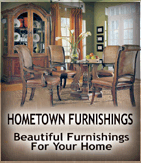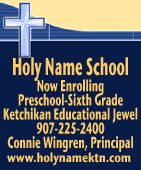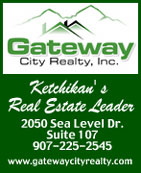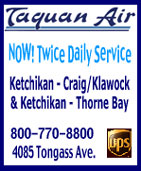 Contact


Call 254-1948


Webmail Letters


News Tips


Search Sitnews


Copyright Info


Archives
Today's News


Alaska


Ketchikan


Top Stories


U.S. News


U.S. Politics


Stock Watch


Personal Finance


Science News


US Education News


Parenting News


Seniors News


Medical News


Health News


Fitness


Offbeat News


Online Auction News


Today In History


Product Recalls


Obituaries
Quick News Search


Alaska


Ketchikan


SE Alaska


Alaska News Links
Columns - Articles


Dave Kiffer


Fish Factor


Chemical Eye On...


Parnassus Reviews


George Pasley


More Columnists
Ketchikan


Our Troops
Historical Ketchikan


June Allen


Dave Kiffer


Louise B. Harrington
Ketchikan Arts & Events


Ketchikan Museums


KTN Public Library


Parks & Recreation


Chamber
Lifestyles


Home & Garden


Food & Drink


Arts & Culture


Book Reviews


Movie Reviews


Celebrity Gossip
On the Web


Cool Sites


Webmaster Tips


Virus Warnings
Sports


Ketchikan Links


Top Sports News
Public Records


FAA Accident Reports


NTSB Accident Reports


Court Calendar


Court Records Search


Wanted: Absconders


Sex Offender Reg.


Public Notices
Weather, Webcams


Today's Forecast


KTN Weather Data


AK Weather Map


Ketchikan Webcam


SE AK Webcams


Alaska Webcams


AK Earthquakes


Earthquakes
TV Guide


Ketchikan
Ketchikan Phone Book


Yellow Pages


White Pages
Government Links


Local Government


State & National


Friday
July 17, 2009



2009 Junior League Baseball All Stars
2009 Junior League Baseball All Stars from Ketchikan will be heading up to Juneau Saturday (7/18) to compete against Juneau and Sitka for the title of "Southeast Alaska Junior League Champions". Pictured are: Upper row left to right: Mgr: Todd Wilford; players: Brien Auger, Torin Oaksmith, Joe Chadwell, Joe Berry, John Kolean, Colton Paulson and Coach, Bill Gass. Lower left to right: Conner Pope, Brooke Simmons, Kable Lervick, Mac Owings, Omar Mendoza and Luc Wilford.
Front page photo Courtesy Kelli Carlin-Auger

Ketchikan: Improper disposal of smoking materials believed to be cause of house fire - The Ketchikan Fire Department responded to a report of "a house fire with flames showing" in the vicinity of Thomas Basin Tuesday evening. Fire Department personnel received the call at At 8:06 PM and arrived at 8:12 PM and found smoke coming from the lower level of an occupied 8-plex at 117 Inman Street.

According to information provided in a news release by Fire Chief Jim Hill, because of difficult access due to the stair-street location of the building, a 2nd alarm was requested by incident commanders calling for all Ketchikan Fire Department (KFD) personnel to respond. With the assistance of Ketchikan Police officers, KFD personnel were able to quickly access and extinguish the fire.

Chief Hill said a total of 7 fire apparatus and 17 KFD personnel responded to the scene. All personnel had cleared the scene by 8:46 PM. - More...
Friday - July 17, 2009

Ketchikan: Imposter identified; An "aggravated felon" - Wednesday, the Ketchikan Correctional Center (KCC) reached out to Customs and Border Protection for assistance in verifying an inmate whose identity and immigration status were in question.

Customs and Border Protection (CBP) was able to positively verify, via biometrics research, that the subject in custody at the Ketchikan Correctional Center was a Mexican national, and an aggravated felon who was last deported from the U.S. in 2005 from Hidalgo, Texas.

This information was immediately referred to Immigration and Customs Enforcement who presented the case to the Anchorage U.S. Attorney's Office for criminal prosecution.

The nearest ICE assets are located more than 800 miles away from Ketchikan in Anchorage. Customs and Border Protection is occasionally called upon to assist Immigration and Customs Enforcement (ICE) in remote locations such as Ketchikan. - More...
Friday - July 17, 2009SitNews: Kensington Mine Delay Troubling

Alaska: Kensington Mine Delay Troubling - Alaska Governor Sarah Palin and Lieutenant Governor Sean Parnell today reacted with dismay to news that a regional office of the U.S. Environmental Protection Agency is attempting to slow the permitting process for the Kensington Mine near Juneau.

In a letter dated July 14, Seattle EPA Acting Deputy Regional Administrator Michael Gearheard wrote, "We appreciate the need to move quickly on this matter, particularly in light of the hardships being experienced by many in the native Alaskan community." Nevertheless, Gearheard called for an eight-month review process that "will not allow work to resume this summer."

"Why another delay?" Governor Palin asked. "Our country is mired in the worst recession since the 1930s. We need more jobs, not more bureaucratic review."

"We've been debating and litigating this for years," Lieutenant Governor Parnell said. "The U.S. Supreme Court has spoken decisively in favor of the authority of the Corps to issue this permit. It's time to put those 300 Alaskans back to work - now."

Construction on the mine has been in limbo since 2006, when environmentalists sued over the issue of tailings disposal. On June 22, the U.S. Supreme Court ruled that the Army Corps of Engineers properly permitted the disposal plan, clearing the way for construction. Coeur Alaska, the mine's owner and operator, is ready to hire. Coeur spokesman Tony Ebersole said additional delays could cost the company millions of dollars. Ebersole noted the permit has already been under review for nine years and has faced multiple public comment periods.

"Honestly, what more is there to be considered?" Palin asked. "This permit has been studied and discussed and litigated to death. It's time to get to work."

The state of Alaska joined Coeur in the litigation. State officials intend to do everything possible to expedite the issuance of this last required permit.

"This is frustrating," Parnell said. "Once the Supreme Court speaks it's supposed to be 'game over.' We thought we were in the end zone, but the Seattle EPA office is trying to move the goalposts." - More...
Friday - July 17, 2009

Alaska: Brief Study Examines Native Economic Condition - Economic conditions among Alaska Natives are much better today than they were in 1970 -- but they still fall considerably below averages among other Alaskans and other Americans. That's the picture from a new analysis by Stephanie Martin and Alexandra Hill of Institute of Social and Economic Research.

Using mainly data from the U.S. Census Bureau, the researchers found:

Poverty among Alaska Natives is nearly double the U.S. average -- but it's only half what it was in 1970.
Even with the national unemployment rate at 9.5 percent, the rate among Alaska Natives is still estimated to be twice as high. - More....

Alaska: State Granted Intervention in OCS Lease Sale Litigation - A U.S. District Court judge has granted the motion by the State of Alaska to intervene in a case in which the Native Village of Point Hope seeks to rescind dozens of leases issued by the federal government under an off-shore oil and gas lease sale conducted for federal waters in the Chukchi Sea.

When the state's motion was filed last month, Attorney General Dan Sullivan underscored the need "to vigilantly safeguard and defend Alaska's interests, particularly as they relate to economic opportunities for Alaskans and the balance of state and federal rights and responsibilities."

Sullivan said that the state's intervention is "necessary to protect the state's interests, which are extensive and cannot be adequately represented by the other parties in this proceeding."

The plaintiffs contend that the decision by the U.S. Mineral Management Service to conduct the lease sale for the Outer Continental Shelf, along with the environmental impact statement underlying that action, violated federal law, including the Endangered Species Act. The lawsuit seeks to void all of the leases issued in the sale. If successful, this lawsuit could significantly undermine OCS development and Alaska's economic opportunities. - More...
Friday - July 17, 2009

Alaska Science: The flight of the Kanuti whimbrel By NED ROZELL - Bob Gill had to look twice at his computer the other day. The two birds he was tracking in Alaska via Google Earth had veered off the lower right corner of the computer screen.

A whimbrel at the Kanuti National Wildlife Refuge on June 14,2009.
Photo by Dan Ruthrauff.

Those birds, whimbrels that Gill and others had captured and fitted with a satellite transmitter in the heart of Interior Alaska about a month before, had migrated out of the state by mid-July. The birds leapt into the air from western Alaska and caught tailwinds down south. One bird was winging its way over the ocean west of San Francisco, and the other was in Mexico.

"Judging by all the flight speeds, the bird flew nonstop from just south of St. Marys, Alaska, to the Baja Peninsula just south of Ensenada," said Gill, a biologist with the U.S. Geological Survey Alaska Science Center in Anchorage. - More...
Friday - July 17, 2009

Alaska: Another Ethics Complaint Rejected - The Alaska Personnel Board this week has rejected another ethics complaint lodged against Governor Sarah Palin.

The complaint alleged that the governor misused state time by accepting media interviews. The complaint also alleged that Governor Palin was paid for television and radio interviews. Governor Palin has not been paid for media interviews.

This complaint was filed by Raymond Alvin Ward on July 9. It was rejected in part because it was not properly notarized. In addition, Personnel Board Chairman Debra English said the board had already determined media interviews did not violate the Ethics Act. Ward lacked evidence to support his allegation that the governor received any payment for media interviews. - More...
Friday - July 17, 2009

Alaska: Parnell Meets with TransCanada and Exxon Officials - Alaska Lieutenant Governor Sean Parnell met Wednesday with officials from TransCanada Alaska and ExxonMobil Corporation to discuss ongoing efforts to develop a natural gas pipeline. Parnell reaffirmed Alaska's ownership of our resources and the state's commitment to honor the Alaska Gasline Inducement Act (AGIA) framework.

Parnell said, "Alaskans own the resources of our state and as we move forward with any project, I will always place the interests of Alaskans first. AGIA has provided the momentum and a clear path for bringing Alaska's gas to market. Our administration will continue this effort as we work together through the next phases of development."

Last month ExxonMobil Corporation and TransCanada announced an alignment, agreeing to work together on the project. A competing pipeline project, Denali, backed by BP and ConocoPhillips, is also in the development phase. - More...
Friday - July 17, 2009

Big Brothers Big Sisters
Match of the Month
July 2009
Little Brother Bailey and Big Brother George Pasley
Photo courtesy Big Brothers Big Sisters

Recognition

Big Brothers Big Sisters Match of the Month - July 2007: One and One Equals a Great Two-Some By SUSAN M. JAQUA - Bailey is an eleven year old boy with an impish smile and a huge heart. When he was first matched with his Big Brother, Ketchikan minister, George Pasley, he was struggling in school. George and Bailey began their match, meeting in the classroom for an hour a week, but in the almost two years they've been together, George and Bailey's friendship has grown and flourished. The pair now meets regularly out in the community, where they enjoy walks and hikes and activities with George's church.

Big Brother George is so committed to his Little Brother Bailey; he still goes to Bailey's classroom and helps out. George even taught Bailey's class one day, inspiring them with his own poems and getting the class interested in poetry.

Bailey and I chatted about what George means to him. He said poignantly, "He's a really nice Big Brother. He is always there for me. He's like a Dad to me." Bailey continued, "Having George has helped me kind of get over my anger problems, and I am better in math and I understand things more clearly." - More...
Friday - July 17, 2009

Big Brothers Big Sisters
Match of the Month
June 2009
Big Sister Jackie
and Little Sister Devon
Photo courtesy Big Brothers Big Sisters

Big Brothers Big Sisters Match of the Month - June 2007: Meet Big Sister Jackie Yates and her Little Sister Devon By SUSAN M. JAQUA - This pair is active, dynamic, creative and close. Clever Big Sister Jackie planned a wonderful first outing which both recalled easily, almost a year later, since being matched July 30th, 2008. "The first day we met, we hung out pretending to be tourists and asked the kind of questions tourists would ask. We went to the Lumber Jack show and just got to know each other," recounted LS Devon. Jackie remembered that day, "We took cameras and took a bunch of pictures; it was a blast. Our whole goal was to take as many pictures as we could of each other."

The two have continued doing that as part of their activities every month, and as you can see from the pictures Jackie shares with us here, they've had a ball. Big Sister Jackie plays softball, so she took Little Sister Devon to watch a game and that inspired Devon to try out for a team. Now the girls are both active supporters of each other. Jackie goes to help coach Devon's softball team and cheers her on, as well as giving her pitching lessons. Devon is so proud that her Big Sister is helping out with her softball team.

When Big Sister Jackie isn't working for the Ketchikan Police Department, she and Devon are often out walking Jackie's silky terrier, Stevie. If you see them, stop and say "Hi," and learn more about Big Brothers Big Sisters.

Devon likes her Big Sister, Jackie, because "she's fun to be around. She understands me and she's easy to talk to." Devon knows they'll be life-long friends. - More...
Friday - July 17, 2009

Walter Cronkite
By David Fitzsimmons, The Arizona Star
Distributed to subscribers for publication by Cagle Cartoons, Inc.




Public Meetings & Info

Ketchikan




CLASSIFIEDS' CATEGORIES

Announcements and
Help Wanted
For Sale / Free Stuff
Garage Sales
Homes / Apts/ Property
Pets
Wanted
Lost & Found
Publish Your Ad

---


Commercial Ads

Viewpoints
Opinions/Letters
Basic Rules

If you submit a letter and it is not published, please contact editor@sitnews.us or call 254-1948. Your letter may not have been received.

Palin Resignation By Jerilyn Lester - I agree with Georgianna Zimmerle 150% and would go even farther to say that the worst thing that has happened to Southeast Alaska since the logging shut down was Governor (not for much longer) Palin. I have come out and called her a thief both in letters to SitNews and to her face in an email to her. She started the work and then delayed it for 2 years so that she didn't have to move to the Governor's mansion in Juneau. She has stolen the money for the bridge to our airport, refused to even consider an alternative and then helped to stop any road to the outside world from anywhere in Southeast. - More...
Friday PM - July 17, 2009

Palin, bridge and other small things By A. M. Johnson - A timely quote: "No one knows where the future will take Palin, not even the governor herself. Her reemergence on the national scene and the scathing response from so many of her party peers underscore one thing, however: Republicans may hold dear their memories of the late Ronald Reagan. But his famous 11th commandment -- "Thou shalt not speak ill of any fellow Republican" -- was laid to rest a long time ago." - More...
Friday PM - July 17, 2009

PALIN RESIGNATION GOOD FOR SOUTHEAST ALASKA By Cindi Davis - Well said, Georgianna Zimmerle! What a well crafted and sensible letter. - More...
Friday PM - July 17, 2009

OceansAlaska By Rob Holston - What a great letter of support for OceansAlaska by Tor Jorgensen . I would agree with it all IF it were private enterprize money footing the bill for OceansAlaska. But it is not. Please address the crux of the issue, "Tax dollars putting private business out of business." - More...
Friday PM - July 17, 2009

It's Time for Prison Reform By Tom Proebsting - There are more than 2.3 million persons behind bars in the U.S. according to last year's statistics. Prisons cost taxpayers in excess of $55 billion annually. - More...
Friday PM - July 17, 2009

Rude Behavior By Vernon Grant - On 4th of July @ 12:15 PM as my friend and I walked about heading north, on the right side of the road, we stopped in at a seafood store where they sell processed seafoods.And in a teasing happy mood, I stopped in to see what kind of samples they had for the holiday celebrations.As I entered the establishment, I noticed a woman standing there waiting and I said, we just stopped into see what kind of samples you have for today's celebrations. And she said the manager will be out soon and we can see what's available. Within a minute a man came out from the back and he was in a good mood, and said"We have some 4th of July samples of smoked salmon candy" and he walked ahead of me towards the coolers on the right side. I had tried it before and I mentioned to him that I did not like that type of fish. - More...
Friday PM - July 17, 2009

PALIN RESIGNATION GOOD FOR SOUTHEAST ALASKA By Georgianna Zimmerle - On July 3, 2009 I listened with astonishment and unreserved delight as Governor Sarah Palin announced to the world that she would not seek a second term as Governor of the State of Alaska. And if that wasn't enough, she will resign at the end of July surrendering her Governor's seat to Lieutenant Governor Sean Parnell in order to avoid the trappings of a "lame duck" governor. Her reasoning is about as silly as the rest of her rationale for abandoning, in mid-term, the highest elected office in Alaska. After a lengthy diatribe on the virtues of her two years in office, she launched into her many defensive excuses for walking away mid-term in a vain attempt to cloak the facts in pretty paper. It is laughable that she used a basketball analogy to describe her term and her resignation from the Office of Governor. She considers herself the "point guard" leading the team to success and passing off the ball for the sake of the team. I'm sorry but the starting point guard doesn't quit in the fourth quarter just because the game gets rough! She could just as easily avoid behaving like a "lame duck" Governor by simply doing her job. She could stay in the State and attend to State business instead of gallivanting off to spotlight functions across the country. She whined about the many ethics complaints occupying her time since her failed run for Vice-president. She need not address these "frivolous" ethics complaints if there is no validity to them. She is the one who chooses to spend time on them. She has staff that can tend to them while she works on State business. - More...
Sunday - July 12, 2009

Pools vs. Flotation Suits By Dan McQueen - I've been on the water all my life. Yes, I can swim. I earned my 1 mile merit badge in a lake in Eastern Washington. But even knowing how to dog-paddle ain't gonna save you in the North Pacific if you ain't wearing an exposure/life jacket suit at least. - More...
Sunday - July 12, 2009

Sludge fee??? By Robert Bates - Maybe someone could enlighten me on the future benefits of paying this ridiculous quarterly sludge fee... I've been paying this fee for the last couple of years now, which doesn't even hold a candle to someone like my grandfather who has lived in the borough of Ketchikan since 1959. I know it's only 45 dollars every few months, but I see no reason for it. Sure you get a free pump out every couple of years, but my tank is not even close to being in need of one. - More...
Sunday - July 12, 2009

Capital move By Robert Stewart - I'm with Jackie Williams. Moving the capital from Juneau hurts all of Southeast Alaska, not just Juneau. We have voted against this move so many times it is ridiculous. - More...
Sunday - July 12, 2009

AK Airlines Fees By Kayla Edenshaw - I believe that it will change airfare prices for the better if Alaska Airlines had some competition. I have flown from Seattle to Nagasaki Japan for around $900 round trip. I have flown from Ketchikan to Seattle for almost the same price on some occasions. - More...
Sunday - July 12, 2009

EXXON Payments for Processors By Donald Kilbuck - I've done processor work, and that was before the (1989) Valdez Exxon Oil Spill. Although I have gotten a letter stating that I wouldn't get paid, I hear other stories that are far different. - More...
Sunday - July 12, 2009

Community Swimming Pool By Don Borders - I would like to comment on the process of building our community replacement swimming pool. I was raised in a town that lost many people on the Pacific Ocean waters due to them being unable to swim. That community is Reedsport Oregon, where the Umpqua River Bar which has a reputation for being one of the meanest unpredictable ones on the Oregon coast. After one winter after there were too many fishermen lost, the population raised the question why so many were losing their lives on the ocean waters? - More...
Thursday - July 09, 2009

Fire Victims Thank Ketchikan By Shannon Guthrie - On June 13, 2009 our home caught fire. I was at the mall with my son and parents shopping at the Tongass furniture sale and definitely didn't expect anything like this to happen while I was out. We raced home to find several fire trucks, EMS personnel and an ambulance blocking the entire road. After watching my life burn to a crisp we felt hopeless. The place where my husband, son and I resided at for the last 2 years was gone. My Son's 1 year old Cocker spaniel was stuck in the house, his baby pictures, baby blankets toys, clothes... everything we knew was gone. We were lost and felt we had no where to turn. - More...
Thursday - July 09, 2009

OceansAlaska By Tor Jorgensen - I support OceansAlaska. I live and work in Ketchikan year around and have children who attend the local schools. I believe OceansAlaska would be a major benefit to our community. It will create jobs and a new seafood industry for Ketchikan. It will be a great resource for my kids and everyone in Ketchikan, especially in the winter, to learn about the ocean around us and get students involved in science and learning. The science center will make Ketchikan an attractive place for visitors (cruise, fishing lodges, B&Bs, ferry, yachts, etc) increasing their chances of visiting, returning, and staying longer and spending more money locally. It will help keep families and retirees (my parents) in our community, and help attract skilled workers. - More...
Thursday - July 09, 2009

4th of July Parade By Joann Flora - On behalf of Big Brothers Big Sisters, I wish to extend our thanks to the Ketchikan Chamber of Commerce for entrusting our matches with the responsibility of judging this year's parade. Five matches worked diligently to assess and score according to the categories of Best Theme Interpretation, Most Creative, Most Patriotic, Best Performance, Most Entertaining, Best Appearance, and Best of Show. It was an honor and a privilege to be the first youth group selected to perform this important job. We really enjoyed having great seats for viewing the parade and the delicious lunch courtesy of Steamer's. Thanks to all who made this possible and congratulations to this year's winners! - More...
Thursday - July 09, 2009

Juneau is the Capitol of Alaska By Jackie Williams - The first thing I would like to see Governor Parnell do is to, move the capitol back to Juneau, live in the Governor's Mansion (hire the chef back as there would be folks IN RESIDENCE to cook for, do any interviews as Governor from the Governor's Mansion that is officially located in Juneau, SE Alaska, USA. - More...
Thursday - July 09, 2009
The Prophetic 'tongue in cheek' Kiffer By Ed Brown - June 08, 2009, Monday then Dave Kiffer prophesied the following in his column: Ketchikan, Alaska - Press Release from the Office of the President of the United States of America: April 1, 2017 --- President Sarah Palin announced this morning a plan to locate America's newest maximum security "terrorist/enemy non-combantant" permanent holding facility in Ketchikan. - More...
Thursday - July 09, 2009

More Letters/Viewpoints
Webmail your letter or
Email Your Letter To: editor@sitnews.us

---

E-mail your news tips, news
releases & photos to:
editor@sitnews.us

SitNews
Stories in the News
©1999 - 2009
Ketchikan, Alaska

M.C. Kauffman, Webmaster/Editor,
Graphic Designer & Publisher
editor@sitnews.us
907 254 1948

In Memory of SitNews' first editor,
Richard (Dick) Kauffman
1932-2007

Locally owned & operated.
Online since 1999

Articles & photographs that appear in SitNews may be protected by copyright and may not be reprinted or redistributed without written permission from and payment of required fees to the proper sources.