It's beginning to look a lot like...
Michelle Johansen (in blue) arranges lights on a tree at Whale Park as David Martin helps get the high branches with a boat hook. Anita Beaudoin (on ground) and Michelle's daughter JC helped get the lights in to place.
Front Page Photo Courtesy Rebecca Brown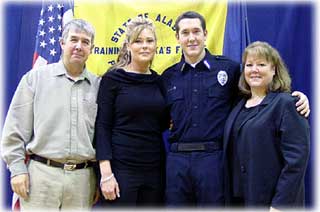 Two of Ketchikan's native sons honored
Photo courtesy Ketchikan Police Dept.
Ketchikan: Two of Ketchikan's native sons honored - Public Safety Director Rich Leipfert has announced the graduation of Ketchikan Police Department Officer Mark Sivertsen from the Alaska Public Safety Academy in Sitka. The academy began August 7 and graduated November 17th. The Academy is a 17 week course that includes academic subjects such as law and ethics, and extensive practical classes in firearms, arrest control and law enforcement driving.
Attending the graduation ceremony were parents Bob and Terry Sivertsen, Mark's wife, Sara, and Deputy Chief John Maki. Colonel Julia Grimes of the Alaska State Troopers was the keynote speaker. - More...
Tuesday - November 22, 2005
National: Stevens complains about press coverage, funding for Alaska By LIZ RUSKIN - Sen. Ted Stevens said he and Alaska have been under constant assault these days, and the bombardment is hurting the state's flow of federal money.
"You were here. You see the attacks that are being made on us daily," he told Alaska reporters last week. "Look at the (Alaska) things that are being reduced in the appropriations bill. Every single appropriations bill has been reduced."
But John Katz, the Alaska governor's representative in Washington, doesn't think the picture is so bleak for the state.
Katz said that as he reviewed the annual spending bills "there have been pleasant surprises and also some disappointments." - More...
Tuesday - November 22, 2005
National: Libby hires expert in criminal law on national secrets By JAMES STERNGOLD - Lewis "Scooter" Libby, who is charged with obstructing justice and lying in the CIA leak case, has hired a leading expert in using classified information in criminal trials, giving an early hint of his possible defense strategy.
Libby, who was Vice President Dick Cheney's chief of staff until his indictment last month, has retained John Cline, an unusually experienced attorney in cases involving classified information. Cline is a San Francisco-based partner with Jones Day, a major national law firm. - More...
Tuesday - November 22, 2005

National: Thousands line up to see -- and smell -- botanical superstar By B. BLAIR DEDRICK - The odor is rank and invasive, yet thousands of flower lovers are flocking to the U.S. Botanic Garden to see - and smell - the fantastic bloom of the rare titan arum plant.
"Rotten fish," said Emily Hawver, 7, who came from Annapolis, Md., with her sister Abby, 10, and plant-enthusiast mother Janice, 44. "I didn't really get a whiff when I was smelling it, but eventually this huge smell of rotten fish came up." - More...
Tuesday - November 22, 2005
Alaska: Recruiting for 350 Alaskan seafood workers begins now - Seafood processing industry employers are recruiting now through Dec. 9 for more than 350 Alaska workers needed for the Pollock "A" season, the state's largest commercial fishery. Recruiting is also starting for the opilio crab and Pacific cod seasons, according to employment specialists at the Alaska Department of Labor and Workforce Development. Seafood processing work is expected to begin early in January in the Bering Sea area, including Dutch Harbor and St. Paul, and will last through late April. - More...
Tuesday - November 22, 2005
Ketchikan: Grants Available for People with Welding Experience - People with welding experience or education may be eligible for a State Training and Employment Program (STEP) grant that will pay for advanced level welder training in the upcoming spring semester at the Ketchikan Campus of the University of Alaska Southeast.
Unemployment insurance (UI) funds the STEP grants for people who fall into several categories of eligibility: those who have exhausted UI, are presently collecting UI, or who are unemployed or working part time but have worked in a job covered by UI in the last three years. Other qualifications for the program include previous welding experience or education. - More...
Tuesday - November 22, 2005
International: Initiative Would Provide $100 Laptop to World's Poorest Countries By Tim Receveur - A nonprofit group seeking to develop a $100 laptop computer for children in developing countries unveiled its first working prototype November 16 at the World Summit on the Information Society (WSIS) in Tunis, Tunisia.
One Laptop per Child (OLPC), a U.S.-based organization created by faculty members of the Massachusetts Institute of Technology (MIT) Media Lab, seeks to distribute the low-cost computers through ministries of education, according to Nicholas Negroponte, chairman and co-founder of the MIT Media Lab and Wiesner professor of media technology at MIT. - More...
Tuesday - November 22, 2005