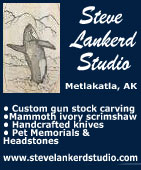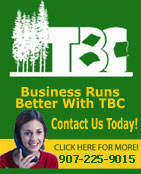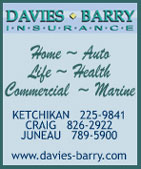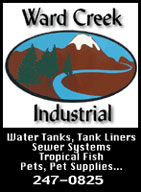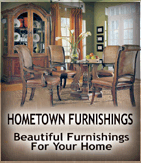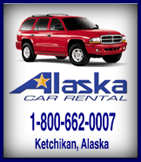 Contact


Webmail Letters


News Tips


Search Sitnews


Copyright Info


Archives
Today's News


Alaska


Ketchikan


Top Stories


U.S. News


U.S. Politics


Stock Watch


Personal Finance


Science News


US Education News


Parenting News


Seniors News


Medical News


Health News


Fitness


Offbeat News


Online Auction News


Today In History


Product Recalls


Obituaries
Quick News Search


Alaska


Ketchikan


SE Alaska


Alaska News Links
Columns - Articles


Dave Kiffer


Fish Factor


Career Success Stories


Parnassus Reviews


Chemical Eye On...


George Pasley


More Columnists
Ketchikan


Our Troops
Historical Ketchikan


June Allen


Dave Kiffer


Louise B. Harrington
Recognition


Match of the Month


Asset Builders
Ketchikan Arts & Events


Ketchikan Museums


KTN Public Library


Parks & Recreation


Chamber
Lifestyles


Home & Garden


Food & Drink


Arts & Culture


Book Reviews


Movie Reviews


Celebrity Gossip
On the Web


Cool Sites


Webmaster Tips


Virus Warnings
Sports


Ketchikan Links


Top Sports News
Public Records


FAA Accident Reports


NTSB Accident Reports


Court Calendar


Court Records Search


Wanted: Absconders


Sex Offender Reg.


Public Notices
Weather, Webcams


Today's Forecast


KTN Weather Data


AK Weather Map


Ketchikan Webcam


SE AK Webcams


Alaska Webcams


AK Earthquakes


Earthquakes
TV Guide


Ketchikan
Ketchikan Phone Book


Yellow Pages


White Pages
Employment


Employment
Government Links


Local Government


State & National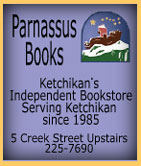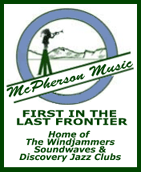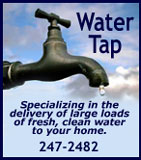 Wednesday
December 03, 2008



December Sunrise
This sunrise was photographed from the Third Avenue Bypass.
Front Page Photo By DEWIE HAMILTON


Ketchikan: AMHS is hiring, starts job fairs - The Alaska Marine Highway System is hiring and it has begun a five-city tour throughout Alaska and will hold a job fair in Ketchikan on December 11th.

"We've begun our hiring process for steward positions aboard our ships," said Lynn Stewart, an AMHS passenger services inspector. "Our first visit took place [Tuesday] in Valdez at the ferry terminal."

Four other cities will host the job fairs this month. They are:- More...
Wednesday - December 03, 2008

Alaska: Up to 20 Weeks of Additional Unemployment Benefits May Be Available to Unemployed Alaskans - Recently the U.S. Congress passed legislation on Nov. 20 that authorizes up to seven additional weeks of Emergency Unemployment Compensation benefits. It also includes an additional extension of up to 13 weeks of benefits for states in high unemployment over 6 percent. Alaska's current unemployment rate is 7.4 percent.

"Due to the nature of Alaska's workforce, the seasonal unemployment rate is typically high and these additional benefits will help many hard-working Alaskans support their families while they look for work," said Tom Nelson, director of the Alaska Department of Labor and Workforce Development's Employment Security Division.

The first payable week under the extended program is the week that ended Nov. 29. Unemployed workers are eligible to receive the same weekly benefit amount they received during their most recent unemployment benefit claim. - More...
Wednesday - December 03, 2008

Alaska: Alaska Division of Elections Certifies 2008 General Election - The bi-partisan State Ballot Review Board has completed a thorough review of the 2008 General election. With the review done, the Director of the Division of Elections, Gail Fenumiai, announced today that the Division of Elections has certified the 2008 General election. There were 327,341 ballots cast in the 2008 General election for a final turnout of 66.03%.

According to information provided by the Division of Elections, this election generated a record number of voters who voted early, absentee or questioned ballots; over 119,000, compared to 2004 in which there were approximately 85,000. Although the Division received a record number of these ballots for the 2008 General election, the statutorily mandated time to process the ballots was still the same. Under state law, the Division's regional offices must have ballots processed and counted within 15 days following the election. "It takes a tremendous effort from the regional office staff and bi-partisan review boards to complete the review and counting of early, absentee and questioned ballots. "I am very pleased that the Division was able to process and count 34,000 more early, absentee and questioned ballots than we did during the 2004 General election and we accomplished this ahead of the statutory deadline," said Fenumiai. - More...
Wednesday - December 03, 2008

Health - Fitness: 'Airport malaria' holds clues to global spread of disease By LEE BOWMAN - The city is crammed with people -- citizens, visitors, and soldiers -- many from distant places. In the overcrowding, sanitation, food and water supplies are all disrupted. And people begin to get sick and die. The streets and houses fill with bodies, and social order breaks down.

It's a scenario played out through history -- Athens in 430 B.C., London in 1665, Philadelphia in 1793, Paris in 1832, flu in cities throughout the world in 1918-19.

More recently, human immunodeficiency virus spread across much of southern Africa largely along trucking routes. West Nile virus rode a combination of birds and mosquitoes from a few boroughs of New York City to become established coast to coast in less than a decade.

Just how susceptible modern societies really are to a new plague or pandemic is a matter of some debate and concern, with billions being spent to detect outbreaks, whether delivered naturally or from a terrorist act.

A team of specialists at the National Institute of Allergy and Infectious Diseases recently analyzed 10 historically notable outbreaks of disease, from the Plague of Athens to the march of AIDS, and found there were common factors, like international trade or troop movements, political weakness or drastic changes in climate or land use, behind all of them.

A team of specialists at the National Institute of Allergy and Infectious Diseases recently analyzed 10 historically notable outbreaks of disease, from the Plague of Athens to the march of AIDS, and found there were common factors, like international trade or troop movements, political weakness or drastic changes in climate or land use, behind all of them.

Yet knowing just what indicators and diseases to monitor to predict the emergence or re-emergence of some scourge remains an art that is "not well developed,'' said Dr. David Morens, one of the authors of the report, published in the November issue of The Lancet Infectious Diseases.

"We know, however, that the mixture of determinants is becoming ever more complex, and out of this increased complexity comes increased opportunity for diseases to spread rapidly,'' Morens continued.

"Airport malaria" is just one example of an intersection between global air travel and changing climate.

Researchers coined the term after documenting a small but growing number of cases of the tropical infection among people in the U.S. and Europe who had been nowhere near the tropics. But they had spent time at airports in major cities with a large number of international flights on which infected female mosquitoes had hitchhiked and went on to bite the otherwise unexposed travelers. - More...
Wednesday - December 03, 2008

Arts & Entertainment

Ketchikan: This week in Ketchikan - The Ketchikan Theatre Ballet's 2008 The Nutcracker is on Friday, December 5th, at 7:30 pm and Saturday, December 6th at 2:00 pm at the Kayhi Auditorium. Don't miss this holiday tradition for the whole family. Tickets are $15 for Adults, $10 for Students and Seniors, and are available at the Ketchikan Theatre Ballet Office, McPherson Music, First City Players, the Arts Council, and at the door.

Winter Art Walk! It's time for the annual Winter Art Walk, so head downtown to your favorite galleries and shops! From 5-7pm on Friday, December 5th, there will be a downtown holiday celebration in Ketchikan. Pick up a map at any location, including the Public Library, the Arts Council, Exploration Gallery, Soho Coho, Parnassus Books, Scanlon's, Mission Street Arts and Fibers, and more! Each place will have different festivities: new displays, artwork, warm drinks, refreshments, friends, and holiday cheer! Make sure to bundle up, gather up your family and friends, and come downtown to help celebrate! Get a map at the Arts Council, 716 Totem Way, call 225-2211 for information! We'll have pictures of the Ketchikan Public Art Works projects now underway, and a slideshow of images of the current inventory of our city's existing public art playing.

The Art of Terry Pyles Opening Reception. The Tongass Historical Museum displays a retrospective exhibition of artwork by one of Ketchikan's incredible artistic talents. His work is known for its incredible detail and realism- and often features the wildlife and scenery of Ketchikan. The Opening Reception will be held on Friday, December 5th, 5-7pm at the Tongass Historical Museum.

Polar Express Christmas Village! The Ketchikan Public Library debuts a new display in the children's library for the Winter Art Walk on Friday, December 5th from 5-7pm! Come see a beautiful new Polar Express Christmas Village display, plus treats and coloring sheets! The display will have a train, a village of houses, and sparkling lights. The Library will be a winter wonderland for the month of December

A Tuna Christmas. It's Christmas in the "third smallest town in Texas" and the burg's two radio personalities report on various yuletide activities, including competition in the annual lawn display contest. Join us for all the laughs as two talented men play all the eccentric citizens in Tuna, Texas. This show is the second in a trilogy. The authors write with affectionate satire and thorough knowledge: they're sons of small towns in Texas and Oklahoma. Y'all come to this FCP sequel to our sold-out sensation Greater Tuna several seasons back. This play by Jason Williams, Joe Sears and Ed Howard is performed by Keith Smith and Tom Fowler at the Plaza Black Box Theatre. Show runs December 13, 14, and 21, 2008, 7:30pm on Saturdays, 2:30pm on Sundays. Tickets are $15 for adults, $12 for students and seniors. Yule Laugh Till it Hurts! Call 225-4792 or visit www.firstcityplayers.org for info and tickets!

KYI Activity EXPO! Seeking Art! The Ketchikan Youth Initiatives is having a Potluck and Youth Art Auction, demos, music, and fun for all on Thursday, December 18th from 5:30-8:30pm at the Ted Ferry Civic Center. The Youth Art Auction includes a mural board from the Bernard Passman building and 50th year Anniversary art works, but they want YOUR work! If you are a Ketchikan youth OR adult with art you would be willing to contribute, be sure to contact KYI! For information about this event, or membership in KYI, call 225-2250 or email kyi@kpunet.net - More...
Wednesday - December 03, 2008




Ketchikan

Police Report - No releases since October 16th.
AK Troopers Daily Dispatch
Today's Forecast
Satellite
Today's Weather Images
Marine Forecasts
Ketchikan Weather Data
Current AK Weather Map

CLASSIFIEDS

Publish ad
Please select the proper category before posting.




CLASSIFIEDS' CATEGORIES

Announcements and
Help Wanted
For Sale / Free Stuff
Garage Sales
Homes / Apts/ Property
Pets
Wanted
Lost & Found
Local Services
Publish your ad




December 2008
Front Page Archives

| | | | | | | |
| --- | --- | --- | --- | --- | --- | --- |
| S | M | T | W | T | F | S |
| 30 | 01 | 02 | 03 | 04 | 05 | 06 |
| 07 | 08 | 09 | 10 | 11 | 12 | 13 |
| 14 | 15 | 16 | 17 | 18 | 19 | 20 |
| 21 | 22 | 23 | 24 | 25 | 26 | 27 |
| 28 | 29 | 30 | 31 | | | |

More Front Page Archives

Viewpoints
Opinions/Letters
Basic Rules

GHOST TOWN KETCHIKAN By David G. Hanger - A brief aside to Robert Thompson; the price of gasoline in Southeast is still $3.70 or better, and the price is still dropping everyday down here. I am quite aware of the actions of the state government respective gas price gouging; I read their report, and my response to that is it is so much blather and whitewash. The price of gasoline is still way too high. Nor do I expect the state government to do anything about this problem at all until some time possibly in March or April during the time the legislature is in session, at which point I expect them to bandy platitudes while doing absolutely nothing about this very serious problem. If you possessed the tax returns of your local gas jockeys, you would have some idea how much they are ripping us off; they are getting rich at the expense of the well-being of the overall economy. A century or so ago they hanged people for stuff like that. - More...
Sunday - November 30, 2008

Library, pool, fire station...??? By Charles Edwardson - I read Rodney Dial's assessments on the taxes we pay and I learn more from his articles (assuming that they are accurate) than I do from listening to the Borough Assembly or the Ketchikan City Council.when they discuss their dreams on how to stabilize our economy in Ketchikan. (How a new library will assist in doing that I have yet to make the connection. - More...
Sunday - November 30, 2008

Just Say No to Higher Taxes By Dustin Hofeling - Now is not the time to be building a larger library and pool. Real wages are decreasing as the cost of living is increasing. A simple understanding of economics teaches that you don't spend more money when less is coming in. - More...
Sunday - November 30, 2008

Gas Price Questions By Phil McElroy - In my teens, I worked for a gas station in Idaho when the price of gas was 35 cents per gallon. I moved to Ketchikan (1969) and got a job at City Center gas station and was taken back by the increase in price, roughly 30 cents more per gallon. - More...
Sunday - November 30, 2008

RE: Gas Price Gouging By Zak Young - Are we still stuck on the fact that Palin is the whipping girl?? Are we still bringing her up as the cause of everything negative that we do not agree with?? For You.. .Ms. Lester, it seems so!! - More...
Sunday - November 30, 2008

Respose to "Almost Famous" By Marshall H. Massengale - Ketchikan watching via Internet has become for me something of an engaging hobby over the last more than a year and a half as the direct offshoot of having gotten to know, online at least, some truly wonderful people who happen to live there and who own and operate one of the borough's well-known float plane services. Of course, aside from exchanging e-mail regularly with my friends, I enthusiastically count Dave Kiffer's column in SitNews, together with the rest of the online journal's content including the various commercial Website links advertised along its margins, amongst my favorite windows into the K-Town world. - More...
Wednesday AM - November 26, 2008

At what point do we hold the line on new taxes? By Rodney Dial - In three locations in my previous letter 12 was listed when it should have read 1/2 % (one-half percent) this is due to a formatting error when my MS Word document is converted into a SitNews letter. The proposed tax increase to build the new pool will take the sales tax rate to 6.25 to 6.50 %. - More...
Wednesday AM - November 26, 2008

It was never about the 'facts By Robert Thompson - Well Mr. Hanger is expressing his opinions again without regard to information or facts. In a Sitnews' letter he says: - More...
Wednesday AM - November 26, 2008

Gas Price Gouging By Jerilyn Lester - This is the first time in my 25 year history in Southern Southeast that I have been ashamed. The people that own the gas storage and the stations are keeping the price up so that we go broke just trying to get to work two jobs just to pay for the gas to do so and the oil to heat our homes. The price of oil has gone down to between $40 and $50 a barrel and we are still paying $3.75 a gallon for gas and more than that to heat the house. - More...
Wednesday AM - November 26, 2008

New Library = New Taxes By Dan McQueen - With the falling oil prices it's going to be pretty tough for Ketchikan to get the money from the State. A recession seems to be unavoidable at this time. Now is not the time to try and get the taxpayers of the Ketchikan Gateway Borough to accept any new taxes! - More...
Wednesday AM - November 26, 2008

The future of Ketchikan By Rodney Dial - The country is going through the worst economic disaster since the great depression, with most thinking that it will get worse before it gets better. During times like these consumer spending on non essential items all but stops. This presents the real likelihood that Ketchikan will take a severe economic hit next tourist season. - More...
Monday PM - November 24, 2008

Hoonah Community Forest Project By Chris Erickson - On October 1, the Alaska Department of Fish and Game implemented the first early closure of the doe hunting season in the history of Northeast Chichagof Island. It was an unsettling announcement for those of us living in Hoonah and Tenakee, two communities which rely heavily upon subsistence hunting. More unsettling is the drop in the deer population which prompted the early closure. To those of us who make our living as hunting and fishing guides operating on the northeastern tip of Chichagof Island, this drop is all too apparent. During trips in the field, deer sightings during peak activity times of early morning and late evening, once numbering a dozen or more, are so rare as to be worthy of mention. - More...
Monday PM - November 24, 2008

Ketchikan Fire Stoppers By Jim Hill - The Ketchikan, North Tongass, and South Tongass Fire Departments; with assistance from the State of Alaska Division of Fire and Life Safety, presented the Juvenile Fire-setter Intervention Specialist-I class November 17th and 18th at the Ted Ferry Civic Center. - More...
Monday PM - November 24, 2008

Gas Prices By David Hanger - Gas prices continue to fall, $1.69 a gallon now, everywhere but Southeast. The gougers are despicable; more despicable are the gutless politicians who lack both the fortitude and the concern to do anything about it. Another example of Sarah Palin's "reform" standards? - More...
Monday PM - November 24, 2008

Vocational Education Important By Amy L. Schroeder - Thank you to Charles Edwardson for broaching the voc-ed situation at K-High. I am a subscriber to the "every job is important and it takes a special person to do it" theory. I find that not only in Ketchikan, but all around is still the myth that if a child entertains higher academic schooling that his/her life will be rewarded somehow more richly. - More...
Monday PM - November 24, 2008

Library cost clarification By Heidi Ekstrand - I was thrilled to see Ms. Jones' letter here with her thoughts, ideas and concerns on funding issues for local construction projects. The more people creatively involved in our community issues the better the outcomes will be. - More...
Monday PM - November 24, 2008

Thank You Senator Stevens By Dan McQueen - Senator Stevens, thanks for all you have done for our Great State! I am proud to know ya! - More...
Monday PM - November 24, 2008

More Letters/Viewpoints
Webmail your letter or
Email Your Letter To: editor@sitnews.us

---

Articles & photographs that appear in SitNews may be protected by copyright and may not be reprinted or redistributed without written permission from and payment of required fees to the proper sources.