Day of Remembrance
United States Coast Guard members end Monday's 9/11
remembrance event with a 21 gun salute.
Front Page Photo by Carl Thompson
Ketchikan: Day of Remembrance - Fallen emergency response personnel and family members lost during the 9/11 tragedy were remembered on a rainy Monday evening in Ketchikan. On the fifth anniversary of 9/11, local church bells chimed in unison at 6:30 pm last evening. - More (Photos by Carl Thompson and Chris Schumacher, USCG)...
Tuesday AM - September 12, 2006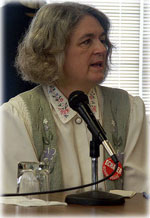 Charlotte "Choc" Schafer
Photo by Dick Kauffman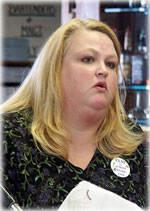 Virginia "Ginny" Clay
Photo by Dick Kauffman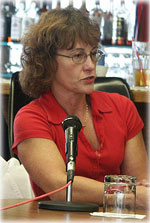 Deborah Harney
Photo by Dick Kauffman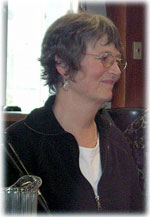 Karen Eakes
Photo by Dick Kauffman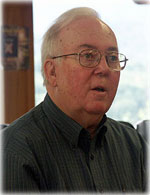 Mike Harpold
Photo by Dick Kauffman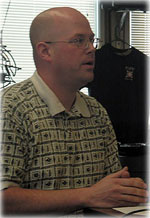 Matt Olson
Photo by Dick Kauffman
Ketchikan: Six Vie for 3 School Board Seats By M.C. KAUFFMAN - Voters will have an opportunity in just a few short weeks to elect three individuals to serve on the Ketchikan School Board for the next three years. Six candidates have filed to fill the three seats currently held by Choc Schafer, Mike Harpold and Deborah Harney. The local election will take place on October 3rd.
The six candidates who each would like to have one of those three seats had an opportunity last Wednesday to state their positions on various issues and why they would like to serve on the Ketchikan School Board during a luncheon forum held by the Greater Ketchikan Chamber of Commerce.
The six school board candidates are Charlotte "Choc" Schafer, Virginia "Ginny" Clay, Deborah Harney, Karen Eakes, Mike Harpold and Matt Olsen.
There were no time limits enforced on the candidates' opening statements or their responses to questions. The questions were posed by audience members and the forum began with each candidate giving an opening statement.
Opening Statements
In her opening statement, Deborah Harney spoke briefly stating that she has served as a member of the Ketchikan School Board for almost four years. She said she is the mother of three and her youngest is a high school Senior this year. Harney remarked that she is a small business owner and is out and about in the community often.
Thirty-eight year old Virginia "Ginny" Clay works at Tongass Substance Screening. Clay said she grew up in Ketchikan and has two boys in school - one just starting high school this year and one just starting the fifth grade.
Clay noted that she has been involved with Cub Scouts for nine years, with Little League for nine years and has served on the Little League Board. Clay said being a school board member will be a learning experience for her and she hopes that she can be a voice for the people of Ketchikan.
Karen Eakes was next to present her opening statement. Eakes, the current director of PATCHWorks, said she has lived in Alaska for 39-years, 33 of which have been in Ketchikan. Eakes said she and her husband raised two daughters and she was a teacher is the local school system for 22-years. After retiring in 1998, Eakes attended graduate school and remarked she had a wonderful experience and brought back a lot of what she learned to share with teachers in the Ketchikan district.
"I've been an advocate for education and learning all my life," said Eakes. She said that it has always been her plan and hope to run for the school board because she feels like she has something to contribute - her experience and her perspective working with kids.
Mike Harpold, a retired immigrations officer, said he and his wife have lived in Ketchikan for 22-years. The Harpolds have two daughters - one graduated from Ketchikan High School last year and one is a Senior this year.
Harpold was first elected to the school board in 1994 and served until 1997 at which time he was president of the school board. After leaving the board, the following year Harpold ran for City Council and was elected. He said he was very proud of his service on the Ketchikan City Council. "I was the swing vote for the intertie," said Harpold. "I still have my plaque for the first chip of wood on the first tree that was felled for the right-of-way on the intertie."
Harpold said, "My other big brag on the City Council, the lighted crosswalk out here at White Cliff Avenue. I personally wrestled Karl Amylon to the ground and held him there for two years, keeping Steve Schweppe, the city attorney at bay with my foot, until he finally relented and installed that lighted crossway." Harpold remarked, "That feat has not been replicated since."
Harpold said he made an unsuccessful run for re-election to the City Council. A few months later he was appointed to the school board and the following year he ran for a school board seat and was elected. Harpold said he's been very proud of his service on the school board.
In her opening statement, Charlotte "Choc" Schafer said she has served on the school board for almost 6 years. Schafer said she believes there have been a lot of accomplishments during those six years.
"Because we are a board that works together, anything that happens has to be done by a majority of the board. But I am very proud that we switched to our program-based budget system. I think that works much better and we have a lot better budgeting process and depending upon where the money comes in, it's very easy to make adjustments up or down." Schafer said she would like to see the program-based budgeting continue.
Schafer said two of her daughters went all the way through the Ketchikan school district and came out with good educations. "I would like to have that available to all children," said Schafer. "I think the children in our community are the most important resource that we have and we ought to work to provide the best education possible for those students."
Matt Olsen began his opening statement saying he grew up and graduated from high school in Ketchikan. Olsen and his wife have a 22-month old daughter.
He is currently the Program Coordinator at the business department and networking department at the University of Alaska Ketchikan campus. Olsen said through his work experience he is familiar with the budgeting process - both budgeting for existing programs and deciding if new programs will be added.
Olsen said he's volunteered in activities such as sports, summer school, after-school youth activities and various student activities at schools.
Question 1: Why did you choose to run for the school board this year? What are your main priorities and what would you like to see changed?
Deborah Harney seeking re-election responded to the question stating she would like to see Schoenbar finished while she's still on the board. - More...
Tuesday AM - September 12, 2006