Thursday
January 06, 2005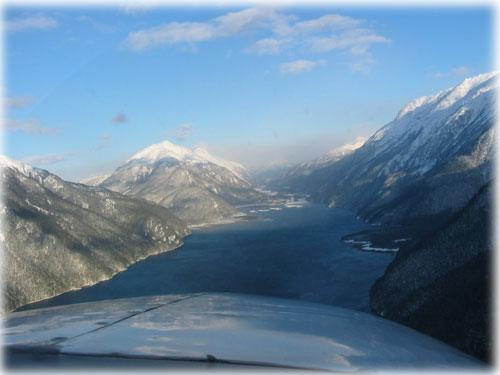 Stewart B.C & Hyder, AK
Front Page Photo by Dennis Moody
Viewpoints
Opinions/Letters

Upcoming debate on illegal immigration by Tom Shuford - Thursday


Outdoor opportunities by Rick Grams - Thursday


Loggerville by Jennifer Naylor - Thursday


Ketchikan has wonderful activities by Frances Field (Leach) - Thursday


"Nothing to do" in Ketchikan by Neil Gray - Thursday


GET 'ER DONE! by Kevin Mackie - Thursday


Milosivec by Neil Craig - Thursday


Misinformed by Simo Jovic - Thursday


Unfounded Opinion by Todd Thompson - Thursday


More Viewpoints/ Letters


Publish A Letter
January 2005
Click on the date for stories and photos published on that day...

| | | | | | | |
| --- | --- | --- | --- | --- | --- | --- |
| S | M | T | W | T | F | S |
| 26 | 27 | 28 | 29 | 30 | 31 | 01 |
| 02 | 03 | 04 | 05 | 06 | 07 | 08 |
| 09 | 10 | 11 | 12 | 13 | 14 | 15 |
| 16 | 17 | 18 | 19 | 20 | 21 | 22 |
| 23 | 24 | 25 | 26 | 27 | 28 | 29 |
| 30 | 31 | | | | | |
National: Several factors behind surge of aid to tsunami victims - In 1991, when a cyclone and tidal surge took the lives of more than 130,000 people in Bangladesh, Americans, like most others elsewhere in the world, barely took note.
Now, after an earthquake and tsunami killed a comparable number in the Indian Ocean region last week, donations from the U.S. public are pouring in at the rate of more than $1 million a day.
The difference? Experts in humanitarian disasters credit a perfect storm of factors that have converged to spawn an extraordinary - and likely unprecedented - wave of generosity for victims of a tragedy on the other side of the world.
"This is definitely a watermark," said Margaret Carrington, spokeswoman for the United Nations World Food Program.
And it's only just begun.
NBC has scheduled a telethon Jan. 15. An expanding roster of movie, music and sports stars are drumming up contributions. Former Presidents George H.W. Bush and Bill Clinton are embarking on a joint campaign to solicit even more. The White House announced Wednesday that President Bush was chipping in his own check for $10,000.
Already at $200 million, the public pledges are close to matching the $350 million the American government has promised to spend. - More...
Thursday - January 06, 2005
Alaska: Governor Meets with Interior Secretary Norton - Alaska Governor Frank H. Murkowski met Tuesday with Secretary of the Interior Gale Norton to discuss a variety of issues significant to Alaska.
"The Interior Department controls vast areas of Alaska and thus impacts the lives of Alaskans," said the governor after the meeting. "I am gratified by the secretary's openness to resolving conflicts and to working cooperatively on issues affecting us all. I am committed to protecting the rights of Alaskans, and I am glad to have a secretary in Washington willing to listen." - More...
Thursday - January 06, 2005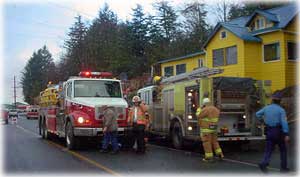 Engines parked along Tongass Highway Wednesday as firefighter responded to a home fire. A steep gravel road made accessibility to the home owned by Dan Michalsen difficult. (The home in this picture is not the home that experienced the fire.)
Photograph by Jerry Cegelske
Ketchikan: No one injured in house fire - With a steep gravel road making accessibility difficult, traffic along the North Tongass was blocked Wednesday as firefighters responded to a house fire at 4742 North Tongass Highway. - More...
Thursday - January 06, 2005
Alaska: Senator Stevens Named Chairman of the Senate Commerce, Science, and Transportation Committee; Will Continue to Serve as Senate President Pro Tempore and on Appropriations and other Committees - Senator Ted Stevens, the longest-serving Republican in the history of the Senate Commerce, Science, and Transportation Committee, was elected Wednesday by the Senate Republican Conference as the next Chairman of the Committee. Stevens has been a member of the Senate Commerce Committee since 1971 (with the exception of two years when he served on the Energy and Natural Resources Committee). During his tenure on the Committee, Stevens has served as the Chairman or Ranking Member of the Oceans and Atmosphere Subcommittee, the Aviation Subcommittee, the Merchant Marine Subcommittee, the National Ocean Policy Study Group, and the Subcommittee on Oceans and Fisheries. - More...
Thursday - January 06, 2005
Alaska: Stolworthy Announces Resignation, Accepts Position In Iraq - Don Stolworthy, Deputy Commissioner of the Alaska Department of Corrections, announced Wednesday he has accepted a position in Iraq, working as a Warden for the United States Department of Justice. - More...
Thursday - January 06, 2005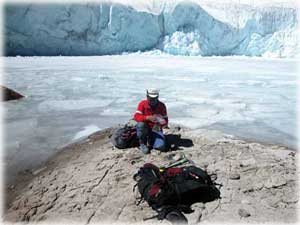 A member of an Ohio State University glacier research team gathers samples of a moss from the genus Breutelia recently uncovered as the Quelccaya ice field in the Peruvian Andes retreated. Carbon-dating provided an age for the plants of at least 50,000 years. Photo courtesy of Lonnie Thompson.
Alaska: The message within the moss by Ned Rozell - An ancient clump of moss has something to tell us, says the scientist who found it last summer in Peru - the planet is warmer now than it has been since ice covered that plant 50,000 years ago.
Ohio State University glaciologist Lonnie Thompson delivered that message to a few hundred scientists who crowded a lecture hall at the December 2004 American Geophysical Union meeting in San Francisco. More than 11,000 scientists attended the annual meeting where Thompson gave several presentations (including one about drilling an ice core from the saddle between Mounts Bona and Churchill in Alaska) and was a featured speaker on National Public Radio's Science.
In his lecture, Thompson, who holds a record for most days living above 18,000 feet, told about visiting Quelccaya ice cap in the Peruvian Andes, a tropical glacier system that formed at high elevation with its summit at about 18,600 feet. In 2002, he and his colleagues found a bed of plants recently exposed by melting of the ice cap. They sent the plants to be carbon-dated, and lab results suggested that the plants were alive about 5,200 years ago, when a growing Quelccaya entombed them in ice. - More...
Thursday - January 06, 2005
---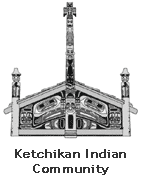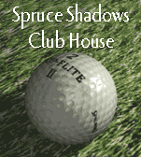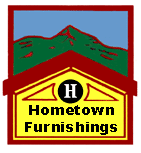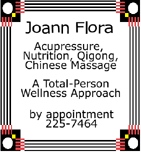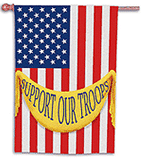 'Our Troops'