The message within the moss
by Ned Rozell
January 06, 2005
Thursday

An ancient clump of moss has something to tell us, says the scientist who found it last summer in Peru - the planet is warmer now than it has been since ice covered that plant 50,000 years ago.
Ohio State University glaciologist Lonnie Thompson delivered that message to a few hundred scientists who crowded a lecture hall at the December 2004 American Geophysical Union meeting in San Francisco. More than 11,000 scientists attended the annual meeting where Thompson gave several presentations (including one about drilling an ice core from the saddle between Mounts Bona and Churchill in Alaska) and was a featured speaker on National Public Radio's Science.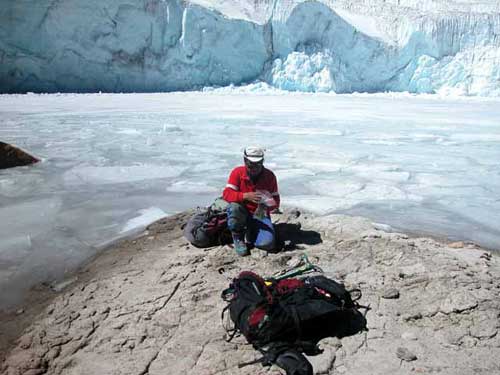 A member of an Ohio State University glacier research team gathers samples of a moss from the genus Breutelia recently uncovered as the Quelccaya ice field in the Peruvian Andes retreated. Carbon-dating provided an age for the plants of at least 50,000 years. Photo courtesy of Lonnie Thompson.

In his lecture, Thompson, who holds a record for most days living above 18,000 feet, told about visiting Quelccaya ice cap in the Peruvian Andes, a tropical glacier system that formed at high elevation with its summit at about 18,600 feet. In 2002, he and his colleagues found a bed of plants recently exposed by melting of the ice cap. They sent the plants to be carbon-dated, and lab results suggested that the plants were alive about 5,200 years ago, when a growing Quelccaya entombed them in ice.
After learning of the date when the plants were frozen, Thompson spent time reading up on other examples of the same rapid cooling period, so quick it could freeze a green plant that would endure beneath an ice cap for thousands of years. One example was the "Ice Man" of the Austrian Alps that appeared recently from a melting ice field and whose frozen carcass was dated to 5,200 years before the present. Another clue was the fact that the narrowest tree rings in studies of ancient wood of Ireland and England appear about 5,200 years ago. Thompson spoke of several other examples of that abrupt climate change, which he said might have been caused by a sudden reduction in output from the sun.
Though not related to the use of fossil fuels that accelerate greenhouse warming, the big change 5,000 years ago shows that Earth's response to changes, natural or manmade, can be dramatic and quick, Thompson said.
"We live in a sensitive environment," he said.
Having made that point, Thompson told about returning to Quelccaya in August 2004 and finding more plants emerging from the ice. Two of them dated to about 5,200 years, the same as the plants he found in 2002. The third, a clump of moss, came back from the carbon dating center at Woods Hole Oceanographic Institute as being older than 48,000 years and close to the 50,000-year limit for reliable carbon-dating.
"When I first got this (age) from Woods Hole, I said 'It's got to be a mistake,'" Thompson said.
He sent the moss sample back for another test at Woods Hole and later to the Lawrence Livermore National Laboratory in California. Both labs came back with estimates that the moss was more than 50,000 years old.
"One interpretation is that this icefield has not been smaller than it is today for 50,000 years," Thompson said. "It had to be colder all the way back to the time it was frozen."
The message of the moss is not an isolated one, Thompson said. Quelccaya ice cap is melting 40 times faster than it was in 1963, and other scientists at the meeting showed examples of "phenomenal" melting of glaciers in Greenland along with accelerated recent melting of most large bodies of ice in the northern hemisphere, including most glaciers in Alaska (while citing the work of Keith Echelmeyer and others at UAF's Geophysical Institute).
The irony of Thompson's discovery of the 50,000 year old plant and much of the recent work on glaciers is that while the finds are both exciting and compelling, their silent message is that the world is getting warmer, fast.
"It isn't good," he said.
This column is provided as a public service by the Geophysical Institute, University of Alaska Fairbanks, in cooperation with the UAF research community. Ned Rozell (nrozell@gi.alaska.edu) is a science writer at the institute.
E-mail your news & photos to editor@sitnews.us


Publish A Letter on SitNews Read Letters/Opinions
Submit A Letter to the Editor

Sitnews
Stories In The News
Ketchikan, Alaska