'Colorful Narrows'
Front Page Photo by Lisa Thompson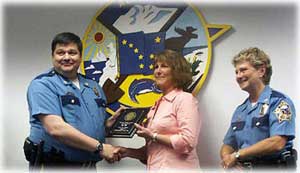 Shelly Dunn (center) was among four Troopers and Civilians Employees honored. Dunn (center) was recognized as the 2004 "A" Detachment Civilian Employee of the Year. Also pictured is Major Howard Starbard and Colonel Julia P. Grimes...
Photo by Dick Kauffman

Ketchikan: New Troopers Headquarters Dedicated & Employees Honored by DICK KAUFFMAN - Among those attending the open house and official building dedication ceremony for the new "A" Detachment Trooper Headquarters and Post in Ketchikan last Wednesday, was Alaska Governor Frank H. Murkowski.
Occupied since March 2005, the new 5900 square foot Ward Cove facility will serve the Southeast Alaska Troopers Posts in Haines, Juneau, Klawock, Petersburg, and Ketchikan. This new facility replaces the previous 1800 square foot Ketchikan State Trooper building that was located at 5150 North Tongass Highway. - More...
Monday - July 25, 2005
Ketchikan: Rash of Vehicle Thefts and Break-ins - According to the Ketchikan Police Department, since the beginning of July, six motor vehicles have been stolen in Ketchikan and fourteen other vehicles have been entered and have had valuables stolen. - More...
Monday - July 25, 2005
Alaska: Governor Signs Historic University Lands Bill - Alaska Governor Frank H. Murkowski signed into law legislation to transfer 250,000 acres of state land to the University of Alaska, a measure that will improve the financial and academic standing of the state's higher education system and ultimately put more lands in private hands.
"With this transfer, the University of Alaska will more than double the land it owns and manages for income-producing and educational purposes. This will provide a financially secure and academically strong state university system," Murkowski said at a ceremony at the University of Alaska Fairbanks today. - More...
Monday - July 25, 2005
Alaska: Weak salmon industry gains some vigor By WESLEY LOY - Three years ago, Alaska's commercial salmon industry was barely clinging to life.
The total dockside value for the state's catch in 2002 was $163 million, a 73 percent plunge from the tally a decade earlier. Hundreds of fishermen were dropping out of the business. Packing plants were closing. A bedrock Alaska industry with more than a century of colorful history was wobbling under heavy debt and poor prospects for profit.
The industry faced two demons. First, foreign fish farmers had conquered markets Alaska's wild-caught salmon once owned. Second, the Alaska industry - with all its expensive boats, nets, canneries and intricate regulations - found it hard to compete. - More...
Monday - July 25, 2005
Alaska: Fishing tournament brings lots of VIPs to Alaska By LIZ RUSKIN - The postmaster general of the United States doesn't usually come to cut the ribbon when a new post office opens in a place like Girdwood, Alaska, pop. 1,850.
Nor does the secretary of labor fly in to announce every grant of $7 million her department makes.
And when the secretary of transportation wants to say something about intercity Amtrak service, it's not obvious he'd make his point in Anchorage, or by standing at a train station that city residents can't use.
Yet this high-level attention was bestowed on south-central Alaska this month, all within 24 hours. That's because it was early July, and every year around Independence Day, Sen. Ted Stevens, R-Alaska, and a herd of very important people converge on the Kenai River for the Kenai River Classic fishing tournament. - More...
Monday - July 25, 2005
International: Experts offer pessimistic outlooks on Iraq By MARA LEE - During more than seven hours of testimony this week, a Senate committee heard that Iraq is in a low-grade civil war, that there are no additional U.S. or allied troops to help and that Iraqi soldiers are far from ready to take over.
From experts on the war in Iraq, senators heard that a new constitution could make things worse, and wouldn't quiet the insurgency. - More...
Monday - July 25, 2005