Latest news & features from hundreds of sources:
Updated throughout the day - every day!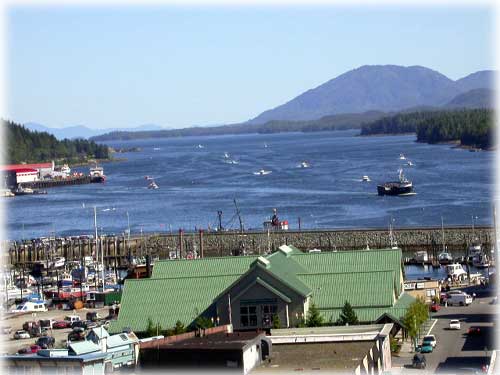 'Fishing Charters'
Front Page Photo by Steve Ripley
Viewpoints
Opinions/Letters

RE: Fire on the Dock by Darlene Guzman - 07/29/04


Thanks by Janet Engle - 07/29/04


Re: Peace in Our Homes by ML Dahl - 07/29/04


More Viewpoints/ Letters


Publish A Letter
Alaska: Governor Signs Rat Racing Bill - Governor Frank Murkowski signed into law legislation sponsored by Representative Bill Stoltze (R-Chugiak/Mat-Su) to allow charitable gaming events to continue in Alaska. The signing ceremony for HB 366, better known as the Rat Race Bill, took place at the Governor's picnic on Saturday, July 24, 2004. - Read more...
Thursday - July 29, 2004
Alaska: - Lower 48 development footprint larger than Southeast Alaska by Ned Rozell - Researchers added up all the concrete, paved roads, buildings and other manmade hard surfaces in the Lower 48 and found a combined area of nearly 44,000 square miles, about the size of Ohio. That's enough pavement, concrete and shingles to cover the combined areas of Southeast Alaska and Kodiak Island.
"I was surprised it was as big as Ohio, but a lot of people thought it'd be the size of Texas," said Chris Elvidge, the main author of the study and manager of the Nighttime Lights Lab at the National Oceanic and Atmospheric Administration's National Geographic Data Center in Boulder, Colorado.
Elvidge and his coworkers use satellite data to produce maps of lights across North America, which is one of the inputs that helped them determine the "impervious surface area" of the Lower 48 states. The scientists didn't include Alaska or Hawaii in their study, but will in a project they are now working on-a map of the developed areas of the entire world. - Read more...
Thursday - July 29, 2004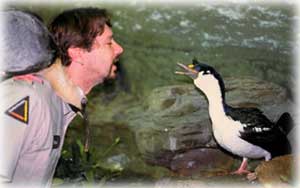 Chris Edelen of the Cincinnati Zoo in Ohio exchanges greetings with a Blue-eyed Shag as a Black-faced Ibis looks on from its perch on Chris' shoulder. Both birds occur in sub-Antarctic Patagonia and the Blue-eyed Shag also breeds along the Antarctic Peninsula. Zoo researchers are studying polar seabirds in captivity to learn more about how to protect them in the wild. Photo courtesy Hector Douglas...
Alaska: Zoo Offers Polar Seabird Refuge - When zoos first opened in America during the mid-1870s, they were merely exhibits of exotic animals from faraway lands. As natural habitats became fragmented, zoos increasingly have become stewards not only of their own collections but also of nature itself. A zoo in Cincinnati, Ohio, focuses on protecting polar seabirds. - Read more...
Thursday - July 29, 2004
Columnists

Michael Reagan: The Sesame Street Convention - Desperate to look like sensible, middle-of-the-road moderates, the Democrats have managed to put on one of the most boring political conventions in history.
Why anyone would bother to watch it is a puzzle - there's no fire, there's no brimstone, there's no fireworks, just a lot of far-out liberals trying to convince the voters that deep down inside they're really moderate conservatives who share the values of the majority of the American people. - Read more...
Thursday - July 29, 2004
---
E-mail your news tips, stories, news releases & photos to:
editor@sitnews.org

E-mail large photo files to
photos@sitnews.org

Edited by Dick Kauffman:
editor@sitnews.org

E-mail the Webmaster:
webmaster@sitnews.org

Copyright Applies - Please obtain written permission before reproducing photographs, features, columns, etc. that are published on Sitnews.

Published online since
August 2000

Sitnews
Stories in the News
©1999 - 2004
Ketchikan, Alaska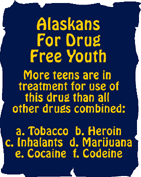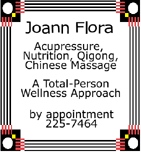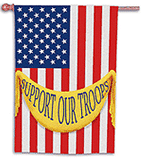 'Our Troops'