Saturday
July 24, 2004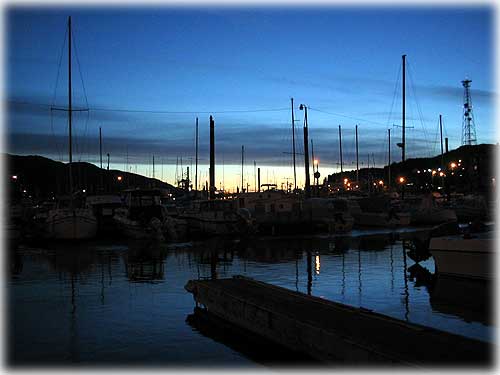 'Sea of Masts at Dusk'
Front Page Photo by Rick Grams
Viewpoints
Opinions/Letters

Peace in our homes by Patrick Jirschele- 07/25/04


Astounding number of undecided voters by Jamie Benvenutti - 07/25/04


More Viewpoints/ Letters


Publish A Letter
Alaska: Governor Signs SB 65, But New Prison Awaits Fiscal Fix; Bringing Alaska Prisoners Home Will Depend on Fiscal Solution - Governor Frank Murkowski signed Senate Bill 65 into law on Thursday, establishing the means to provide much-needed prison space in Alaska and bring home prisoners who have been incarcerated in Arizona.
Sponsored by Sen. Lyda Green of Wasilla, SB 65 authorizes construction of a state-operated prison in the Matanuska-Susitna Borough, and expansion of regional correctional facilities elsewhere in the state. While the bill anticipates funding the work through bonds, it does not mandate any bond issues and gives the state until 2009 to decide on prison bonds.
"The need for improved and expanded correctional facilities in our state has been clear for more than a decade, and I am pleased to sign legislation that gives us the opportunity to potentially construct a state-operated prison in the Matanuska-Susitna Borough and expand other facilities," the Governor said.
"I will mandate that, before any general fund debt or other significant debt instruments can be issued, there must be a satisfactory repayment ability that will not jeopardize the state's AA bond rating. The responsibility to assure that the credit rating is not put in jeopardy is the joint responsibility of the Legislature and the administration. It should be further understood that my administration, including the Commissioner of Corrections and the State Bond Committee, will not initiate any action inconsistent with the state debt policy as articulated by the Office of the Governor. - Read more...
Saturday - July 24, 2004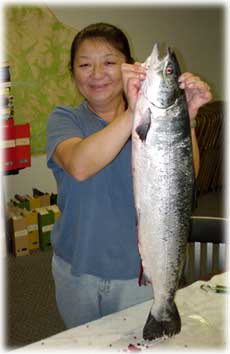 ADF&G Employee Lucy Leitz holds the Atlantic Salmon turned into the Ketchikan field office...
Photo courtesy ADF&G
Ketchikan: Atlantic Salmon Caught Near Ketchikan - On Tuesday, July 20, an adult Atlantic salmon was turned into the Alaska Department of Fish and Game (ADF&G) Ketchikan field office. The fish was caught in a commercial gillnet fishery near Thorne Bay. Atlantic salmon are not native to the Pacific Ocean ­ they are raised in areas along the West Coast outside of Alaska, and their presence in Alaskan waters is biologically undesirable.
"The fish, which is 8.3 pounds, appears to be in good condition," said Glenn Hollowell, a Fishery Biologist in the ADF&G Ketchikan office. - Read more...
Saturday - July 24, 2004
Alaska: Governor Applauds Resolution in Agrium, Unocal Gas Dispute - Governor Frank Murkowski said Friday an arbitration panel decision in the natural gas supply dispute between Agrium Inc. and Unocal Corp. would help bring some stability to the Kenai Peninsula economy.
"I appreciate both companies working together through the process to arrive at a fair answer, and I am heartened to know that Agrium will be able to run its Kenai fertilizer plant with an increased gas supply,"
the Governor said.
"Agrium's continued operations are essential for the area's economy, and adequate natural gas supplies are key to Agrium's operations," he said. The company employs 230 workers and last year accounted for almost 5 percent of the Kenai Peninsula Borough's total property tax revenue. - Read more...
Saturday - July 24, 2004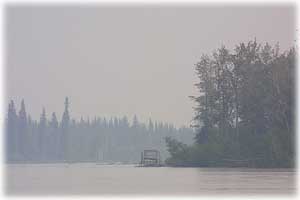 A fish wheel turns on the Tanana River on a smoky July afternoon. The Tanana, fed by water from melting glaciers and other sources, was flowing bank-to-bank while other Interior streams and rivers without glacial sources were trickling near record lows.
Photograph by Ned Rozell...
Alaska: Warmth causes rivers to shrink, grow by Ned Rozell - Here's one for the Only-in-Alaska File: In mid-July 2004, wildfires and floods were both consuming an Alaska state forest at the same time.
East of Delta Junction, the Gerstle River had overflowed its banks, slicing through a gravel road and flooding a portion of the Tanana Valley State Forest. Farther north, a wildfire was turning thousands of acres of spruce trees and tundra in the forest to smoke and ash. - Read more...
Saturday - July 24, 2004

Ketchikan: Listen to this KRBD story... Celebrity Chief John Pisto is in Ketchikan this week to shoot an episode of his Goodlife Television Network show "Monterey's Cookin' Pisto Style." As Deanna Garrison reports, Pisto plans to barbecue seafood from the deck of the Arctic Bar this weekend.
KRBD - Ketchikan Public Radio - linked Saturday am - July 24, 2004

Ketchikan: Listen to this story... A fire erupted on Ketchikan's downtown cruise ship dock Thursday evening. Deanna Garrison reports.
KRBD - Ketchikan Public Radio - linked Saturday am - July 24, 2004
---
E-mail your news tips, stories, news releases & photos to:
editor@sitnews.org

E-mail large photo files to
photos@sitnews.org

Edited by Dick Kauffman:
editor@sitnews.org

E-mail the Webmaster:
webmaster@sitnews.org

Copyright Applies - Please obtain written permission before reproducing photographs, features, columns, etc. that are published on Sitnews.

Published online since
August 2000

Sitnews
Stories in the News
©1999 - 2004
Ketchikan, Alaska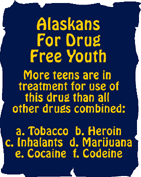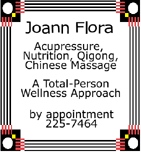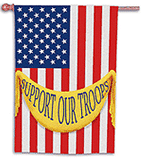 'Our Troops'