'Replacement Ferry'
After the City of Loring's dock was removed, the residents now
must get permission to use a "replacement ferry". - More...
Front Page Photo by Jim Dahl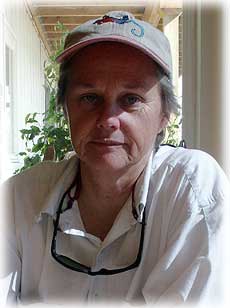 Dale McKinnon chats with the Sitnews' editor the day before she begins her 800-Mile rowing adventure...
Photo by Dick Kauffman
Viewpoints
Opinions/Letters

Let's focus on what should be done... by Tony Hatano-Worrell - Kanayama, Japan - 07/09/04


RE: Thanks Bill & 4th of July by Karen Ramsey - Ward Cove - 07/09/04


More Viewpoints/ Letters


Publish A Letter
July 2004
Click on the date to read the stories & to view photos published on that day...

| | | | | | | |
| --- | --- | --- | --- | --- | --- | --- |
| S | M | T | W | T | F | S |
| 27 | 28 | 29 | 30 | 01 | 02 | 03 |
| 04 | 05 | 06 | 07 | 08 | 09 | 10 |
| 11 | 12 | 13 | 14 | 15 | 16 | 17 |
| 18 | 19 | 20 | 21 | 22 | 23 | 24 |
| 25 | 26 | 27 | 28 | 29 | 30 | 31 |
Ketchikan: An Extraordinary Woman, An Extraordinary Adventure; From Ketchikan To Fairhaven, An 800-Mile Journey - There are women and then there are Women. This story is about one in particular, who, on Friday, June 18th, began an extraordinary journey. Her name is Dale McKinnon. There have been a few articles written about her lately, and with good reason.
Nearly three weeks ago, 58-year old McKinnon started her 800-mile mission to bring a small measure of financial help and attention to the plight of Northwest Youth Services, an organization in Washington State that aids troubled teens. She has watched the local, State, and Federal funding dry up over time, and as Ms McKinnon had not had an easy youth herself, she wanted to help. Dale McKinnon is rowing a small wooden boat on a two month long voyage, from Ketchikan, Alaska to her home of the last 7 years, Fairhaven, Washington. Pledges per mile are her inspiration to continue on through bad weather, rough seas, bloody blisters, and the strong tides of Southeast Alaskan and Canadian waters.
She built the boat herself, and this is not her first. McKinnon has built 3 boats to date, even entering an exhibit at the Port Townsend Wooden Boat Show last year. She began building the Bella (named after her granddaughter, Isabella) early May and finished it just six weeks later. It is, thanks to advice from other rowers and some creative modifications, a one of a kind.
McKinnon is not the typical sportswoman, having rowed a total of 4 hours in her life before three years ago. In the 55 years before that, she hadn't rowed anything anywhere. She now attempts to cover as many miles a day as the weather, her dory (the boat) and her own strength will allow. - Read more...
Friday - July 09, 2004
Profile America - Friday, July 9th. When Nan Jane Aspinwall finished delivering a letter from the mayor of San Francisco to the mayor of New York City, the last thing she probably wanted to do was sit down. That's because she brought the letter with her on horseback - the first woman to cross America riding a horse. She left San Francisco on September 1, 1910, and arrived in New York 301 days later - after a trip of 45-hundred miles in all sorts of weather. When Nan Jane Aspinwall made her journey of endurance, there were nearly 20-million horses in America and just under half a million cars and trucks. Today, there are 5.5-million horses and more than 230-million motor vehicles. - Source U.S. Census Bureau...