'Garden Wonders'
Sharing the peaceful beauty of a Ketchikan garden are two unlikely companions - a cat named Dede and a Sitka Black-tailed deer.
Front Page Photo by Tyler Cronk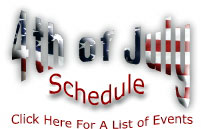 Viewpoints
Opinions/Letters

Real Reasons for Special Session Failure by Jim Clark - AK - 07/03/04


Doing it right the first time by Greg O'Claray - AK - 07/03/04


State has obligation to crime victims by Sen. Hollis French - AK - 07/03/04


Human Rights by Don Hoff Jr. - TN - 07/03/04


More Viewpoints/ Letters


Publish A Letter
July 2004
Click on the date to read the stories & to view photos published on that day...

| | | | | | | |
| --- | --- | --- | --- | --- | --- | --- |
| S | M | T | W | T | F | S |
| 27 | 28 | 29 | 30 | 01 | 02 | 03 |
| 04 | 05 | 06 | 07 | 08 | 09 | 10 |
| 11 | 12 | 13 | 14 | 15 | 16 | 17 |
| 18 | 19 | 20 | 21 | 22 | 23 | 24 |
| 25 | 26 | 27 | 28 | 29 | 30 | 31 |
Alaska: State recommends measures to avoid fishing fleet accidents from ammonia or Freon gas leaks - State officials are cautioning fishing fleet crews to observe safety procedures to prevent injuries from leaks of Freon or ammonia gas from onboard refrigeration systems.
In recent weeks, refrigeration system leaks of ammonia or Freon have caused workplace accidents and the death of a crewmember aboard a fishing vessel. The safety measures were recommended by the Alaska Department of Labor and Workforce Development and the Alaska Department of Fish and Game. - Read more...
Saturday - July 03, 2004
Alaska: Legislative Report Addresses Jet Purchase - The State Legislative Research Department issued a report this week that addresses the recent proposal by Governor Frank Murkowski to purchase a jet with federal homeland security funds. The report, prepared at the request of Representative Les Gara (D-Anchorage), outlines federal funding source guidelines for how these funds may be used. - Read more...
Saturday - July 03, 2004
Ketchikan Columnist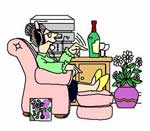 Dear Crabby - Don't Put Me On Hold - Call waiting is a great service... but too often abused! Although I have the service, at least I try to use the few manners I have and never put the person I'm speaking with on hold to answer another call when call waiting flashes! I just call back later.
I've had enough of people who CALL me, giving me just enough time to say hello before they say "Oops, someone's trying to call me, hold on", leaving me holding the phone like a nitwit to wait while they chat with someone else. I'm not even given a chance to respond, "NO, I won't hang on!" - Read more...
Saturday - July 03, 2004