Latest news & features from hundreds of sources:
Updated throughout the day - every day!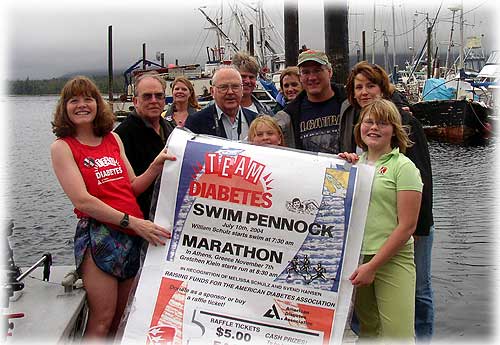 Swim Pennock & Marathon In Athens...
Well wishers including Gretchen Klein and Jack Shay pose with Willie Schultz before he begins his swim around Pennock Sunday.
Photo courtesy Team Diabetes
Viewpoints
Opinions/Letters

Greenpeace by John R. Engle - 07/14/04


More Viewpoints/ Letters


Publish A Letter
Ketchikan

Calendar - Agendas


Classifieds


Forecast


Ketchikan Police Report


AST Daily Dispatch
July 2004
Click on the date to read the stories & to view photos published on that day...

| | | | | | | |
| --- | --- | --- | --- | --- | --- | --- |
| S | M | T | W | T | F | S |
| 27 | 28 | 29 | 30 | 01 | 02 | 03 |
| 04 | 05 | 06 | 07 | 08 | 09 | 10 |
| 11 | 12 | 13 | 14 | 15 | 16 | 17 |
| 18 | 19 | 20 | 21 | 22 | 23 | 24 |
| 25 | 26 | 27 | 28 | 29 | 30 | 31 |

Front Page Archives


Ketchikan: Team Diabetes Helps ADA Raise Funds & Community Awareness; Fundraising Events Include Swim Around Pennock & Marathon In Greece - Willie Schulz, a resident of Escondido, California, swam around Pennock Island on Sunday in 3 hours and 16 minutes. The eleven-mile swim was to help raise people's awareness of diabetes, to raise money for the American Diabetes Association and to honor his niece Melissa Schulz, a resident of Ketchikan, diagnosed with type I diabetes. - Read more...
Wednesday - July 14, 2004

Ketchikan: Listen to this KRBD story... More than 100 people showed up to a Greenpeace-sponsored community forum Tuesday night in Ketchikan. As Deanna Garrison reports, comments were nearly evenly split between supporters and opponents of Greenpeace's call for a moratorium on industrial-scale logging on all National Forests.
KRBD - Ketchikan Public Radio - linked Wednesday AM - July 14, 2004
National: The State of America's Children 2004: A Continuing Portrait of Inequality 50 Years After Brown vs. Board of Education - This week the Children's Defense Fund (CDF) released The State of America's Children 2004, which provides a comprehensive examination of how children are faring in our country. The book paints a troubling picture -- based on the most recent statistical data and analyses -- of an unacceptably high number of children who are still being left behind. - Read more...
Wednesday - July 14, 2004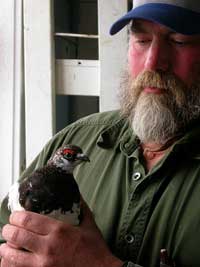 Steve Ebbert, a wildlife biologist for the Alaska Maritime National Wildlife Refuge, holds a male Evermann's rock ptarmigan he captured on Attu. The bird now lives on Agattu,
an island 30 miles away.
Photo by Ned Rozell
Alaska: Ptarmigan pioneers island-hop in Aleutians - Crawling through long grass with a set of wire cutters clenched in his teeth, Clait Braun extended a long fiberglass pole toward a ptarmigan. Adjusting for gusts of wind, Braun eased a small wire noose over the bird's lower neck, then tugged. A few seconds later, he cradled a flapping ptarmigan in his hands. - Read more...
Wednesday - July 14, 2004

Ketchikan: Nichols Named KGH Employee of the Month - Gayle Nichols, Manager of the Materials Management Department at Ketchikan General Hospital (KGH), has been named Employee of the Month by a committee of her peers. - Read more...
Wednesday - July 14, 2004
Alaska: Governor Promotes Stronger Pacific Northwest 'Connections'; Speaks in Victoria at PNWER Summit - Alaska Governor Frank Murkowski on Tuesday told delegates at the 14th annual summit of the Pacific NorthWest Economic Region that improved road, rail and pipe connections would "unify and strengthen our region's importance to the rest of the continent." - Read more...
Wednesday - July 14, 2004
Alaska: State aggressively fighting unemployment fraud, recovers $3.1 million in false claims - State labor officials credit aggressive investigations and determined prosecutions for the recovery of more than $3.1 million paid out in fraudulent unemployment insurance (UI) claims during the 2004 fiscal year that ended June 30. - Read more...
Wednesday - July 14, 2004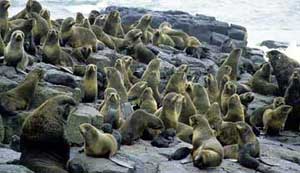 Fur seal harem...
Photo: National Marine Mammal Laboratory
Alaska: Northern Fur Seal Study Funded - NOAA scientists from the Alaska Fisheries Science Center will be spending time in northern fur seal rookeries this year and next as they carry out a comparative study that may tell why the fur seal pup population has boomed on Bogoslof Island while declining on the Pribilof Islands of Alaska. - Read more...
Wednesday - July 14, 2004
Alaska: Forest Service Explains Yakutat Thinning Contracts - The Tongass National Forest is planning some pre-commercial thinning work in the Yakutat area during the summer season. - Read more...
Wednesday - July 14, 2004
Alaska: New Fish Reporting System Planned - Federal, state, and international fishery management agencies have come together to plan an electronic interagency commercial fishery reporting system in Alaska. NOAA'a National Marine Fisheries Service (NOAA Fisheries), the Alaska Department of Fish and Game and the International Pacific Halibut Commission are intent on simplifying the recording of commercial fishery landing data, using the power of the internet to help collect and share data from fishermen and processors. - Read more...
Wednesday - July 14, 2004
---
E-mail your news tips, stories, news releases & photos to:
editor@sitnews.org

E-mail large photo files to
photos@sitnews.org

Edited by Dick Kauffman:
editor@sitnews.org

E-mail the Webmaster:
webmaster@sitnews.org

Copyright Applies - Please obtain written permission before reproducing photographs, features, columns, etc. that are published on Sitnews.

Published online since
August 2000

Sitnews
Stories in the News
©1999 - 2004
Ketchikan, Alaska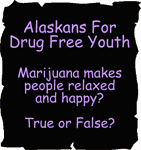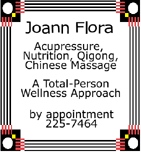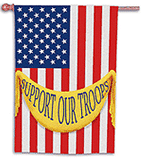 'Our Troops'
Ketchikan Charter Commission

Meeting Agendas & Information Packets
Next Meeting:
Friday
July 23, 2004
6:00 pm in the City Council Chambers
Web pages provided by Sitnews as a Public Service...