Tuesday
July 27, 2004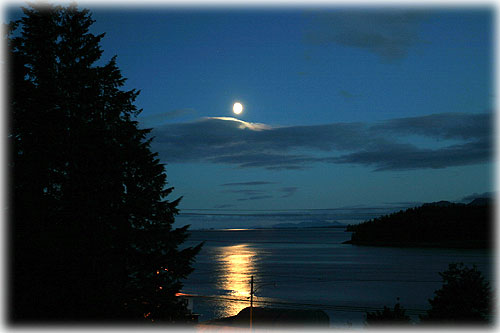 'Evening Moon'
Front Page Photo by Carl Thompson
Viewpoints
Opinions/Letters

Courtesy by Hunter Davis - 07/27/04


More Viewpoints/ Letters


Publish A Letter
Alaska: Divers Identify Historic Shipwreck Off Alaska - Divers working 80 feet below the surface of Monk's Lagoon off Kodiak Island, Alaska, have identified a shipwreck first discovered in July of 2003 as the Russian-American Company ship Kad'yak, lost in 1860. The team mapped the wreck and recovered more artifacts for diagnostic purposes through July 26. The National Oceanic and Atmospheric Administration and the National Science Foundation are funding the missionNOAA is an agency of the U.S. Department of Commerce.
Bradley Stevens, a diver from NOAA Fisheries' Kodiak, Alaska laboratory, led the team of volunteers who first discovered the wreck, but the remains of the wooden ship and pieces of the structure they found could not confirm the origins or name of the ship. Stevens subsequently conducted an extensive search of records, charts and maps trying to determine the identity of this wreck, to no avail.
An East Carolina University-led dive team from this current mission solved the mystery on July 15 when they recovered a brass object believed to be the hub of the ship's wheel with the ship's name clearly inscribed in Russian.
"It is extraordinary for underwater archaeologists to identify a 144-year old shipwreck this quickly," said Timothy Runyan, director of the Maritime Studies Program at East Carolina University and co-principle investigator on the mission. - Read more...
Tuesday - July 27, 2004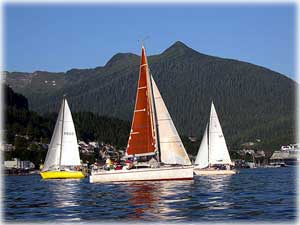 Sailboats participating in the races in July...
Photograph by Jim Dahl
Ketchikan: Wednesday Night Sailboat Racing, A Long Tradition in Ketchikan by Mary Lynne Dahl - Ketchikan residents have a long history of enjoying "the races". Sailboat races, that is. For over 20 years, Ketchikan's downtown harbor has been the site of weekly evening sailboat racing, much to the delight of the folks who view regularly. Although plenty of those who view the races do know something about sailing a boat, plenty of people report that they don't actually understand what is really happening out there, so let's see if we can explain the whole thing.
The races run from early April to the end of September and are sponsored by the members of Ketchikan Yacht Club, home based in Thomas Basin Harbor. Weekly races begin at 6:00 pm on Wednesday, but there are 5 or 6 weekend races during the summer as well, usually starting on a Saturday. In addition, there is a 5-day regatta every August. This regatta, called KORC (Ketchikan Ocean Racing Circuit), is a fundraiser that for over 20 years has raised thousands of dollars for charity, all from donations and fees paid by the racing skippers and their crews. - Read more...
Tuesday - July 27, 2004
Columnists

Howard Dean: Are Political Conventions Necessary? - As the Democratic Convention begins this week, followed by the Republicans' in September, journalists who are bored with the scripted proceedings will write opinion pieces about behind-the-scenes dealings which may or may not be going on and will raise questions about why conventions are even newsworthy. - Read more...
Tuesday - July 27, 2004

Dick Morris: Kerry's Quandary - John Kerry has a fundamental strategic problem that he must resolve during this week's Democratic National Convention in Boston: Should he campaign on the nexus of issues surrounding terror or focus on domestic concerns? - Read more...
Tuesday - July 27, 2004
---
E-mail your news tips, stories, news releases & photos to:
editor@sitnews.org

E-mail large photo files to
photos@sitnews.org

Edited by Dick Kauffman:
editor@sitnews.org

E-mail the Webmaster:
webmaster@sitnews.org

Copyright Applies - Please obtain written permission before reproducing photographs, features, columns, etc. that are published on Sitnews.

Published online since
August 2000

Sitnews
Stories in the News
©1999 - 2004
Ketchikan, Alaska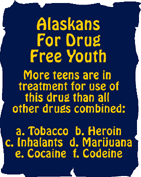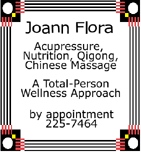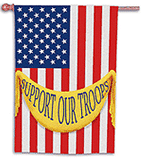 'Our Troops'