Thursday
February 10, 2005
The little town of Sitka, the capital of Russian Alaska until the U.S. Purchase in 1867, is home to the first of Alaska's modern Pioneer Homes. Built in 1934, it is situated on the old Russian parade grounds. The earlier and comparatively ramshackle "pioneer homes" quarters in the gentler climate of Sitka were founded especially for down-on-their-luck Gold Rush veterans who decided to remain in Alaska after the glory days were over. They were largely a tough and grizzled lot, tobacco-chewing and fond of a good stiff drink or two.
Today the stately Sitka Home's neatly landscaped walkways and gardens are grouped around an imposing 12-foot bronze statue that memorializes those intrepid men of Alaska's Gold Rush. It is appropriately named The Prospector. The sculpture is the work of the late Alonzo Victor Lewis (1886-1946) of Seattle. Utah-born Lewis was, in the 1920s, considered the Northwest's "outstanding sculptor" and remained one of Washington State's most honored artists. His bronzes grace the grounds of Washington's state capital, cemeteries, schools and parks throughout the state. - Read the rest of this feature story by June Allen...
Thursday - February 10, 2005
Viewpoints
Opinions/Letters

COLD STORAGE ECONOMICS by Pete Ellis - Thursday


Cold Storage Questions by Jay Jones - Thursday


Street Light at Jefferson by Bobbie McCreary - Thursday


More Viewpoints/ Letters


Publish A Letter
Top News
Ketchikan: KIC's Low-Income Housing Project Funded - Seven months after Ketchikan Indian Community (KIC) Tribal Council unanimously authorized an unprecedented cooperative venture with Tlingit-Haida Regional Housing Authority (THRHA), the partnership has received funding in the amount of $4.370 million in Low Income Housing Tax credits (LIHTIC). When these tax credits are sold to the Limited Partner it will net approximately $3.5 million in cash. KIC President Samuel Bergeron said, "Working with Tlingit and Haida Regional Housing Authority has proven its benefit to KIC already by helping KIC's housing staff put together a successful tax credit application package."
According to General Manager Zimmerle, the $4.370 million is approximately $170,000 less than what was requested. Preliminary consultation with THRHA indicates that even with the reduction, there will be sufficient funding identified, or at least potentially available with which to proceed with the development. - More...
Thursday - February 10, 2005
Alaska: FERC Issues Landmark Gas Pipeline Rules; Order No. 2005 viewed as favorable to State - The Federal Energy Regulatory Commission on Wednesday approved landmark rules regarding opportunities for potential customers to acquire capacity for proposed Alaska gas pipeline projects.
FERC was required by Congressional mandate to establish "open season" rules following enactment of the Alaska Natural Gas Pipeline Act. Open season is the time prior to pipeline construction when gas producers or consumers interested in transporting gas through the line can bid for space, or capacity, in the pipe. - More...
Thursday - February 10, 2005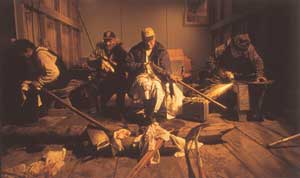 Spirit of Alaska Captured in
'Alaska Positive' Exhibit
Joel Bennett's "Kaktovik Whaling Tool Sharpeners"
Photo courtesy Tongass Historical Museum
Ketchikan: Spirit of Alaska Captured in
'Alaska Positive' Exhibit by Joseph Branco - There are few moments more precious in a parent's life than to hold hands with our children to their first visit to the museum. The absolute joyous curiosity and profound interest in art and history our children display is delightful. To see the spirit of Alaska captured in still life through the mind of an artist and the lens of a camera is an experience that words cannot accurately describe. - More...
Thursday - February 10, 2005

Ketchikan: Listen to this KRBD story... The Ketchikan Fire Department recently informed its employees that they may not work as administrators for other fire departments without the written consent of Ketchikan Fire Department. As Deanna Garrison reports, the policy has resulted in a leadership shakeup in the South Tongass Volunteer Fire Department.
KRBD - Ketchikan Public Radio - Thursday - February 10, 2005
Alaska: Governor Names Acting Attorney General - Governor Frank H. Murkowski announced on Wednesday the appointment of Scott J. Nordstrand as Acting Attorney General effective February 11, 2005.
Nordstrand, currently the Deputy Attorney General overseeing the Department of Law's Civil Division, will fill the vacancy created by the resignation of Attorney General Gregg Renkes.
"Scott Nordstrand has solid legal credentials earned through nearly 18 years of private and public service in Alaska," said Murkowski. "Scott provides leadership and continuity to the department as it continues its important work serving Alaskans." - More...
Thursday - February 10, 2005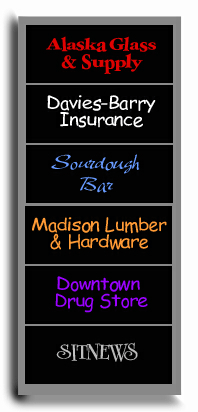 The June Allen Column
is made possible in part by these sponsors. Cick on each name to visit each web site.
June Allen Column

L. Ron Hubbard's Alaska Adventure; His long winter in Ketchikan - For such a small city in such a remote location, Ketchikan has had its fair share of experience in welcoming the rich and famous. Names that come to mind are Bing Crosby, John Wayne, Cary Grant, as well as Olivia Newton-John, Bill Gates, and Chubby Checker - plus many, many others! Unlike today's notables who arrive by cruise ship for brief visits, earlier celebrity visitors usually came in on their own or someone else's yacht. Most enjoyed Ketchikan's sights, sounds and attractions for at most a few days. But one unexpected visitor found himself stranded for the winter! - Read the rest of this story by June Allen...
Wednesday - January 19, 2005

ACS Bids for KPU Telecom: ACS a longtime presence

Betty King the Dog Lady; Ketchikan's one-woman humane society

Ketchikan, Alaska - Let There Be Light! -- Citizens Light & Power and then KPU

The State Capitol and Its Marble and keeping the capital in Juneau

A Legendary Mountain of Jade; Just one of Alaska's Arctic Wonders

John Koel, Baker to Banker; An eccentric philanthropist

Harold Gillam: A Tragic Final Flight; Ketchikan remembers the search

Ketchikan's 'Fish House Tessie'; She was proud of the nickname

Fairbanks: Golden Heart City; A story of its founding

Remembering 'Swede' Risland (1915-1991);The town's most memorable logger

Read more feature stories by June Allen...

Copyright Applies - Please obtain written permission before reproducing photographs, features, columns, etc. that are published on SitNews.
---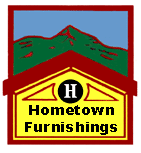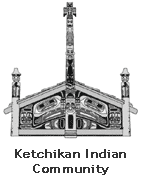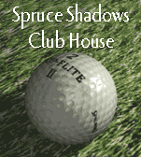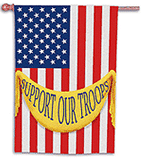 'Our Troops'